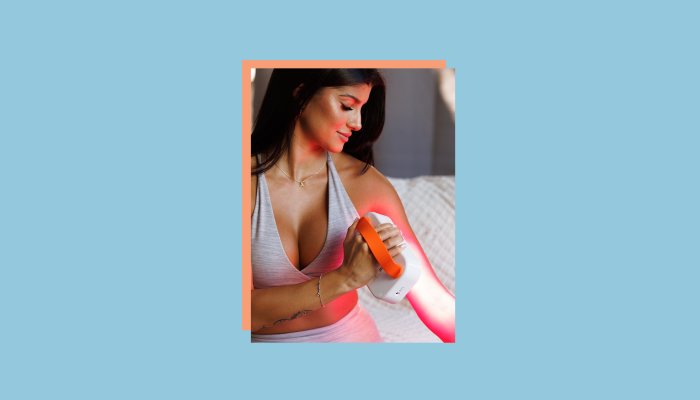 For those looking to take that next step, there are many options out there—ranging from cheap numbers you can find online to high-quality investments, like this one. What I'll say is this: LED therapy is not an area that you should low-ball. 
These masks work because they employ specific wavelengths of light, and when you opt for a less reputable brand of LED, it's likely not delivering a wavelength of light that can produce any benefit. Lumebox is not only registered with the FDA, but has shown to have high irradiance for both red and near infrared light. 
"How deeply a lightwave can penetrate comes down to the power of the light, which is called irradiance," says Chen, noting that Luembox has third-party testing to ensure it has high irradiance. "This means it's able to penetrate deeper, targeting the joints and muscles." 
Most beauty-focused, portable tools are low powered, as they are designed to focus on the surface, or the skin. On the flip side, the huge, full-body panels that cost in the thousands have high irradiance, but aren't the most user-friendly or feasible for most folks.
Consider the Lumebox to be the goldilocks scenario: It's high-powered enough to penetrate into deeper tissues like the muscles and joints, but still portable, easy to use, and safe for skin. "I just want one thing that has multiple users, rather than buying a mask for my face and then another device for my joints and another device for my neck," she says about designing the Lumebox. 
The easy-to-use part is vital, as red light therapy requires consistent use. If a tool does not effortlessly fit into your life, there's a good chance you won't stick with it. And if you don't use it, it won't work.
"I actually use this multiple times a day. It's like a Swiss Army knife of wellness," says Chen. "In the morning while I do my breathwork, I keep it on its stand 5-6 inches away so it's targeting my face and decolletage. I sit at my desk all day, so I'll hold it by my neck if I'm feeling stiffness between meetings. I use it around my knee pre and post workout because it can help improve recovery."
Source link