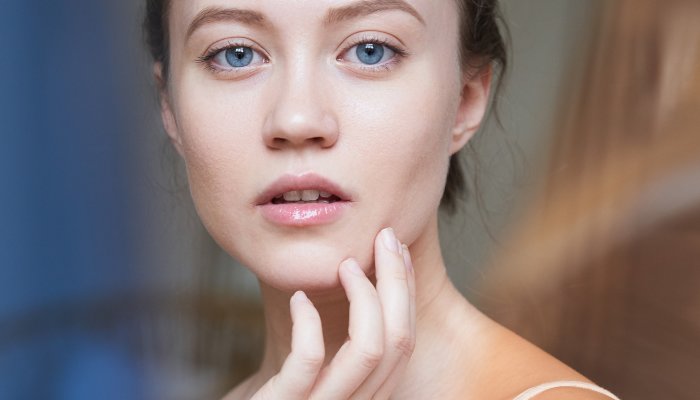 With a little practice, highlighter may just become your hero product for a naturally sculpted look. In fact, it's the only product celebrity makeup artist Marcelo Gutierrez relied on for Dion Lee's Spring/Summer 2024 makeup looks this New York Fashion Week. 
"The look focuses on hyper futuristic skin created using incredible skin prep and emphasizing bone structure through cream highlights and powder," the makeup lead shares. He does use a cream foundation, but only to spot-conceal redness around the nose. "[This] keeps the integrity of the skin, so that it doesn't feel like a makeup look," he tells me. 
Grab your highlighter—Gutierrez uses the Kjaer Weis Cream Glow in "Ravishing"—and go to town. "Highlight all the high points of the face: temple, cheekbones, nose bridge, a little bit on the chin," he explains. You can also pop some product in the center of your lids and beneath your brow bone to further define the eye area. 
Tap on more product than you usually would, since you need enough light-reflecting pigment to create that natural contrast and "bring out all the bone structure without contouring," Gutierrez shares. "No muddy colors or anything—it just brings extreme luminosity back into the skin. 
For the runway show, this technique helps exaggerate the anatomy of the human structure and creates a hyper-real radiance; but in everyday life, without the bright stage lights and flashing cameras, it delivers a much subtler sculpting effect. Think soft, natural-looking dimension that will make people think: Is she wearing any makeup at all?