Our visitors frequently ask us how to care for and clean a Louis Vuitton vachetta leather or canvas bag. This post offers a step-by-step guide to caring for and cleaning your Louis Vuitton, from general maintenance to professional restoration.
Louis Vuitton is a French designer handbag and wallet manufacturer. A Louis Vuitton handbag costs between three and four thousand dollars on average. These high prices have resulted in the sale of many counterfeit Louis Vuitton bags.
Louis Vuitton's response has been an all-out crackdown on knock-off manufacturers, as well as a strict policy for repairing Louis Vuitton handbags. While some minor repairs and damage prevention can be done at home, any actual physical repairs necessitate the expertise of Louis Vuitton.
Step-By-Step Guide to Caring for and Cleaning Your Louis Vuitton
Whether you own a neverfull, damier azur canvas, or speedy, knowing how to care for and clean your bag can help it last for decades.
The majority of classic Louis Vuitton bags are made of a combination of vachetta leather and PVC or canvas.
But what exactly are these materials, and how do you care for them?
Some may be looking for a leather conditioner or cleaning product, while others may be concerned about vachetta leather darkening, discoloration, or staining.
When should Louis Vuitton Vachetta leather be cleaned?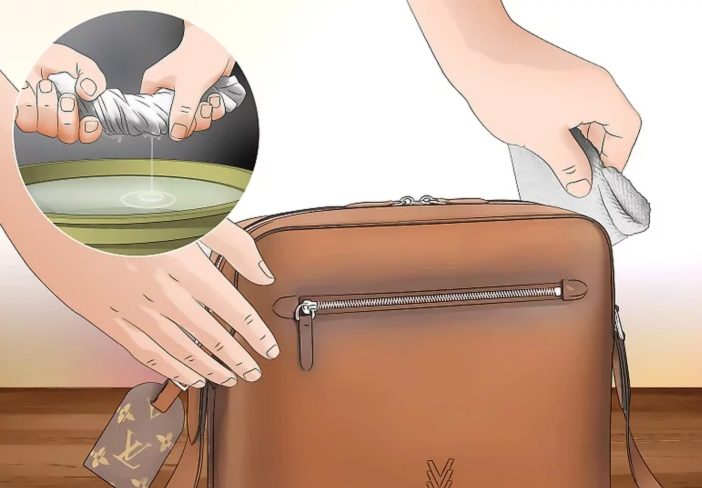 Before you begin, examine the Vachetta leather on your bag. It was recently cleaned if it has a matte finish. You risk drying it out and cracking it if you clean it again. A considerably more expensive and inconvenient option, since you would have to totally replace it at Louis Vuitton or a leather repair shop, you should absolutely avoid this. Carry the bag till the Vachetta shines once again.
The shine implies that the Vachetta has either recovered completely from its previous treatment or has never been cleaned. It is now safe to clean the Vachetta leather. To begin, choose which of the two options works best for your bag. Also, if you are feeling apprehensive, attempt a try first.
1. Baby Wipe method: If the Vachetta leather on your Louis Vuitton bag lacks a distinct patina but still has water marks and dirt stains, patience is generally the best remedy. Many of the scars and stains will mix in and vanish as the patina darkens. If they are severe and you do not want to wait, you can remove them using baby wipes straight immediately.
Before you begin, make sure you have oil-free, alcohol-free, and fragrance-free wipes on hand. Oil darkens the Vachetta, whilst alcohol and scent dry it off. Rub in a circular motion with mild pressure. Avoid focusing on one spot for too long, but allow the markings and stains some extra time.Treat all of the bag's Vachetta leather pieces, even if they aren't especially unclean, to avoid an uneven finish.When your baby wipe becomes too filthy to use, replace it with a new one. Use as many wipes as necessary.
The Vachetta leather will be quite moist at first, making the markings and stains more visible. Do not be alarmed! Set the bag aside to air dry. Do not expose it to direct sunlight or use a hairdryer on it. It should dry entirely in a few hours, and you will notice a significant change. You may need to repeat this step more than once depending on the severity of the markings and stains.
2. Master Eraser: Because this cleaning procedure removes entire layers of Vachetta leather, it should only be used on bags with very dark, uneven patina. You may use any brand of magic eraser, but Mr. Clean is unquestionably the best. Simply make sure yours is fresh and white to avoid colour transfer. Wet it and wring away any extra water.
Dab the Vachetta leather gently with rapid, short strokes. Avoid rubbing or scrubbing! Again, while this cleaning approach is powerful, do not concentrate on one spot for too long. Allow around 15 seconds for each. Stop erasing quickly if a place starts to feel heated.
If you continue, you risk weakening or possibly burning a hole in the Vachetta leather. You should only use one magic eraser because they are long-lasting, but you will need to rinse it periodically. Always remember to press off the extra water.
Set the bag aside to dry naturally once you've treated all of the patina. It will appear moist. However, this is, once again, typical. As with baby wipes, do not expose it to sunlight or use a hairdryer. Within a few hours, the Vachetta should be totally dry and the patina should be lighter.
When Vachetta is really black and damaged, some people prefer to colour it instead of using these ways. While this will typically provide an equal tone and conceal defects, we highly advise against it. It gives the bag an unauthentic appearance, and Louis Vuitton will never repair a coloured bag.
Both baby wipes and the magic eraser dry up the Vachetta, so use a wax-free leather conditioner after use. Apple or Cadillac are our top picks. Wait until the Vachetta is completely dry before applying it with a new towel.
Whether you want to clean your Louis Vuitton bag's Vachetta leather or not, you should condition it every six to twelve months. This will provide long-term protection and keep it from breaking.
How to clean Louis Vuitton canvas?
Before we can discuss how to clean Louis Vuitton's famed canvas, we must first grasp what Louis Vuitton canvas is comprised of. Some Louis Vuitton fans may be surprised to learn that canvas is NOT a leather. In actuality, Louis Vuitton canvas is produced from cotton that has been treated with a chemical known as polyvinylchloride (often referred to at coated canvas).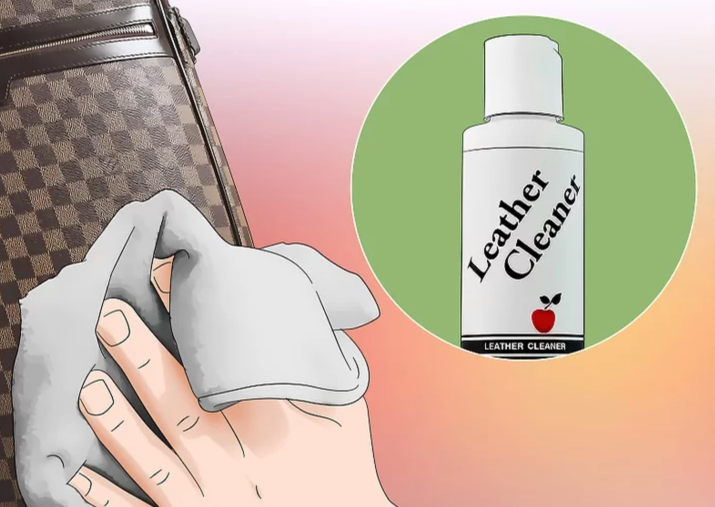 So What Is the Best Way to Clean LV Canvas?
Because of its hard-wearing characteristics, LV canvas is significantly easier to care for than regular leather and can be washed much more simply. If you use your Louis Vuitton canvas bag every day, just wash it off with a clean, damp cloth to remove any surface dirt. If you want a more thorough cleaning, we recommend using a deep leather cleaner.
While the canvas is not leather, a leather cleaner will aid to remove stains, smells, grime, and bacteria from it. Simply Leather deep cleanser and conditioner is an excellent cleaner for a low price that can also be used on leather pieces (such as the handles) on your Louis Vuitton bag.
Cleaning Instructions Vuitton, Louis Vuitton, Vuitton, canvas damier azur
Because Louis Vuitton's Damier Azur Canvas is the lightest of the canvas alternatives, with white and grey / blue colouring, it may reveal the most markings. It's worth mentioning that the Damier Azur canvas is equally as durable as the monogram and Damier Ebene canvas, but it is more prone to exhibiting dirt and stains, necessitating more daily maintenance if it's worn frequently or has anything spilled on it.
How to Restore a Louis Vuitton Canvas?
If you already possess a Louis Vuitton bag with cracks, it's worth noting that cracks don't normally become much worse and don't usually spread if the bag is used gently.
To avoid costly mistakes, we recommend sending broken canvas to a professional handbag repair service. The damaged canvas is usually repaired with a very powerful adhesive to help pull the canvas back together. However, it is much simpler to avoid cracks in the first place if you take care of your Louis Vuitton canvas bag.
Here are some maintenance tips:
Keeping the bag in its dust bag (rather than a box) to allow it to breathe.
When storing or using the bag, avoid exposing it to direct sunlight as much as possible.
Do not bend the canvas or store the bag in a crumpled/bent position.
Avoid stuffing the bag too full or placing too much weight within it.
Depending on how frequently you use your LV canvas bag, apply a conditioner to the canvas and leather every 6 – 12 months.
While age and rarity are important factors, your Louis Vuitton bag might be worth thousands of dollars on the resale market. If you can't clean and mend your pocketbook for love, you might as well do it for money. When you invest in such a well-known business, you have the possibility to make a profit.
Frequently Asked Questions:
How Do I Clean My Louis Vuitton Bag at Home?
To clean your canvas LV bag on a regular basis, simply wipe it off with a moist, clean towel (preferably white or light-colored). We recommend doing this with extreme caution and avoiding any touch with the vachetta leather trim, as water can harm the leather and create stains.

How can you protect the leather on your Louis Vuitton bags from darkening?
If your skin comes into touch with the handles, use baby wipes on just the handles at the end of each day. Allow to air dry completely. This protects against uneven discoloration and water stains. Additionally, when performing the once-daily wipe down, clean the whole bag, including the canvas portions.
Can I have my Louis Vuitton cleaned?
In general, Louis Vuitton does not provide bag spa services. They will not clean your bag, regardless of the bag you have or when you acquired it. It's the canvas, the brown fabric with the initials LV. The good news is that it can be used to replace everything else, including the interior lining, handles, vachetta (leather components), zipper, and so forth.
Is it possible for Louis Vuitton luggage to become wet?
LV bags are both watertight and fireproof. Canvas is utilised for waterproofing, while PVC is used to make the bags fireproof.
What's the deal with my sticky LV bag?
When exposed to excessive heat or humidity, Vuittonite begins to disintegrate and tear away from the bag's edges. It gets increasingly sticky over time, leaving a residue (which can be black in severe situations) that transfers to anything placed within the bag.
Why does leather darken with age?
Dirt, body oils, sunshine, and wear and tear all contribute to the darkening and softening of leather items. To achieve these looks, the leather will naturally oxidise and age over time. This is a natural process that cannot be recreated artificially. It simply takes time.