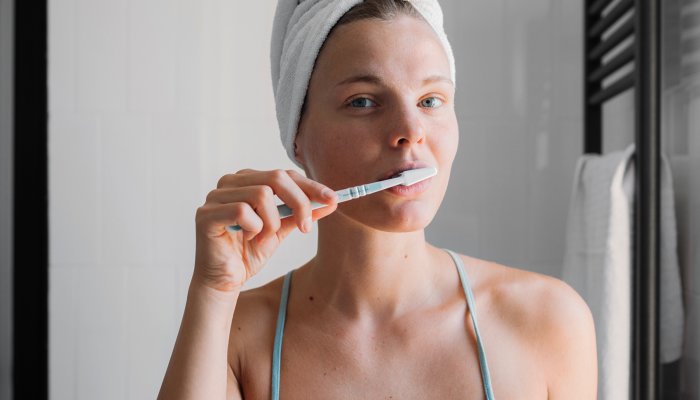 Now, the evidence for this shift is multi-pronged. On the social media front, more influencers are openly chatting about niche oral care topics, being met with plenty of engagement. For example, influencer and actress Claudia Suleweski took it upon herself to play big sister and share how she "saved her gums" and prevented recession—the video has gained 2.8 million views and counting. 
Even Kim Kardashian has contributed to the buzz around viral products, like the distinct purple tooth serum from HiSmile, which some swear whitens their teeth in just one use. 
Luckily, flossing is getting a rebrand as well, with devices like Flaus hitting the market—offering an electric, low-effort, and relatively sustainable alternative to traditional plastic flossing picks. (I've tried it, and it's pretty great!) 
Red light has already become a norm in the skin care industry, but now these LED light therapy devices are tackling the mouth–more on the research behind those possible benefits in a bit. 
And if you've never liked the lackluster mint and artificial bubblegum toothpaste options, now you can look forward to HiSmile's anticipated mushroom flavor toothpaste (though I'm personally unsure if that sounds any better…but to each their own).
Beyond products, special attention to the oral microbiome has also increased. Just like you can test various health metrics with an at-home kit, you can now do the same for your oral care with Peri—pretty cool, yeah?
The gist? At-home oral care is becoming many things: engaging, technologically advanced, and visually appealing. While many folks will stick with the basics, I'm sure Gen-Z (the generation who notoriously needs everything to have an aesthetic) will have fewer cavities and brighter smiles for it—if any of this actually works, that is.