T-Mobile yesterday announced a phone plan called "Go5G Next" that costs $100 a month for a single line, more expensive than the highest-tier wireless plans offered by AT&T and Verizon.
In a notable development for a carrier that spent years blasting its rivals' prices, T-Mobile issued a press release with a chart showing that its new plan costs more than the top-tier unlimited plans sold by AT&T and Verizon. AT&T's Unlimited Premium is $85 for a single line while Verizon's Unlimited Plus is $80 unless you add optional perks like the Disney Bundle.
T-Mobile's Go5G Next will be available on August 24 and come with unlimited phone data, 50GB of high-speed mobile hotspot data, and the ability to upgrade to a new phone once a year. It will also come with Apple TV+ and a Netflix subscription. T-Mobile points out that the similar AT&T and Verizon plans don't have streaming services included.
T-Mobile's chart says Go5G Next's price of $100 for a single line has taxes and fees included, while taxes and fees bring the AT&T and Verizon premium plans to $90 and $85, respectively. T-Mobile's prices are also higher than its rivals when buying either two lines or four lines. T-Mobile said its three-line price of $180 a month including taxes and fees is the same as Verizon's and $15 lower than AT&T's. Here is the chart from T-Mobile's press release: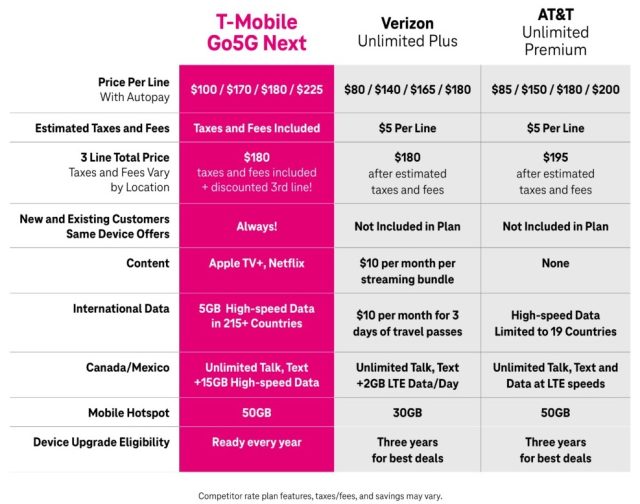 Merger critics warned of higher prices
Critics of the T-Mobile/Sprint merger completed in April 2020 argued that it would bring higher prices, harming competitors and consumers. T-Mobile promised regulators it wouldn't raise prices on existing plans for three years, a time period that is now over, but didn't promise not to introduce new, more expansive plans.
With the US wireless market dominated by three major carriers, it doesn't appear that T-Mobile will be under much pressure to lower prices. As Light Reading wrote yesterday, "analysts have widely celebrated T-Mobile's efforts to raise the prices on its service plans. After all, more expensive plans generally translate into more revenues per user, and more profits."
"Based on company commentary, we believe AT&T/Verizon promo activity around upgrades for existing subs could slow, which we believe creates an opportunity for T-Mobile to further accelerate share gains," KeyBanc Capital Markets analyst Brandon Nispel wrote in a note to investors on Sunday.
In the second quarter, the wireless industry added 2.05 million postpaid phone lines for a TTM (trailing 12 months) of 8.93 million customer additions. It was "the fourth consecutive TTM deceleration as the industry is still far outpacing a normal environment of 5M-6M," the investor note said.
Cable companies, which resell wireless service in their home-Internet territories, "took 46.7 percent of all postpaid phone net adds and now have 5.1 percent postpaid phone market share," KeyBanc wrote.
KeyBanc also noted that the average amount paid by consumers is rising. "ARPUs [Average Revenues Per User] are on the rise, notably for Verizon," the investor note said. KeyBanc said the rising prices may result in churn, the rate at which customers leave a carrier.
KeyBanc said it has a "strong preference" for T-Mobile stock compared to AT&T and Verizon right now. In Q2, T-Mobile reported service revenue of $15.7 billion and net income of $2.2 billion.
Cheaper plans start at $60
T-Mobile does continue to offer cheaper plans, including the entry-level Essentials plan that costs $60 plus taxes and fees for a single line. AT&T's Unlimited Starter plan is $65 plus taxes and fees, while Verizon's Unlimited Welcome is $60 plus taxes and fees.
T-Mobile's Go5G is $75 and Go5G Plus is $90, and both of those plans have taxes and fees included in the advertised rate. Essentials comes with 50GB of "premium" phone data before potential slowdowns. Go5G comes with 100GB of premium data, while Go5G Plus has unlimited high-speed phone data.
There are also differences in the amount of high-speed hotspot data you can use before slowdowns. The Go5G Plus mobile hotspot comes with 50GB of premium data, while Go5G has 15GB and Essentials has none.
The $100 Go5G Next has the same data allotments and Netflix/Apple TV+ perks as the $90 Go5G Plus. The main advantage for Go5G Next is "the ability to upgrade devices yearly," T-Mobile's announcement said. T-Mobile offers phones with 24-month payment plans, and the new plan will let customers upgrade after they pay off half of the device's cost.
Customers experiencing bill shock may want to check out MVNOs (Mobile Virtual Network Operators), which resell capacity from the major wireless networks at lower prices, but generally with stricter limits on data usage.
Source link