A decade of bold ambition and self-expression makes 80s fashion stand out. Women basked in a multitude of fashionable choices, ushering out the 70s disco scene. Tailored pieces, marked by iconic shoulder pads, commanded attention, while Calvin Klein and Gloria Vanderbilt led the jeans revolution.
Both the small screen and Hollywood shaped the fashion narrative. Soap operas like Dynasty dictated corporate style, while teen-centric films by John Hughes lent a casual twist. Amid this, America's economic growth and prosperity fueled a fashion motto of 'more is more.'
80s Fashion Trends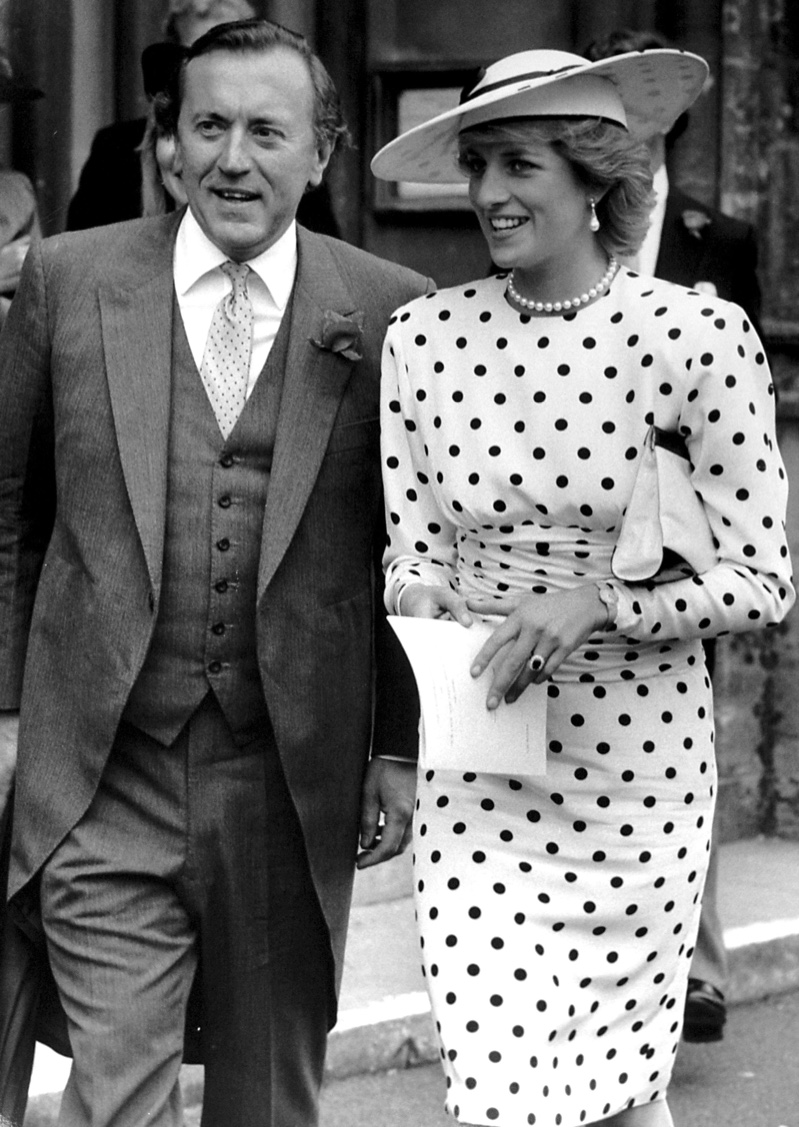 Don't think the '80s are a forgotten chapter. Contemporary hits like Stranger Things and Wonder Woman: 1984 revive the era, immortalizing its fashion statements.
Political icons like Margaret Thatcher and Princess Diana were fashion compasses, guiding the personal-political dialogue of the era. Music legends—David Bowie, Michael Jackson, and Madonna—didn't just make music; they made cultural anthems with their fashion choices.
Are you ready to take a nostalgic trip down fashion's memory lane? Let's explore some of the 1980s' top fashion trends that continue to influence our closets today.
Key Clothing Pieces
Shoulder Pads: Broadening Fashion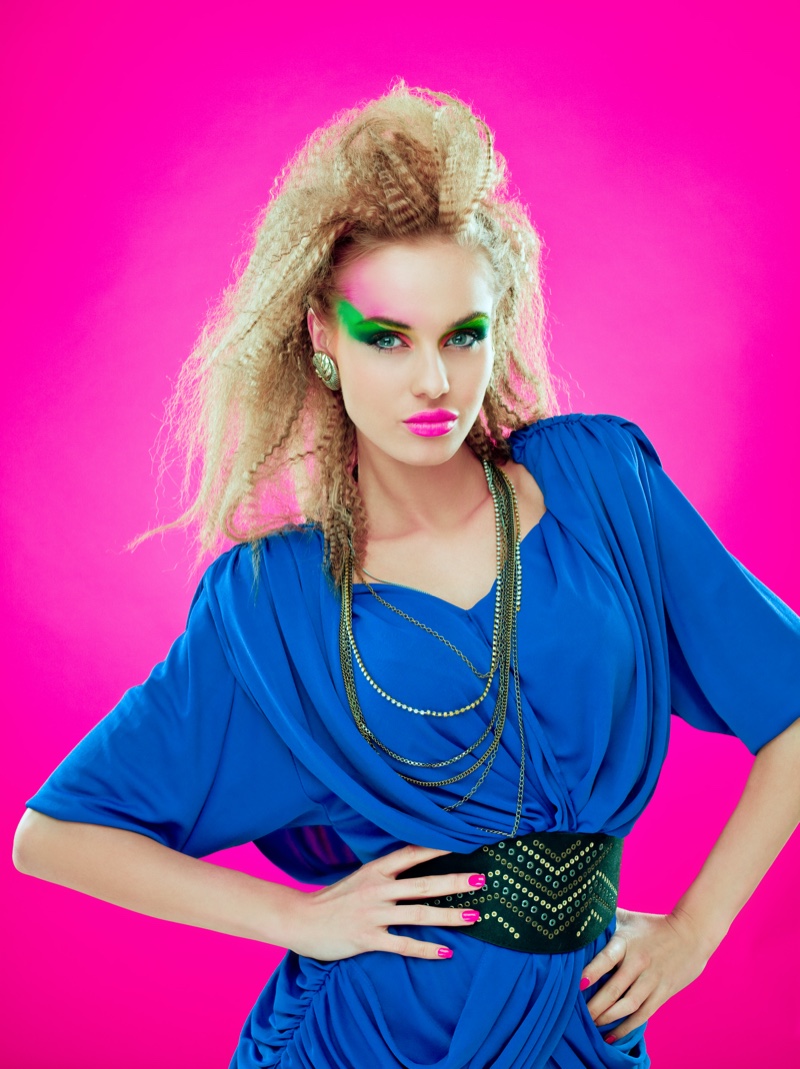 In the 1980s, shoulder pads became a symbol of a cultural revolution, making their way into the wardrobes of teens to top-tier professionals. Far from mere accessories, they were a strategic choice in the era of power dressing, signaling authority, and femininity. 
These foam cutouts weren't confined to the office; they redefined body lines, carving out an hourglass figure even in utilitarian attire. More than just a fashion trend, shoulder pads allowed women to stake their claim in male-dominated spaces, subtly altering perceptions and expectations.
Power Suits: Strong Attire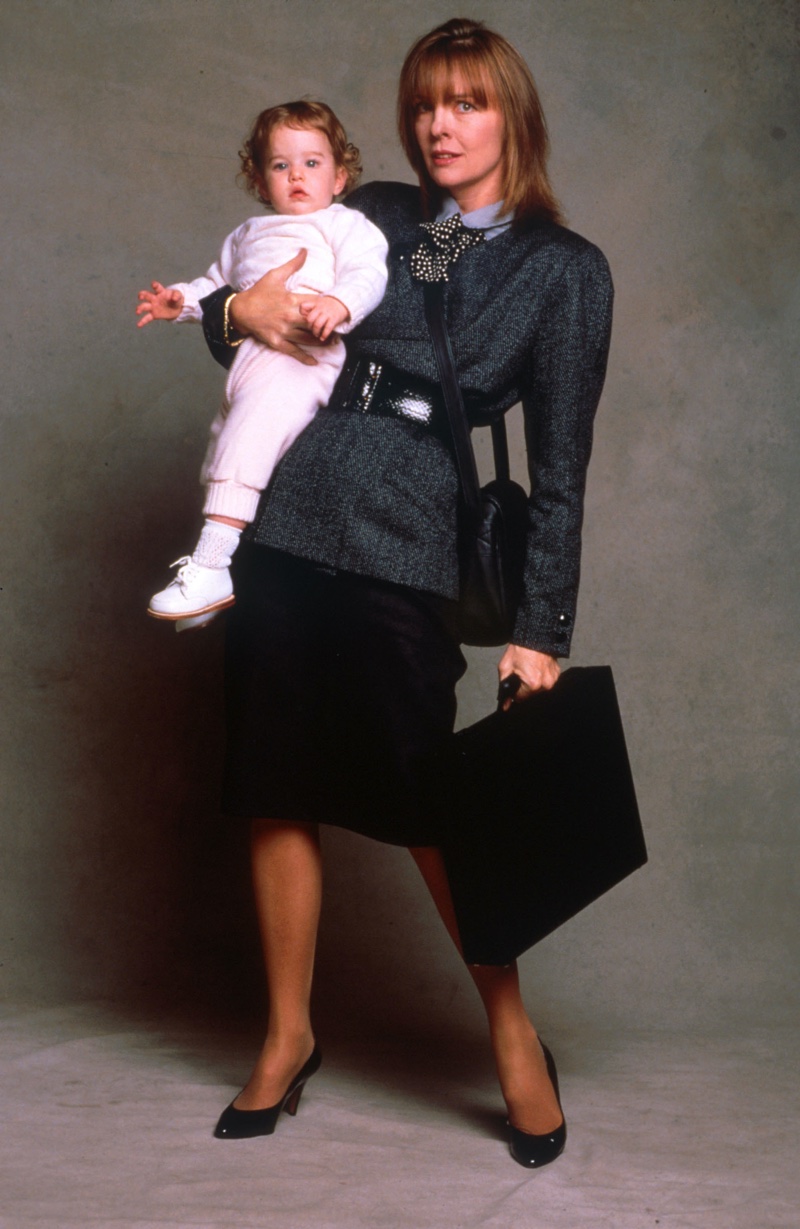 In the '80s, the power suit was a game-changer for women and was way more than just a set of clothes. Imagine walking into a room and everyone instantly knowing you mean business–that's what a power suit did. Built with wide shoulders and tailored lines, these suits made women stand out in places mostly filled with men, like executive suites.
Puff Sleeve Dress: Romantic Drama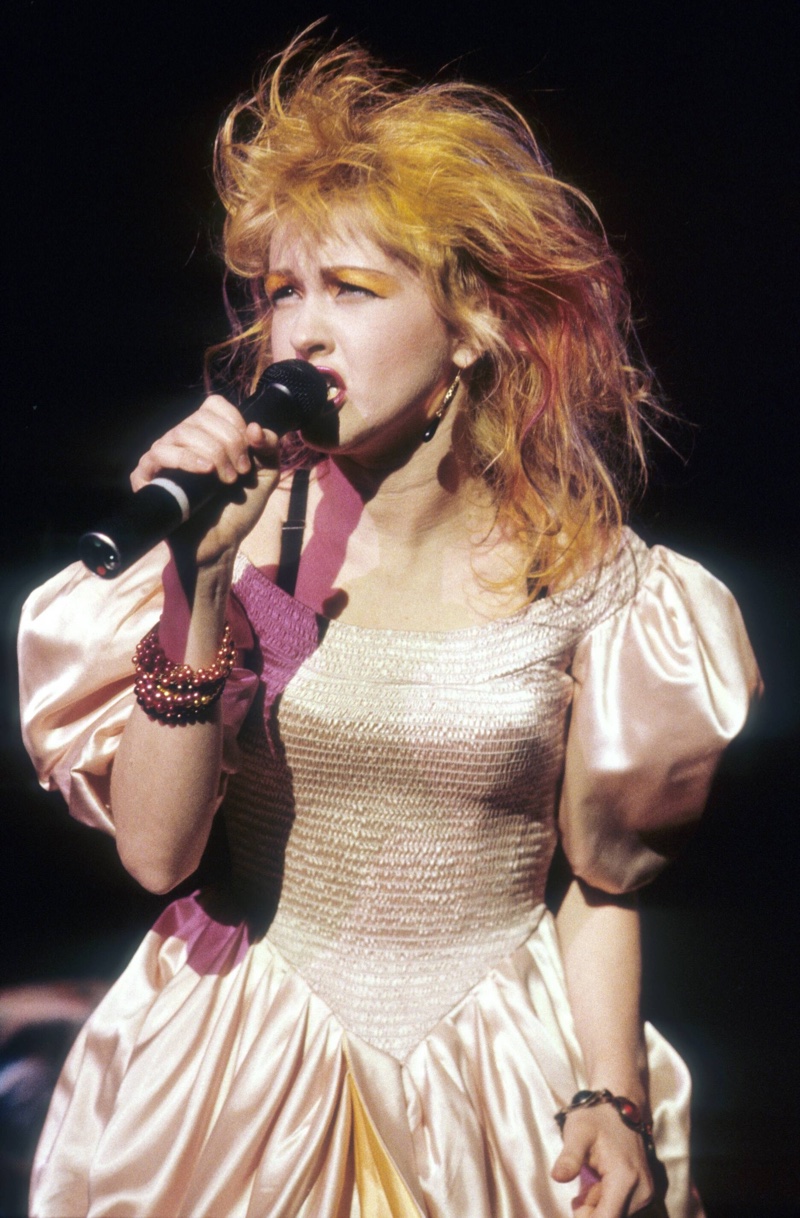 The puff sleeve dress of the '80s was drama captured in fabric. It was a spectacle for your arms, a celebration of volume and flair. While the decade pumped up shoulders in blazers and suits, puff sleeves brought the party to dresses. 
The sleeves turned even a simple garden party into a stage for style. These dresses were everywhere: on prom queens, brides, and even celebrities on TV. The puff sleeve wasn't just an extra piece of cloth; it was a design that said, "Look at me!" 
Skirts: Changing Hemlines
Skirt styles were a vivid expression of the era's bold fashion. With their playful and voluminous layers, Ruffle skirts were a standout, adding drama and sophistication. The mini skirt, a 60s revival, returned with a modern twist, often paired with leggings.
Pencil skirts offered a sleek contrast, becoming a staple in professional attire. Denim skirts, from straight-cut to acid-washed, embodied the decade's casual chic.
The ra-ra skirt, inspired by cheerleader outfits, captured the youthful, energetic spirit of the 80s. Each style showcased the decade's flair for mixing rebellion, elegance, and a touch of whimsy in fashion.
Blazers: Business Chic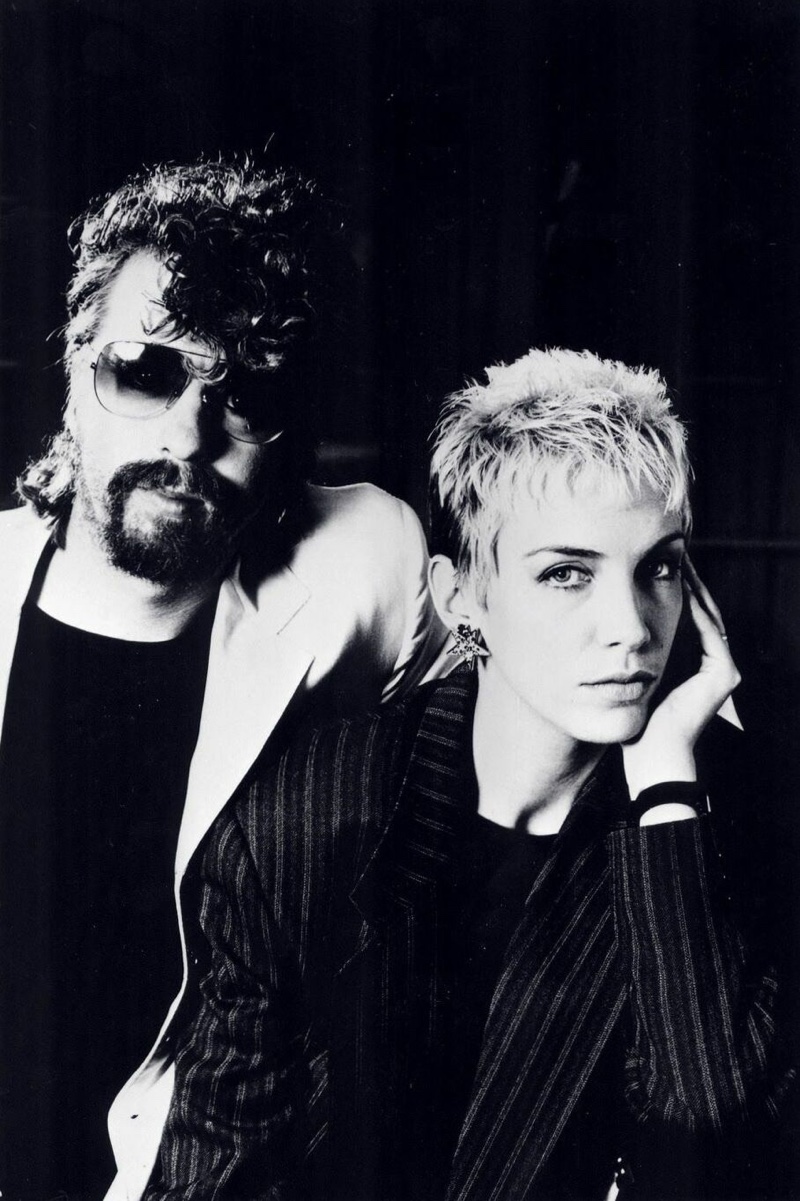 The 80s blazer was another must-have staple that roared 'business' with a side of style. Women donned these tailored jackets for board meetings, coffee dates, concerts, and weekend outings. 
These weren't your subdued, by-the-books jackets. Think daring hues, sequined lapels, and, yes, the omnipresent shoulder pads. While men had their monochromatic blazers, women injected this classic silhouette with an unapologetic personality. 
Leather Jacket: Rebel with Style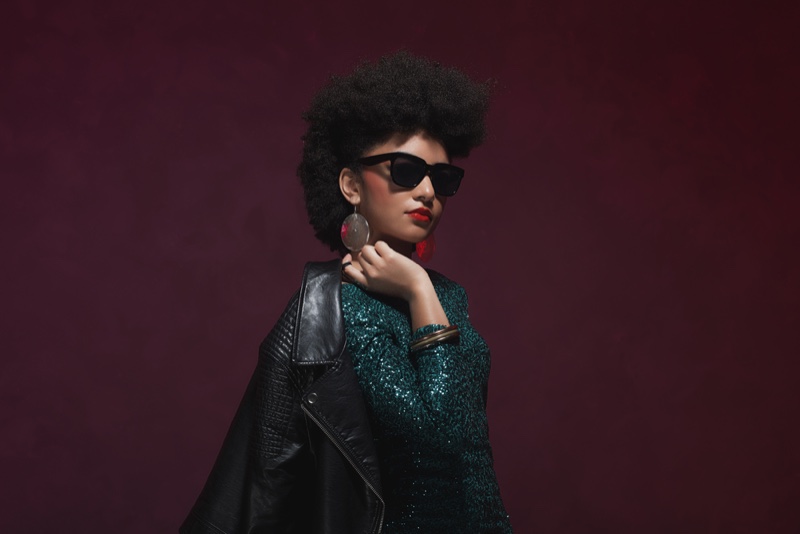 The leather jacket in the 80s was all about serving a rebellious attitude. Don't think it is one-size-fits-all; the decade gave leather jackets a versatile twist. Cropped or elongated, decked with studs, or stripped down to basics, each style had its own spin. Oversized or fitted, these jackets
Denim Jacket: A Casual Outfit Staple
Denim jackets in the 1980s were the chameleons of the fashion world, versatile enough to suit punks, preppies, and everyone in between. Teens sported them covered in patches and pins, turning each jacket into a personalized billboard. For the older crowd, denim jackets casually elevated weekend outfits, offering an easy pivot from workwear. 
Pants: Explore the Styles
Pants played a crucial role in defining the style and individuality of the era. From bold and daring to casual and comfortable, the range of pants and trousers in the 80s was diverse and exciting.
Acid Wash Jeans: Youthful Boldness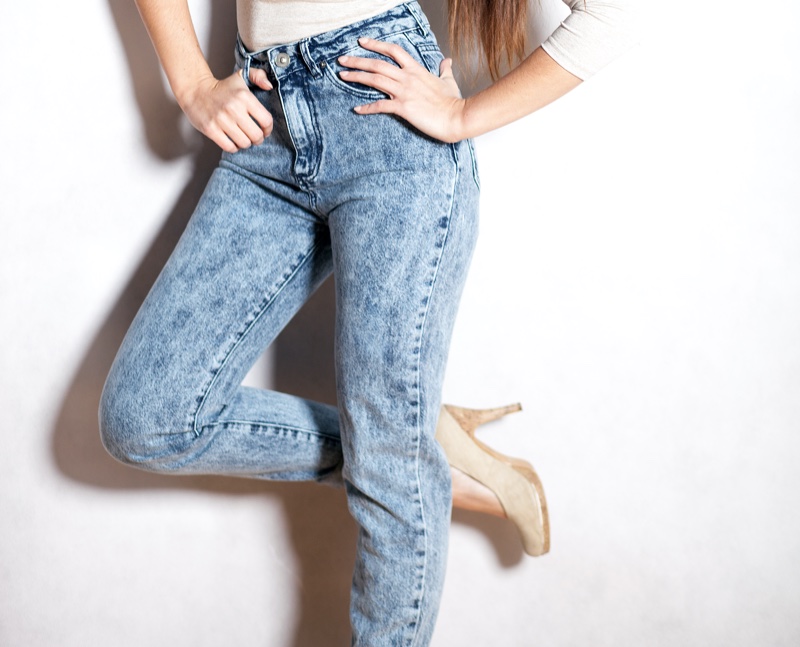 Acid wash jeans in the '80s were the fashion wildcard, turning the denim world inside out with their rebellious flair. These trousers were an act of anti-conformity stitched into every bleached fiber. 
Loved by the youth and rock stars, they turned even the most basic ensemble into an edgy spectacle. With patterns resembling tie-dye met a rock concert, these distressed jeans broke all the rules.
High-Waist Jeans: An Iconic Denim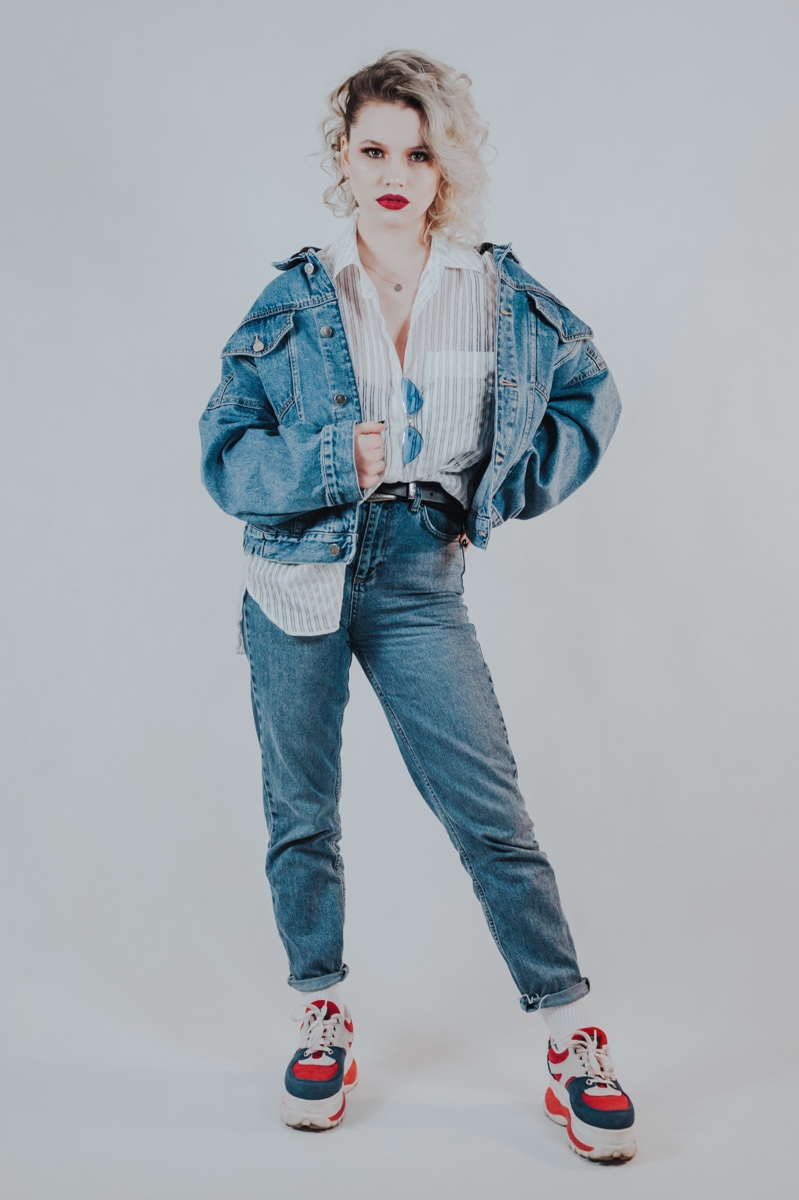 Another staple of the era was high-waist jeans. If you follow fashion trends, you'll know that this jean style has made quite the comeback. Also known as mom jeans, high-waist styles often come in light washes and sit at the belly button or higher. They could be worn with casual t-shirts, oversized knitwear, and much more.
Parachute Pants: Futuristic Threads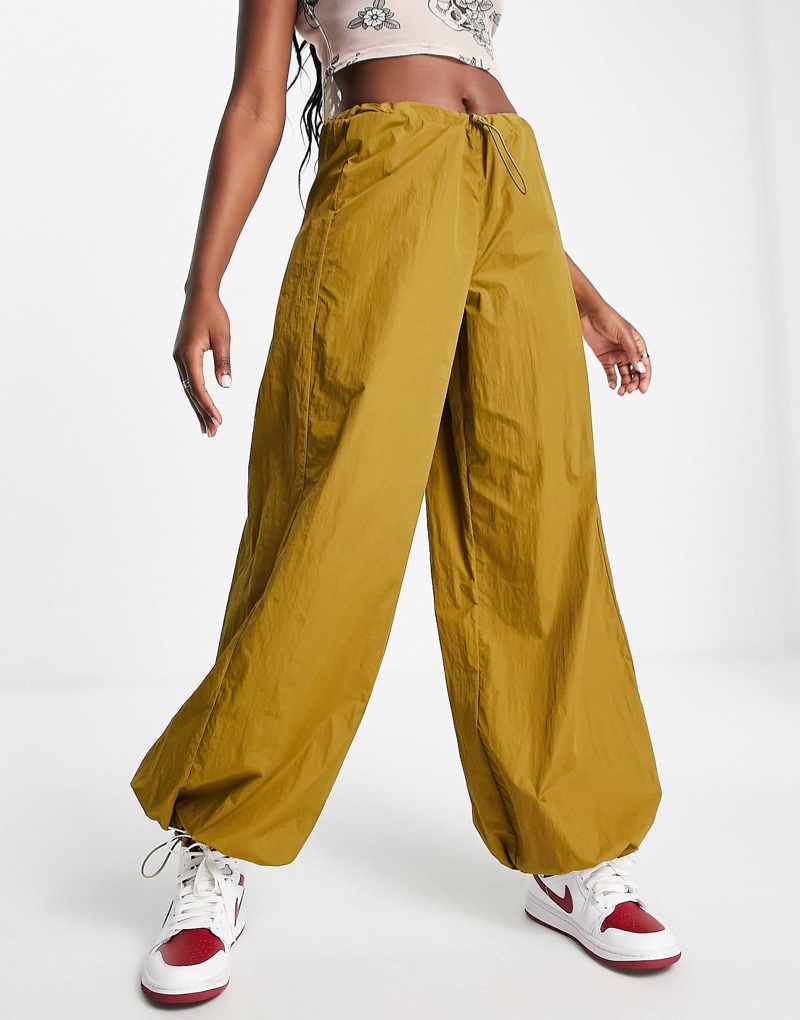 Parachute pants in the '80s were like the synthesizers in a synth-pop band-futuristic, attention-grabbing, and a signal of what's next. Made from lightweight nylon material and featuring zipper pockets, they were a staple of hip-hop style. Stars like MC Hammer popularized this look.
80s Styles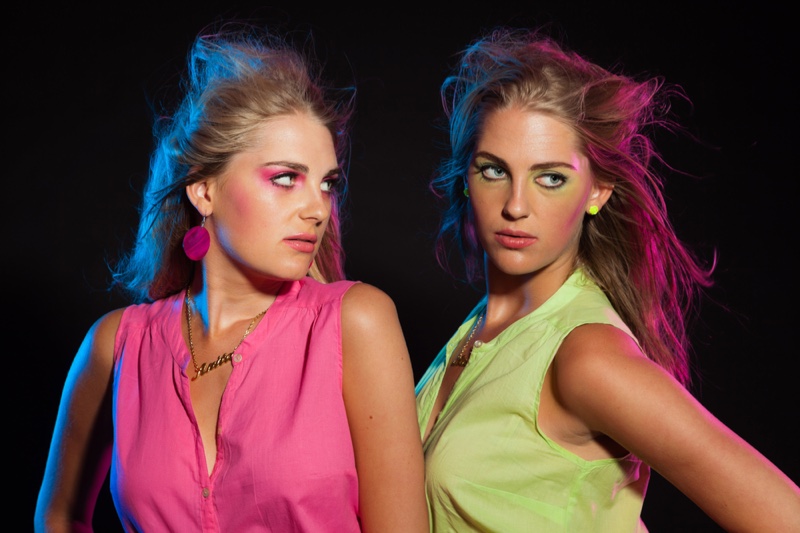 From hip-hop's swagger to preppy's polished looks and from punk rock's rebellion to new wave's eclectic flair, the 1980s was a melting pot of subcultures that propelled fashion into the spotlight. Unearth these iconic styles as we take a nostalgic trip below
Hip-Hop: The Beat of the Streets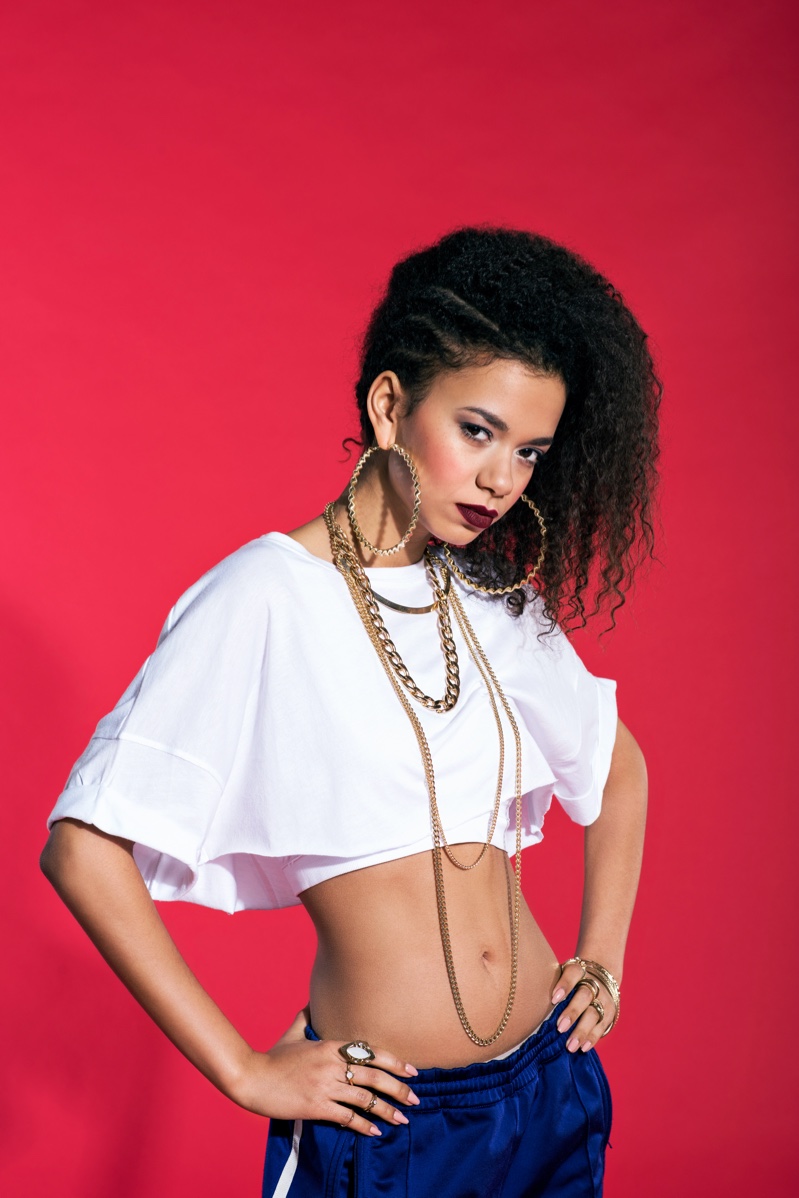 In the '80s, hip-hop fashion was like the loud beat in a Run DMC track–unmissable and full of swagger. The era was marked by logos, from high-end brands to custom creations by iconic designers like Dapper Dan. 
He turned clothes into billboards for brands like Gucci and Fendi. Hip-hop legends such as Salt-N-Pepa and LL Cool J were style influencers, defining the look of a whole generation. Tracksuits, mink coats, and bomber jackets were standout outerwear pieces.
It wasn't just about the clothes. Accessories got a hip-hop makeover, too. Think mirrored sunglasses and a leather aviator jacket, turning everyday people into instant cool kids. 
Branded bucket hats, flashy gold chains, and eyeglasses went from exclusive to every day. Hip-hop fashion broke down barriers, blending streetwear with high fashion.
Punk: Breaking the Norms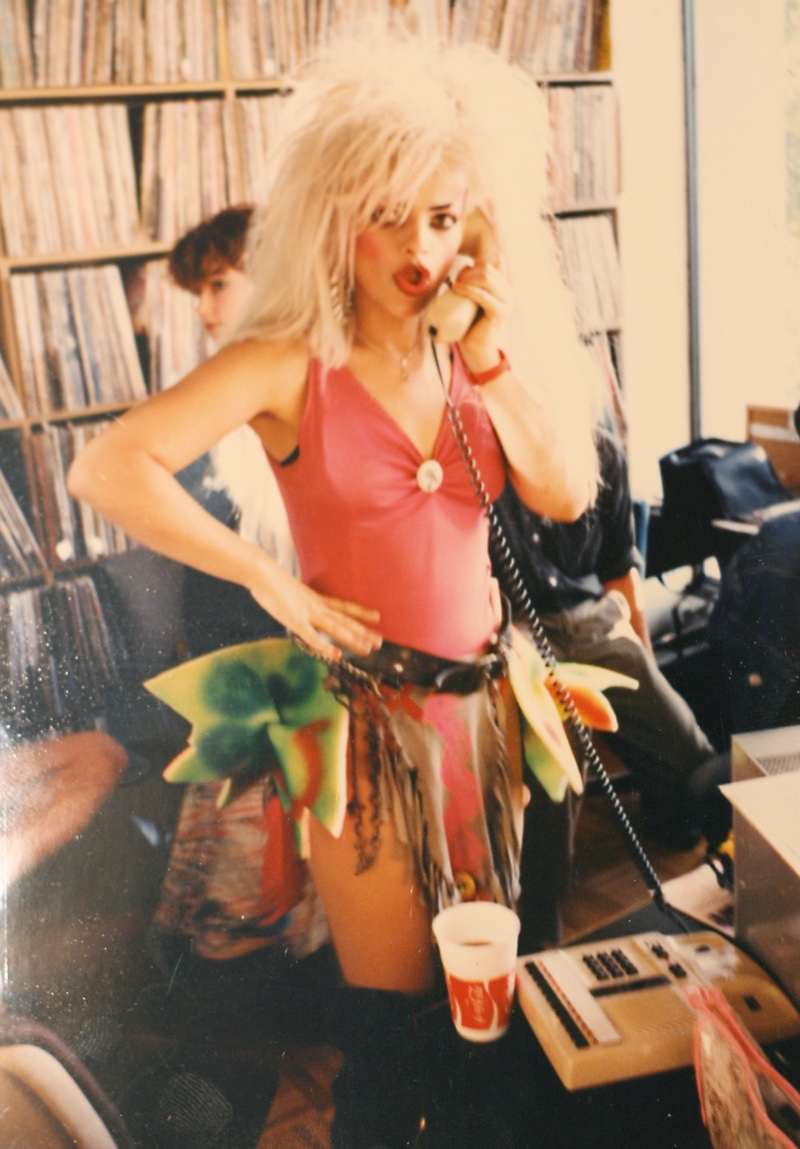 In the 1980s, punk style was a social statement. Rejecting the preppy look, those who wore the style saw their ripped jeans and secondhand jackets as acts of defiance. 
Chains, readily found at home, became more than mere accessories; they symbolized rebellion. Mohawks, leather jackets, fishnet tights, and combat boots are more staples of a punk wardrobe.
To wear the punk look was to shun conventionality and commercialism altogether. Upcycling and DIY looks were all the rage in the scene.
New Wave: Eclectic Outfits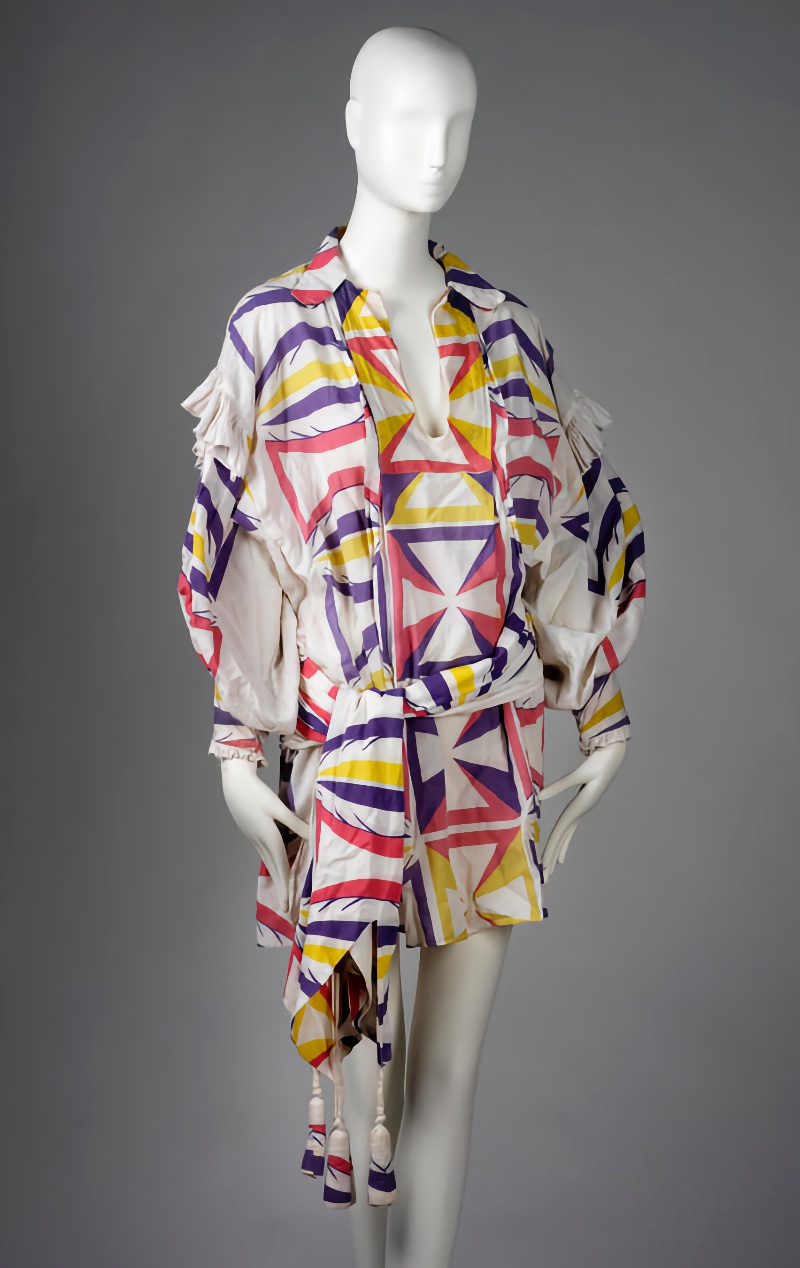 In the '80s, New Wave fashion was like the cool new kid everyone wanted to know on the block. Think bright colors, futuristic patterns, and a mix of traditional and modern styles.
Clothing with uneven hemlines, mismatched patterns, and unconventional silhouettes were popular choices among New Wave fashion fans.
It was all about being bold and different. New Wave fashion was heavily inspired by the music of the time, like The B-52s and Duran Duran, which mixed rock with electronic sounds. 
Think of looks like remixing your mom's '60s closet with a futuristic twist. Picture oversized blazers paired with mini skirts or high-waisted pants coupled with slouchy, off-the-shoulder sweaters. Hosiery wasn't just for warmth; patterned tights and fishnets became part of the aesthetic.
Fashion & Fitness: The Pursuit of Perfection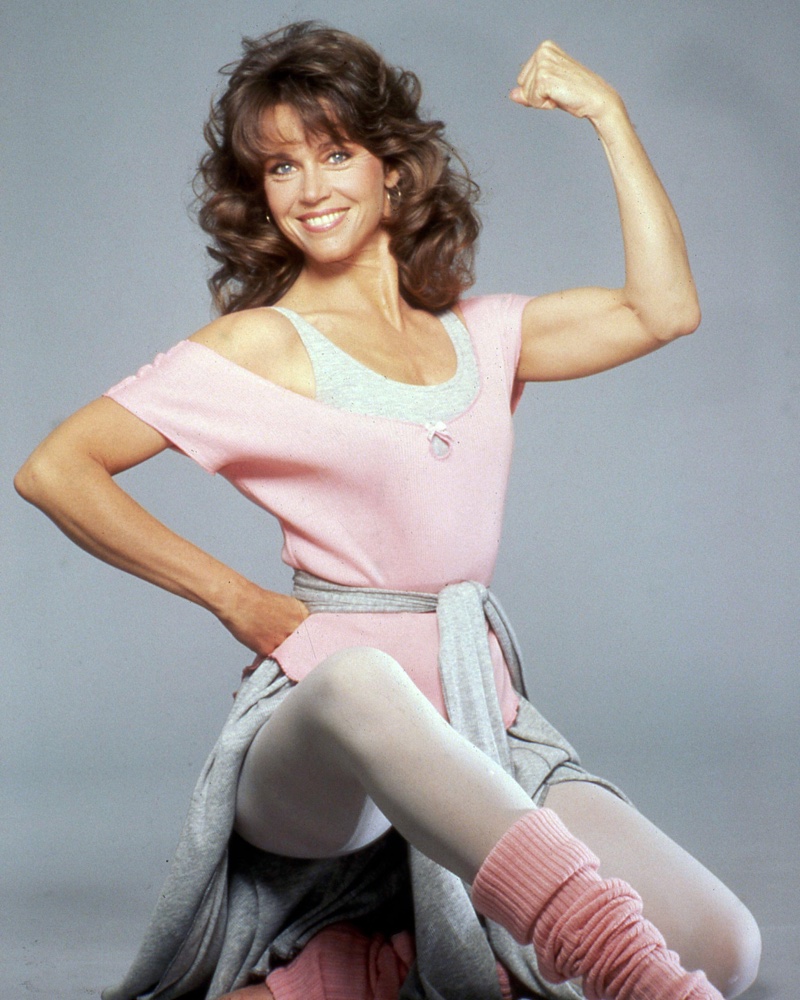 Sportswear shifted from gym-only attire to everyday fashion statements in the '80s, thanks to Hollywood icons like Jane Fonda and Olivia Newton-John. As the decade emphasized looks and image, a healthy lifestyle and aerobics became a trend everyone wanted to follow in the United States. 
Leg warmers weren't just for dancers; they became a fashion staple for the masses. Leotards, too, shone in the spotlight, whether vibrant or understated in spandex. 
Sneakers replaced dress shoes as the go-to footwear, especially for young people. Ankle socks paired with laid-back shoes were a style statement that defined a health-conscious era.
Preppy: Polo Shirts & More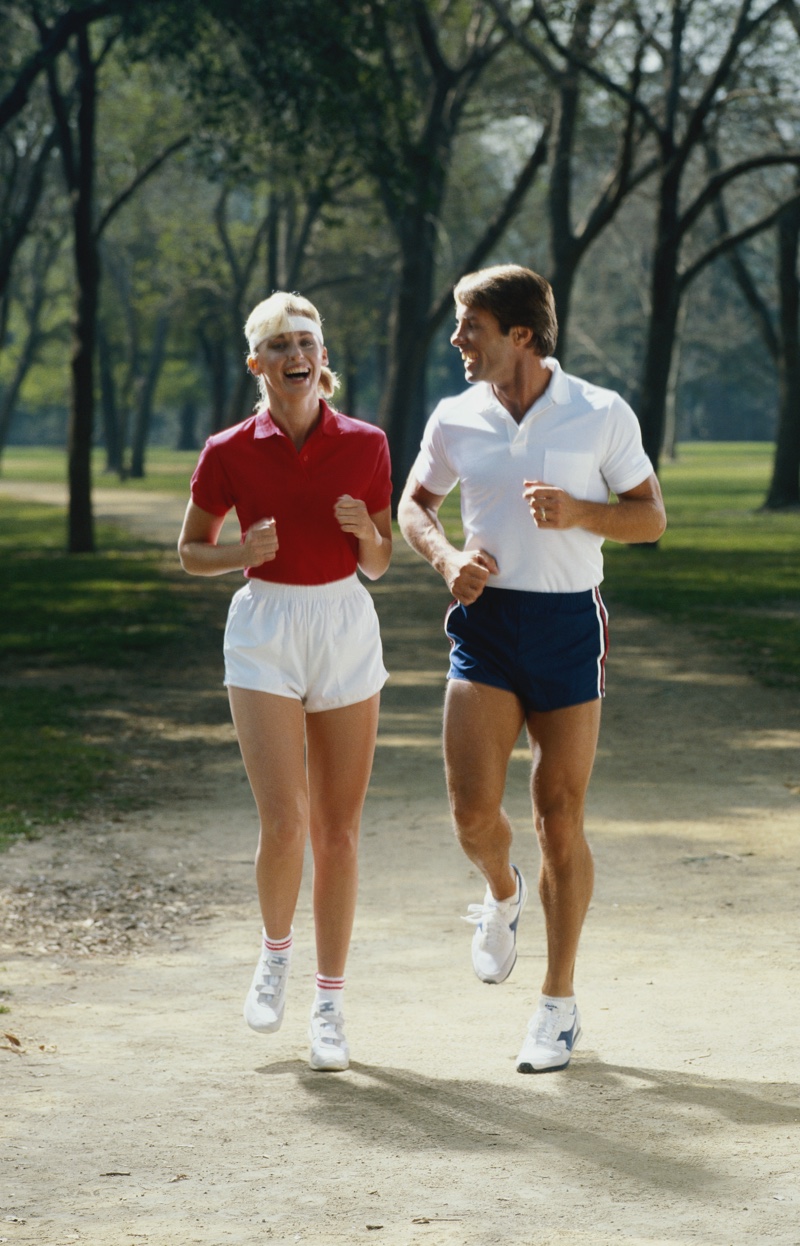 Preppy fashion in the 1980s went beyond clothes; it was a lifestyle that touched youth culture. Pastel polo shirts with sweaters tied over the shoulders were an iconic preppy look.  
It was a look that thrived on college campuses and found its way into country clubs. Whether it was an argyle sweater or a string of pearls, each item made a statement about who you were and the world you belonged to. 
Twinsets, tennis skirts, and pleated skirts are all hallmarks of the aesthetic. Penny loafers and boat shoes weren't just footwear; they were an essential part of the preppy wardrobe, complementing everything from khaki shorts to floral print dresses. Brands like Ralph Lauren and Lacoste defined the look.
Teen Fashion: Trendy Looks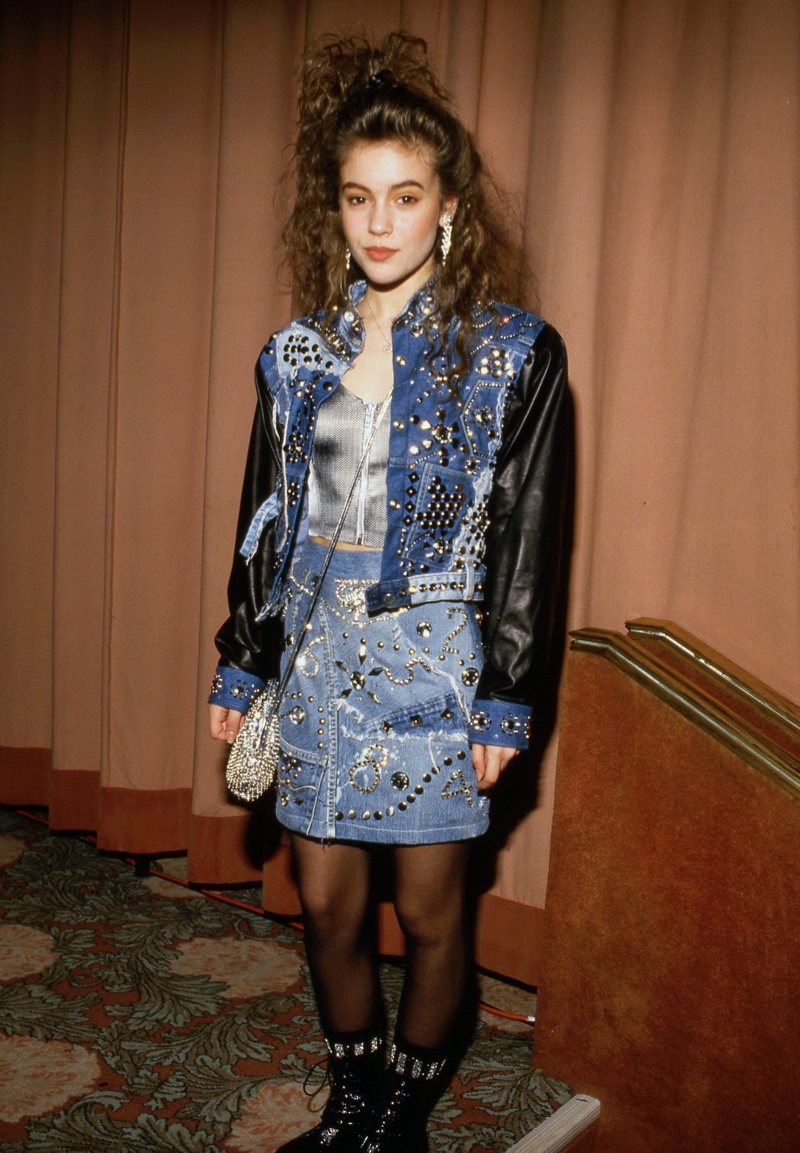 Teen fashion took a cue from the fast-food culture in the 1980s. This decade saw the beginning of fast fashion, with stores delivering affordable and instantly gratifying trends. Jeans were a teenage rite of passage thanks to their endless versatility.
Icons of the time, like Ralph Lauren and Calvin Klein, transformed denim from mere fabric to a cultural phenomenon. 
It wasn't just about jeans, though. Mini skirts teamed up with tights to create an effortlessly chic look, turning school hallways into informal fashion runways. Bright prints and daring colors were a youthful rebellion against the subdued tones of previous generations. 
Hair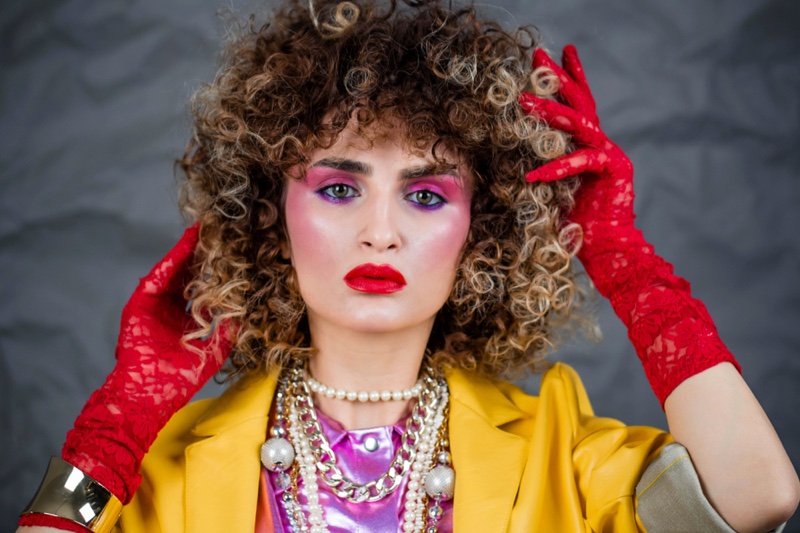 Hair in the 80s was all about being big and voluminous. It was a declaration of larger-than-life aspirations. For women, perms gave waves, curls, and even frizz an extra boost. 
There were also mullets and mohawks for men. Hair color broke free from natural hues, as vivid blues, pinks, and greens lit up the fashion landscape for the younger set. Stars like Cydni Lauper made neon hair colors popular. 
And let's not forget Jeri curls, a go-to style for Black hair that adds defined curls to the voluminous trend. 
Makeup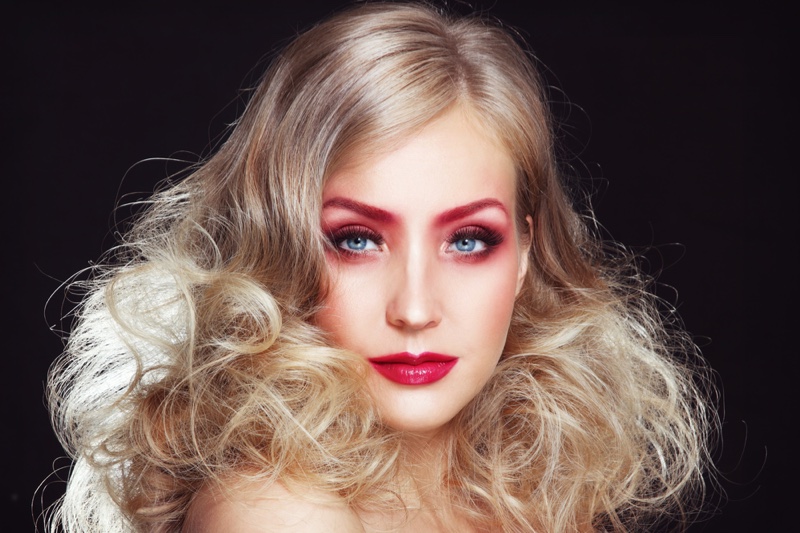 1980s makeup was all about being loud and vibrant. People didn't just put on a little eyeliner and blush. Instead, they went all out to make sure you couldn't look away. 
Compared to today's neutral tones, shades of blue, pink, purple, and green were used for eyeshadow, lipstick, and beyond. The goal was to grab your attention and not let go. Much like neon fashion during the decade, the makeup was bold and bright.
Popular Perfumes
In the 1980s, the world of perfumes was as vibrant and distinctive as the era's fashion. This decade saw the launch of iconic scents that captured the spirit of opulence and boldness. Among them, Dynasty, the television show, offered the scents Forever Krystle and Carrington inspired by the show's characters.
Calvin Klein's Eternity, introduced in 1988, became a symbol of timeless romance and elegance, embodying the decade's shift towards more sophisticated, nuanced scents. Other popular fragrances include Dior's Poison and Love's Baby Soft.
Accessories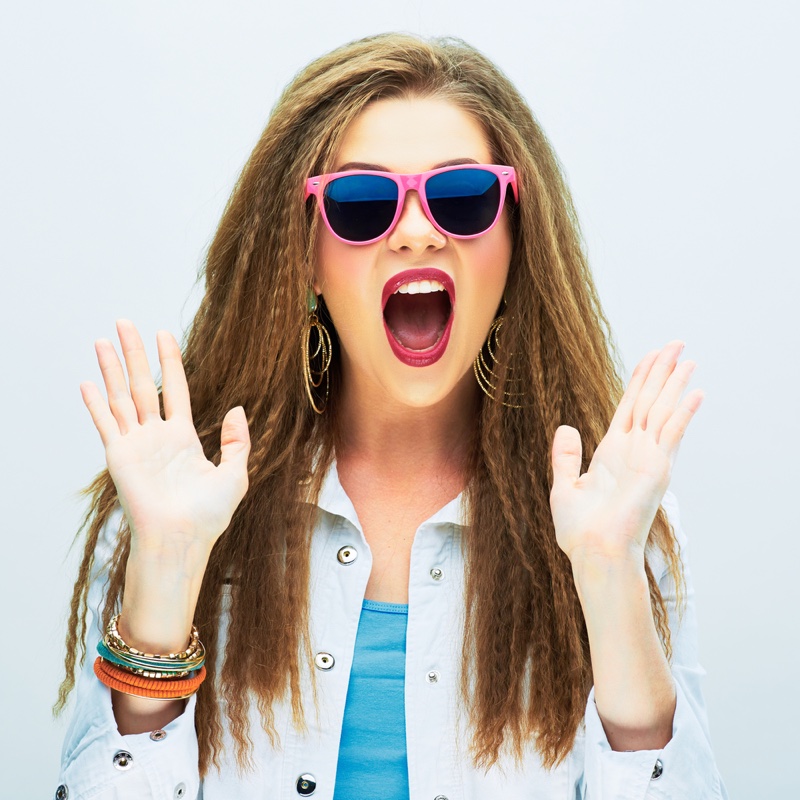 In the 80s, it was all about going big or going home. Accessories were no exception. Oversized was the name of the game, with chunky statement jewelry and bold sunglasses taking center stage. Belts with massive buckles and wide shoulder pads were also popular choices.
Jewelry: Life in Plastic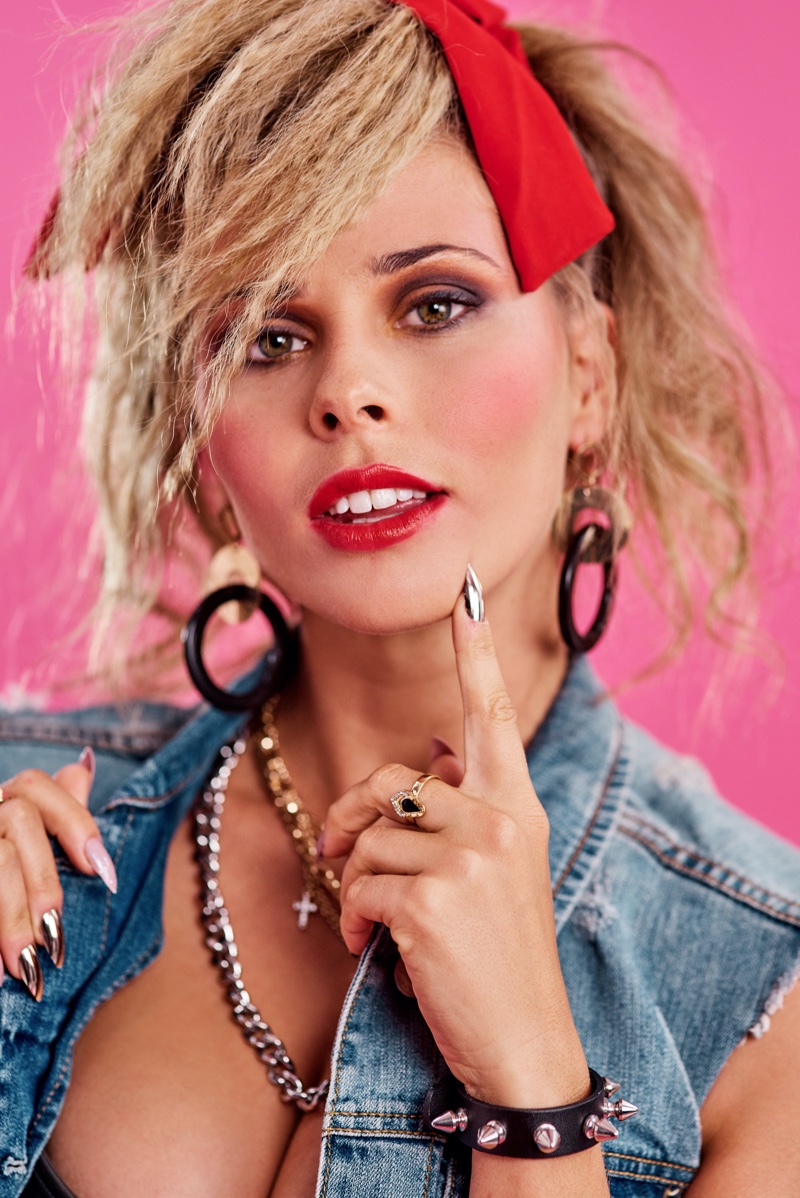 Plastic accessories in the 1980s were crucial elements of an outfit. It was an era where your jewelry stood out in neon or was more subtle in pastel, but it never stayed silent. 
Imagine sporting a cluster of vivid bangles on one wrist, counterbalanced by a lone gold necklace. And let's remember those oversized, dangling earrings. Or even clip-on earrings that were oversized and circular.
Belts: The Finishing Touch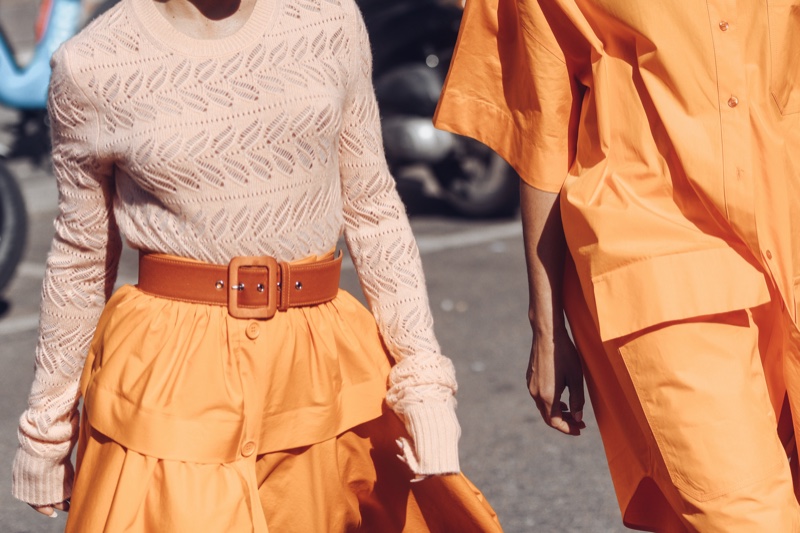 Belts were more than mere waist-cinchers; they were a fashion statement on their own. They came in metallics, leathers, and even fabric, often worn loose and hanging or cinched to create a paper bag waist. Whether studded or simply bright, a belt wasn't just functional; it was all about style.
Gloves: A Wardrobe Essential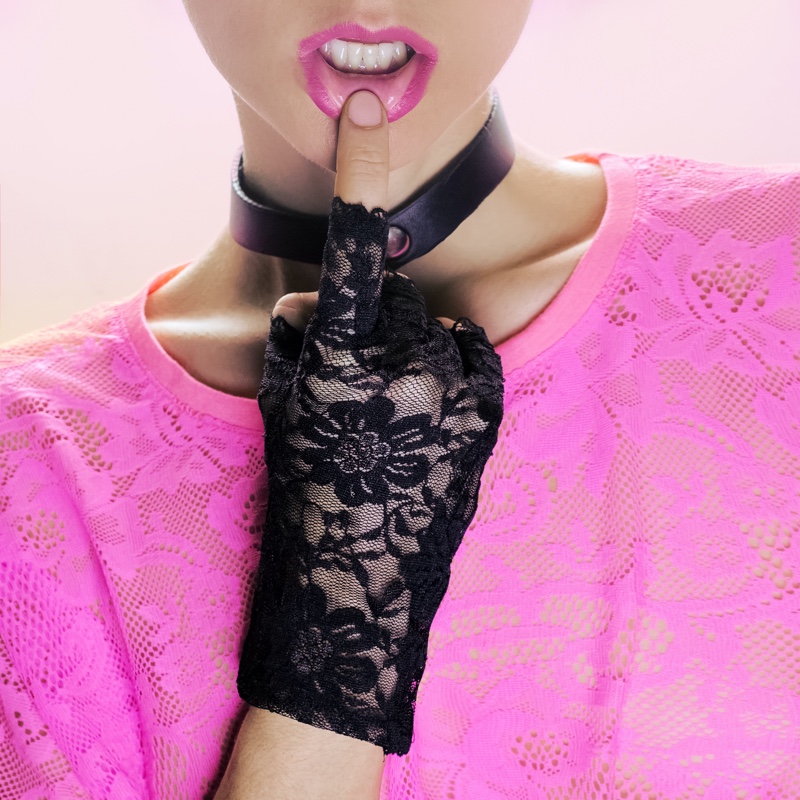 Gloves of the '80s were a far cry from the traditional white, elbow-length styles of the past. This era of fingerless lace and leather was more Madonna than debutante. Worn as an edgy accessory rather than for elegance, gloves marked you as bold, thumbing the norms of the 'proper lady.'
Scrunchies: A Fun Accent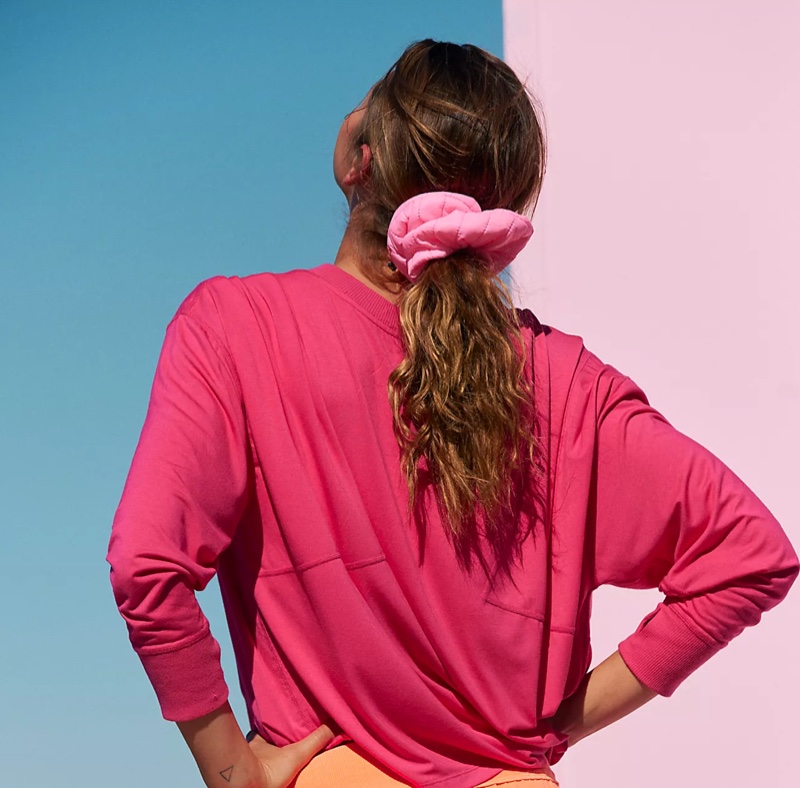 No '80s hairstyle was complete without a scrunchie. These fabric-covered elastic hair ties came in a wide range of colors and patterns, making it easy to add a pop of style to any hairdo.
Leg Warmers: Playful Details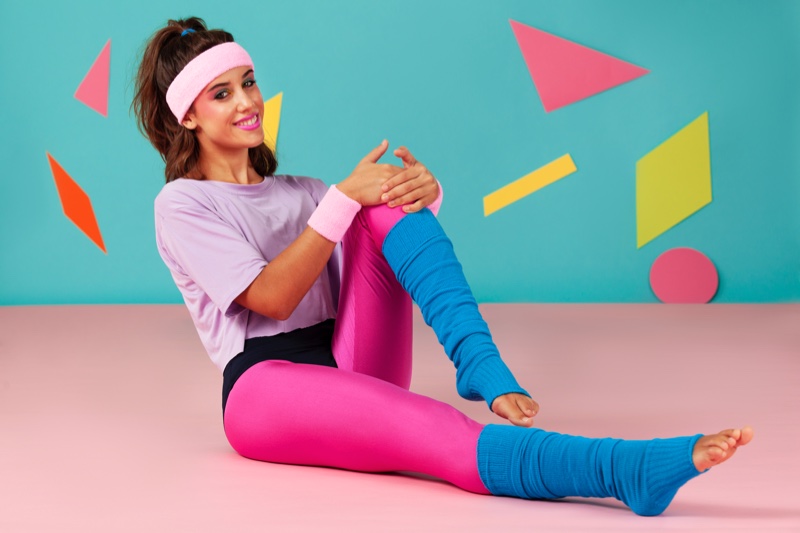 Leg warmers gained popularity in the era thanks to movies like Flashdance. Worn over leggings or jeans, these knitted tubes add a layer of warmth and a touch of style to any look.
Shoes: Stepping Through the Era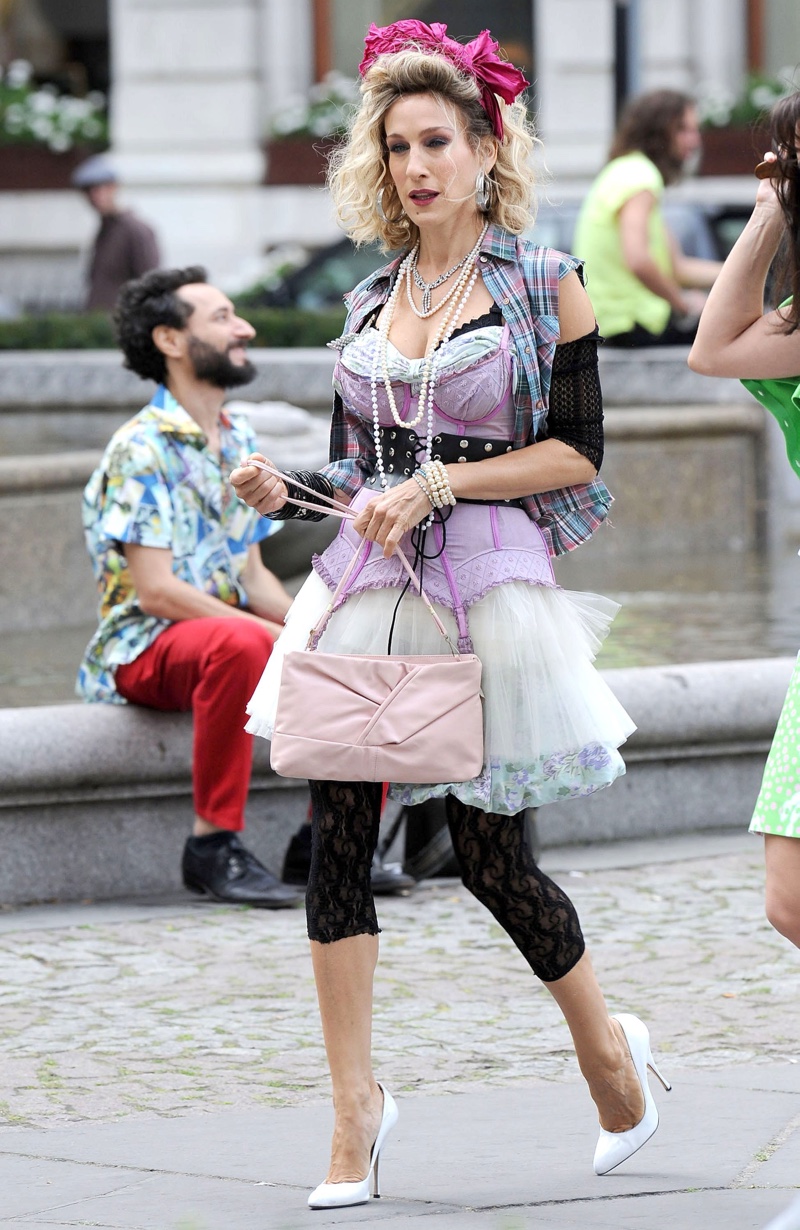 Shoes in the '80s were the groundwork for iconic looks, an ever-changing cast of styles that kept the fashion world on its toes. Enter the high-top sneaker, once relegated to the basketball court, now striding confidently down urban streets. 
But this decade also welcomed the stiletto's resurgence, a sharp contrast to the flat loafers and Keds that also had their moment. Add in the ubiquity of cowboy boots and patent leather pumps, and you've got a decade where footwear wasn't just practical but also an element of self-expression. 
Movies & Television
Dynasty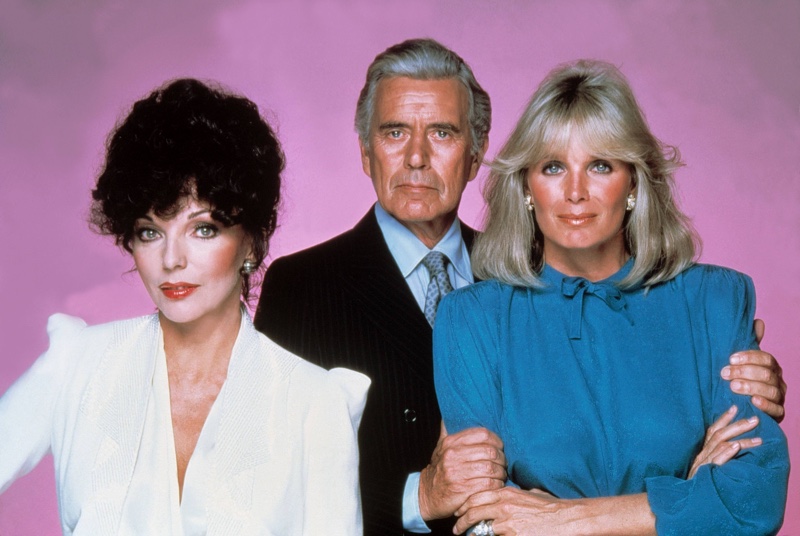 TV shows like Dynasty and Dallas weren't just weeknight escapes; they were fashion influencers in their own right. Linda Evans, the striking actress from Dynasty, had a natural broad shoulder that became a muse for designers crafting unique suits. 
Shoulder pads became must-haves for nailing that look, coveted by everyday people and the celebrity crowd. The show's reach was massive, capturing an audience of over 250 million viewers in the '80s alone. Its fashion influence went global.
Heathers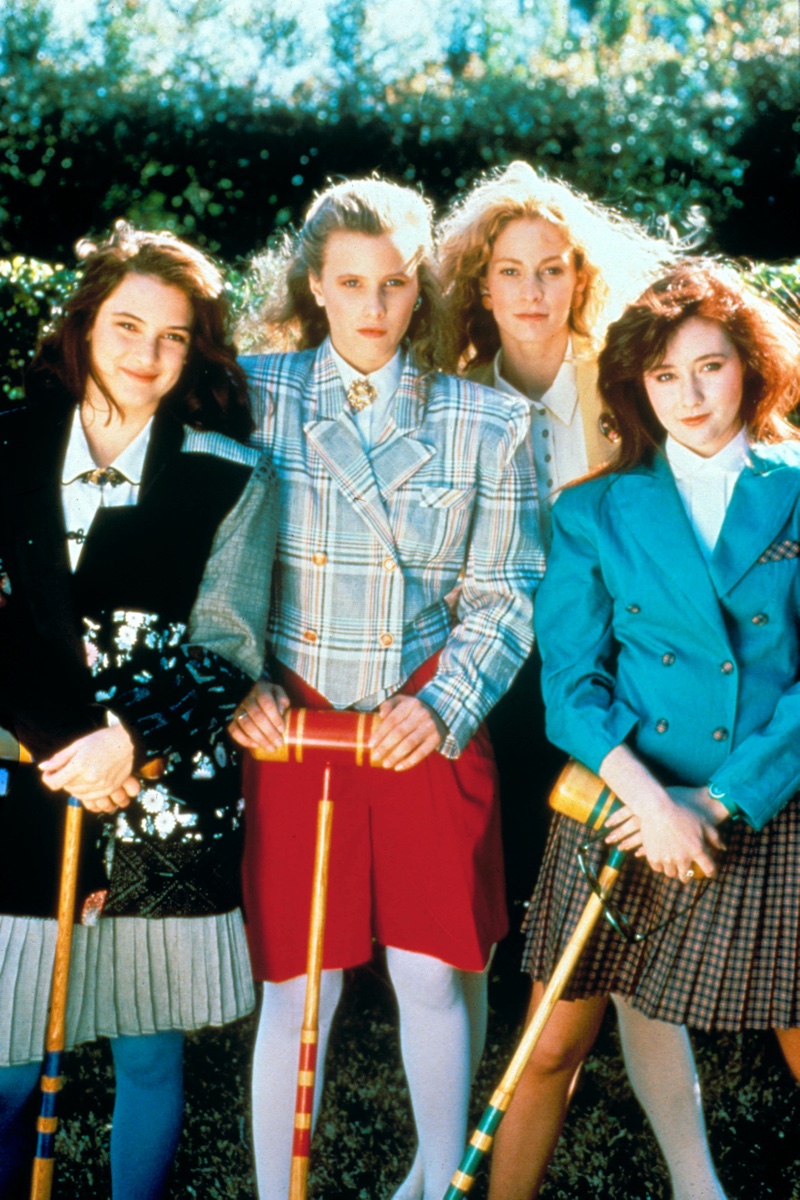 The film "Heathers" brought preppy fashion into the cult classic spotlight. Picture plaid skirts, knee-high socks, and blazers worn as if the characters just stepped out of an Ivy League handbook. Yet, there's a dark twist. Stars like Winona Ryder and Shannon Doherty took on the East Coast prep look.
Pretty in Pink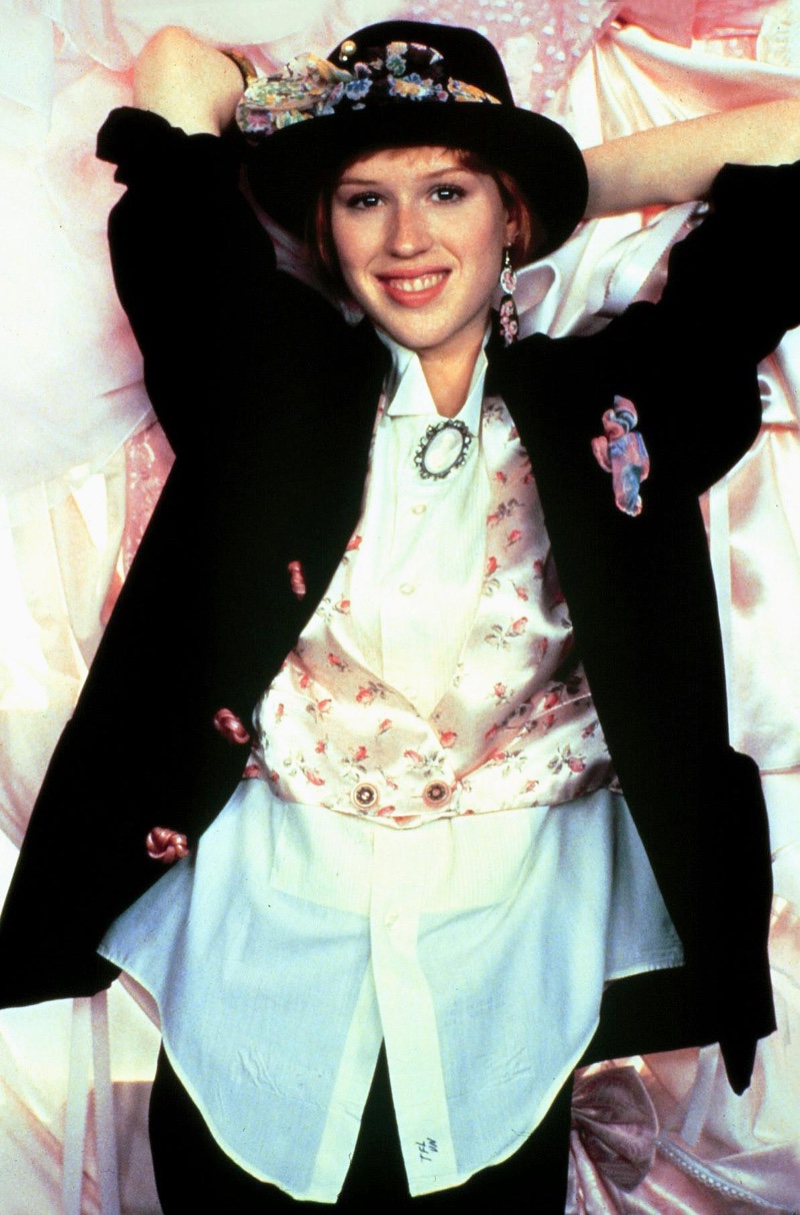 Molly Ringwald was another iconic face of 80s teen movies. Her style in Pretty in Pink and The Breakfast Club ranged from oversized blazers to that iconic pink prom dress. Playing the character of Andie in the former film, she turned two dresses into one.
Models
Brooke Shields
The 80s saw plenty of supermodels. Brooke Shields is one of the most notable, known for her brown-haired beauty and distinctive appeal that transcended genres. From Calvin Klein ads to the pages of high-end fashion magazines, she became a household name.
Grace Jones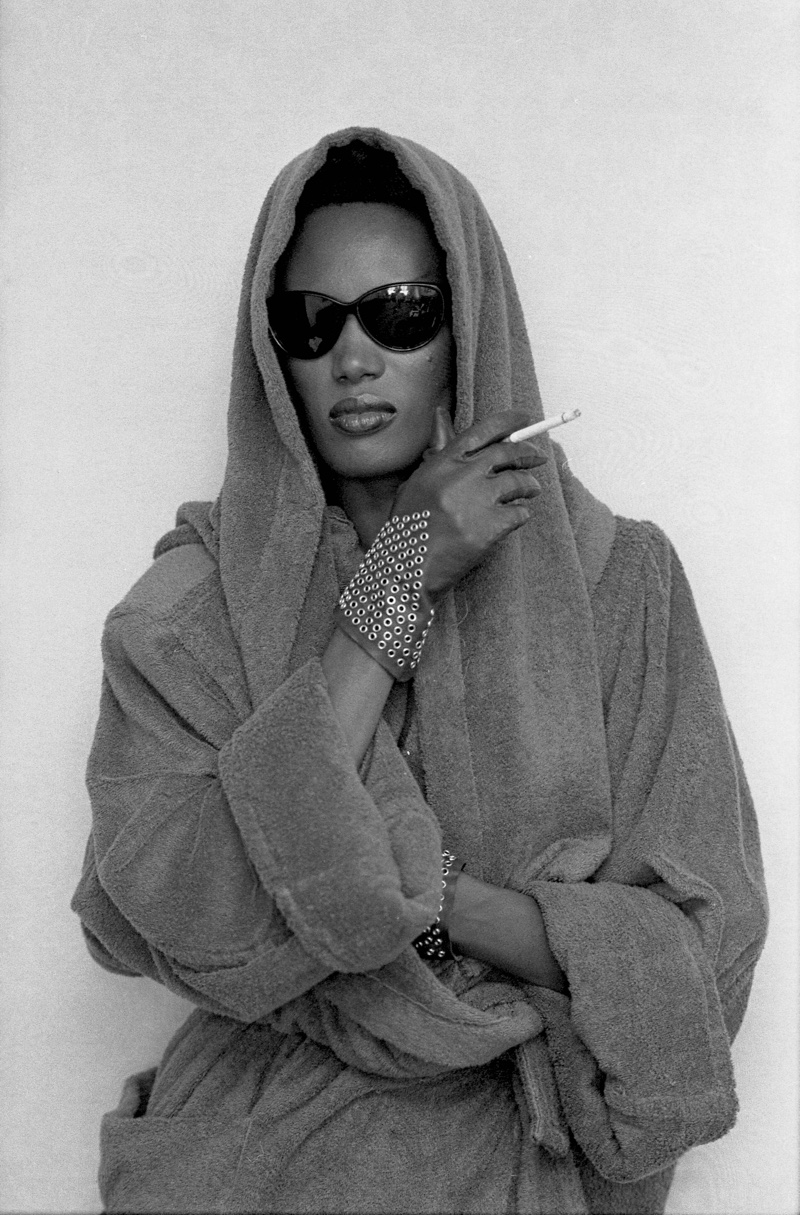 Grace Jones was an enigma wrapped in avant-garde fashion and an audacious attitude. She wasn't just a singer, actress, or model; she was a multi-faceted force that defied categorization. 
The Black model's androgynous look and dramatic flair were a siren call to the fashion world, which often struggled to keep up with her trailblazing style. Jones became the muse of designers like Jean-Paul Gaultier.
Elle Macpherson
Elle Macpherson, an Australian sensation dubbed "The Body," wasn't just another pretty face; she became an international icon when she graced the Sports Illustrated: Swimsuit Issue pages. Her global recognition catapulted her career and set a new standard for what a swimsuit model could achieve.
Nostalgic Styles
Even today, you see 80s fashion making a significant comeback on runways and red carpets when it comes to modern fashion. Some people like to organize costume parties to show off their favorite 1980s styles. From puff shoulders to bright colors and over-the-top makeup, you can easily dress like the 80s with normal clothes.
Incorporating 80s outfits into your wardrobe today can be fun and stylish, as the bold and eclectic nature of the decade's fashion still fits with contemporary trends. To embrace the decade while still staying relevant, mix and match men's eighties fashion elements, such as power suits and denim jackets, with more minimalist 2000s fashion pieces.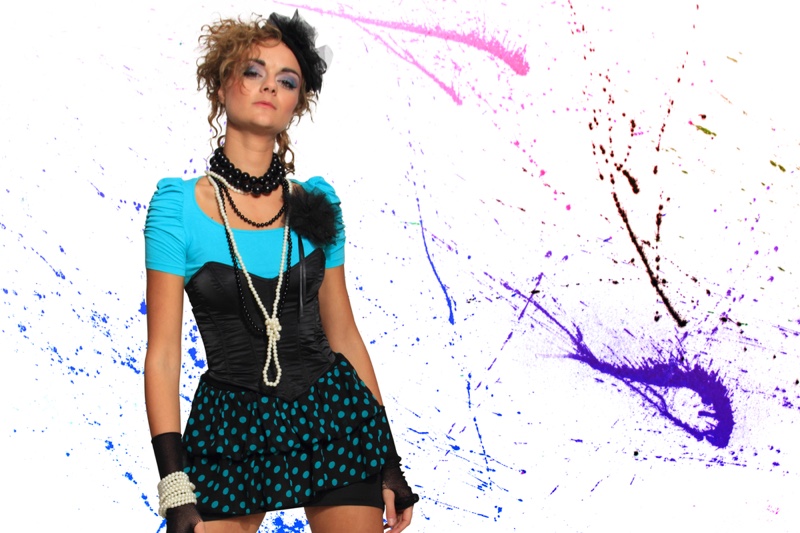 For women, try pairing high-waisted jeans and off-the-shoulder tops with modern accessories to achieve a balanced look. Combining the best of both decades allows you to create a unique and eye-catching style that pays homage to the 80s while maintaining a fresh, contemporary appeal. For more fashion history, see our guide to 90s fashion for women.
What are some of your favorite trends from the decade? Comment below.
Source link