Y2K fashion reflects a unique style that emerged in the late '90s and early 2000s. This aesthetic is characterized by its bold, playful, and futuristic fashion elements, drawing inspiration from the cultural and technological advancements of the era.
Y2K Fashion Trends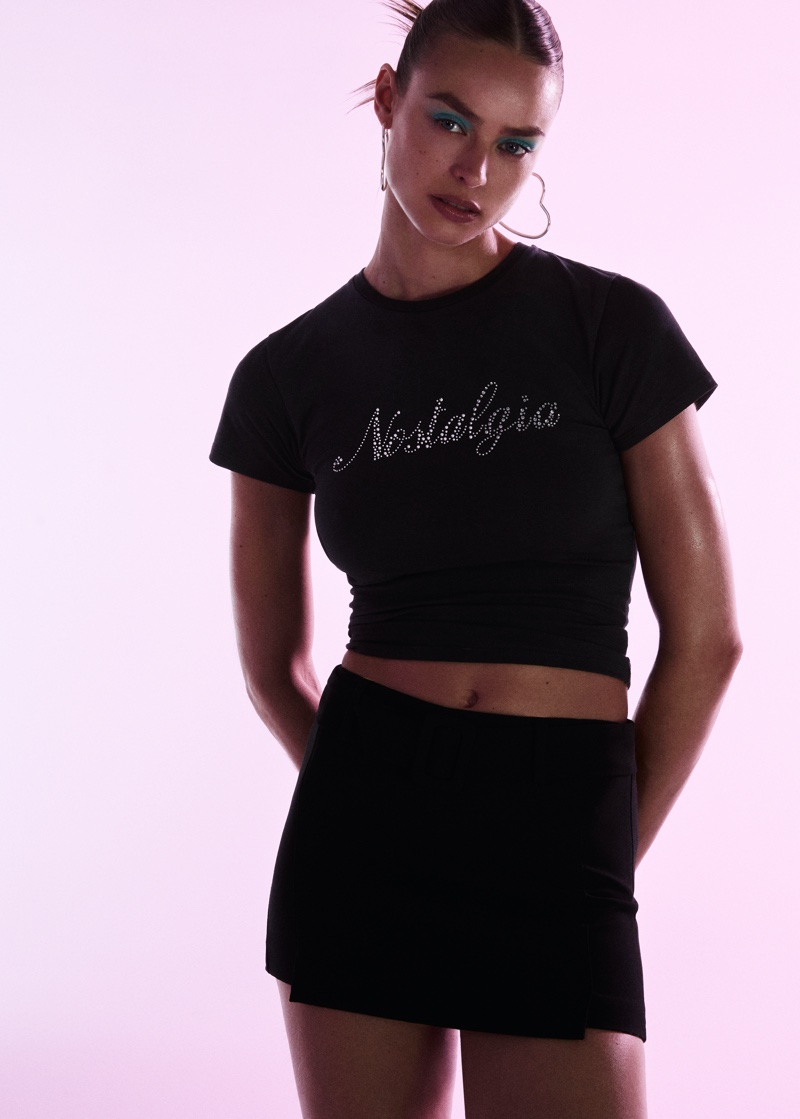 The Y2K style has experienced a resurgence in recent years, with Gen Z and Millennials embracing the vintage clothing, edgy accessories, and daring statement pieces that define this era.
We'll take a closer look at the most iconic Y2K trends, from low-rise jeans and shiny jackets to knee-high boots and butterfly clips, and how this aesthetic has influenced popular culture, from Christina Aguilera to Destiny's Child and music videos to red-carpet events in Los Angeles. So, let's dive in!
The Y2K aesthetic has made a significant comeback, bringing many iconic trends from the early 2000s. Let's take a closer look at the most popular Y2K trends:
Baby Tees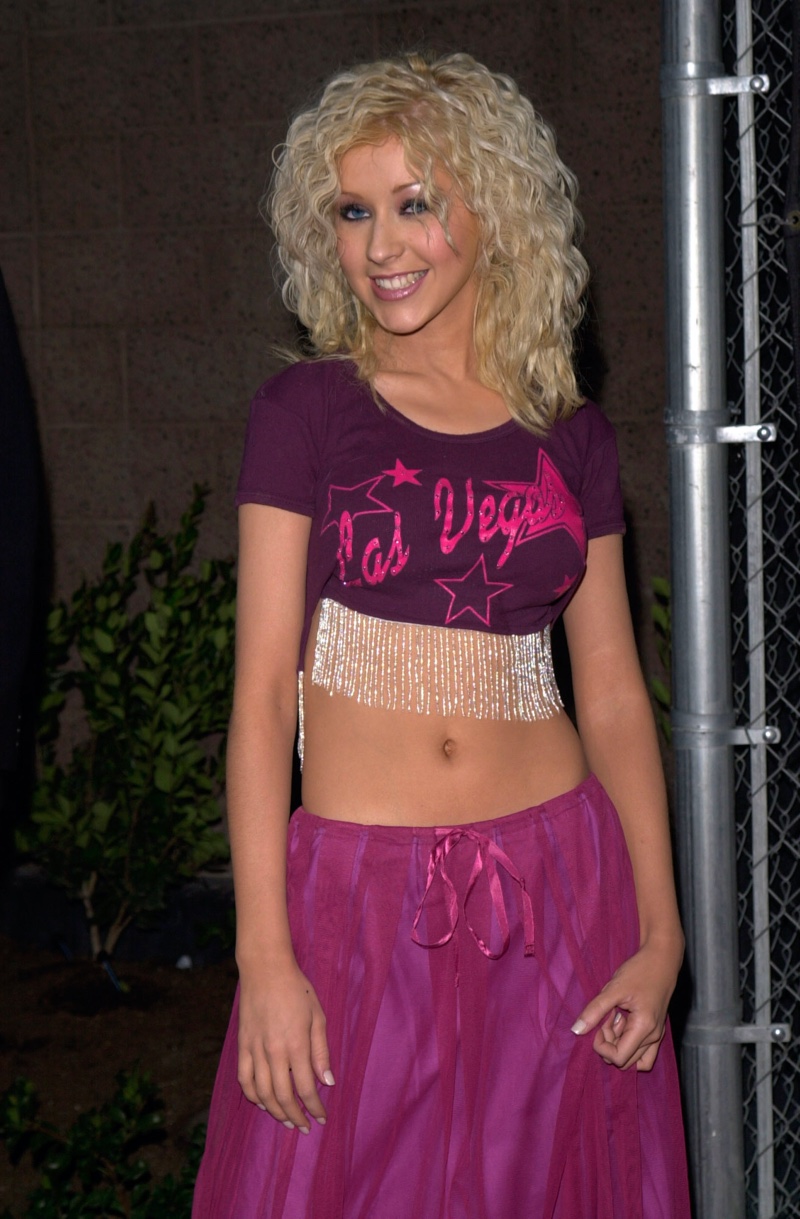 Baby tees are cropped, short-sleeved tops with a tight-fitting silhouette emphasizing the midriff. They often feature playful designs or text, adding a youthful and playful element to any outfit.
Ed Hardy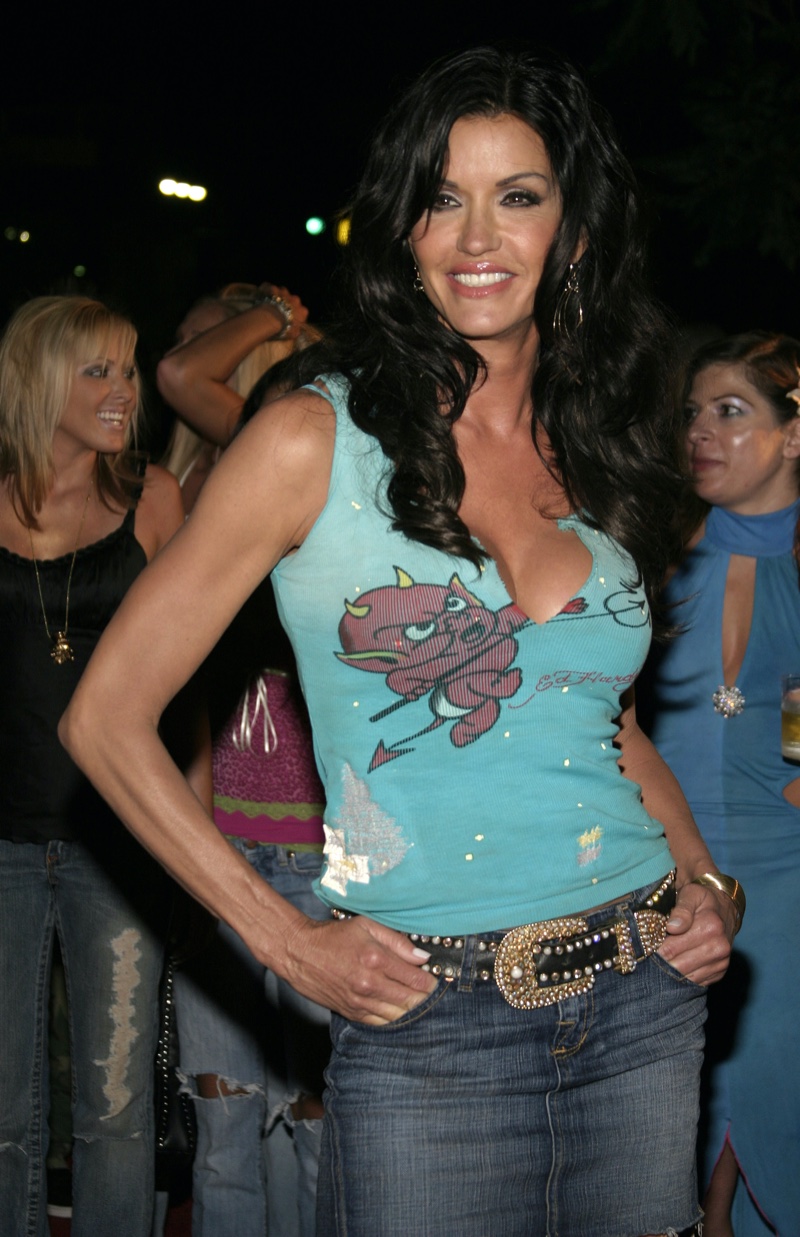 Ed Hardy is a name that is synonymous with Y2K fashion, known for its bold, colorful, and often controversial designs that were popular among celebrities and fashion enthusiasts alike. Graphic prints and tattoo-inspired motifs characterized the brand's signature style, and vibrant colors, often adorning t-shirts, hoodies, and other streetwear staples. 
Y2K Denim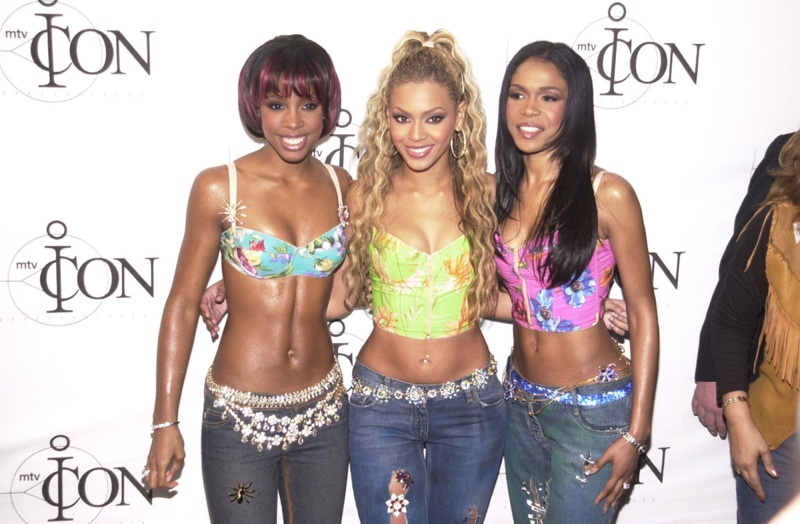 When it comes to Y2K fashion, jeans were a defining element of the era. There was a jean style for everyone, from low-rise jeans to baggy jeans, skinny jeans, and wide-leg denim jeans. Celebrities like Missy Elliot and Christina Aguilera were fashion inspirations for many young women, often sporting iconic Y2K looks featuring denim.
Low-rise Jeans
Low-rise jeans, in particular, were a hallmark of early 2000s fashion, often paired with crop tops or butterfly tops to show off a hint of midriff.
Baggy Jeans
Baggy jeans were also a popular choice, embodying the Y2K aesthetic of casual comfort. Baby Phat, a popular fashion brand of the era, was known for its signature denim, including baggy jeans.
Skinny Jeans
Skinny jeans were a more modern take on the classic denim look, often paired with statement tops and bold accessories.
Wide-leg Denim Jeans
And then there were the wide-leg denim jeans, featuring a loose and flowing silhouette that exuded a laid-back vibe.
Knee-high Boots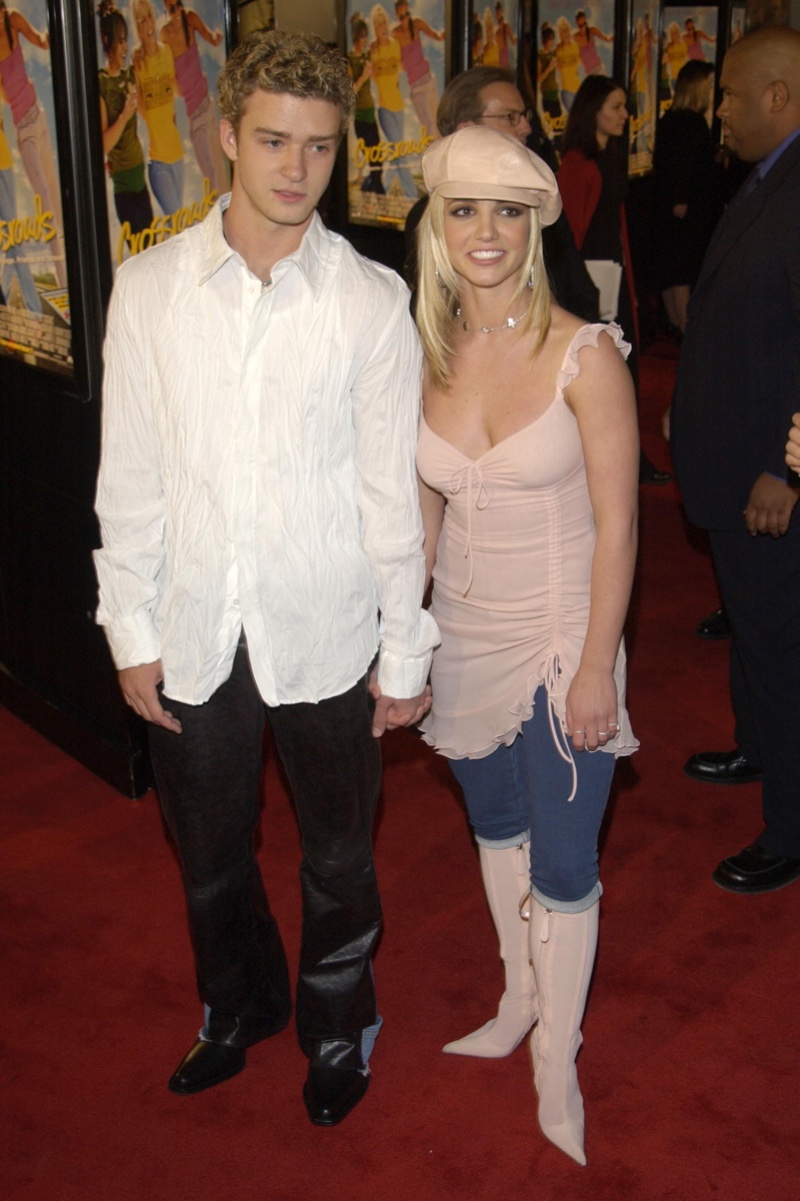 Knee-high boots are one of the standout fashion items from the early 2000s, a time when fashion was heavily influenced by the Y2K aesthetic. These boots, characterized by their length just below the knee, became a staple in the wardrobes of many fashion-forward individuals during this era.
What made these boots so popular was their versatility—they could be worn with various outfits, from mini skirts to skinny jeans, and were available in various materials, including leather and suede. They also had a certain edginess, making them popular among those who were into the punk and grunge scenes.
However, it wasn't just different subcultures that were rocking these boots—knee-high boots quickly gained mainstream popularity and were spotted on everyone from celebrities to everyday people.
Bomber Jackets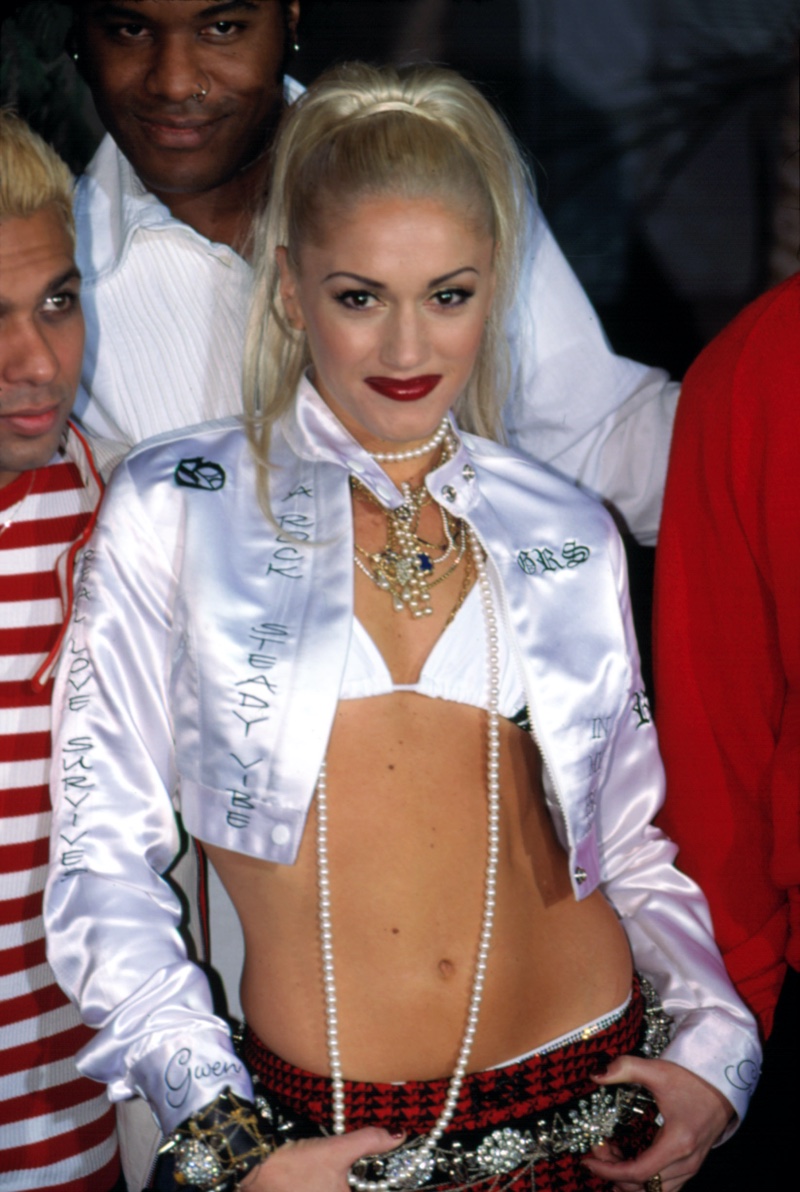 Bomber jackets, a classic piece of military-inspired outerwear, made a roaring comeback in the early 2000s as part of the Y2K fashion trend. As the new millennium dawned, the world's attention shifted towards a futuristic aesthetic that incorporated high-shine fabrics, bold prints, and statement accessories.
With its sleek lines and versatile style, the bomber jacket was the perfect embodiment of this trend. Its streamlined design and functional features made it a practical choice for the fashion-conscious. But the jacket's mainstream popularity truly solidified its status as a Y2K fashion staple.
From street style to the runway, everyone was sporting a bomber jacket in one form or another. Whether it was a cropped version in neon hues or an oversized iteration with intricate embroidery, this jacket became a ubiquitous piece that embodied the spirit of the times.
Platform Heels
Platform heels were a defining element of Y2K fashion, adding height and edge to any outfit. These shoes featured a thick sole, often with a chunky heel, creating a bold and statement-making look.
Platform heels were often paired with mini skirts, low-rise jeans, or leggings, showcasing the wearer's legs and adding a touch of sex appeal.
Cargo Pants
Cargo pants were a defining trend of Y2K fashion, embodying the era's laid-back and practical approach to style. These pants featured multiple pockets and a loose, relaxed fit, often paired with oversized tops or cropped tanks for a youthful and playful look.
The cargo pants trend symbolized the era's rebellion against traditional fashion norms, embracing a more practical and comfortable approach to dressing.
Shiny Materials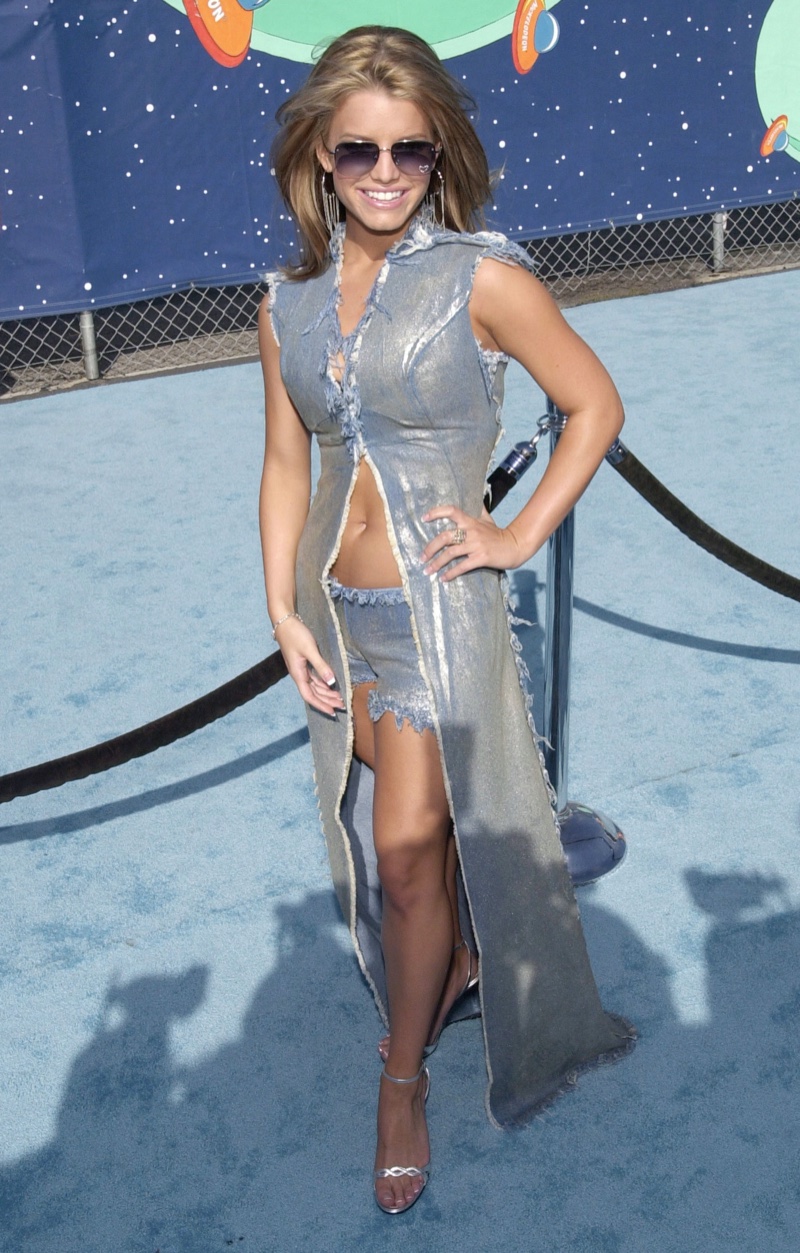 Patent leather or metallic fabrics are a hallmark of the Y2K aesthetic. They add a futuristic and playful element to any outfit, creating a statement look that's impossible to ignore. This would also be present in nail designs and makeup for the era.
Baguette Bags
The Fendi Baguette bags are small, rectangular purses with short straps that can be worn over the shoulder or held by hand. Popular in the early 2000s and now making a comeback, these bags are perfect for adding a touch of nostalgia to any outfit while still being practical and versatile.
Pleated Colorful Skirts
Playful and feminine, these skirts often feature bold colors and prints, adding a pop of color and playfulness to any outfit.
Tie Front Tops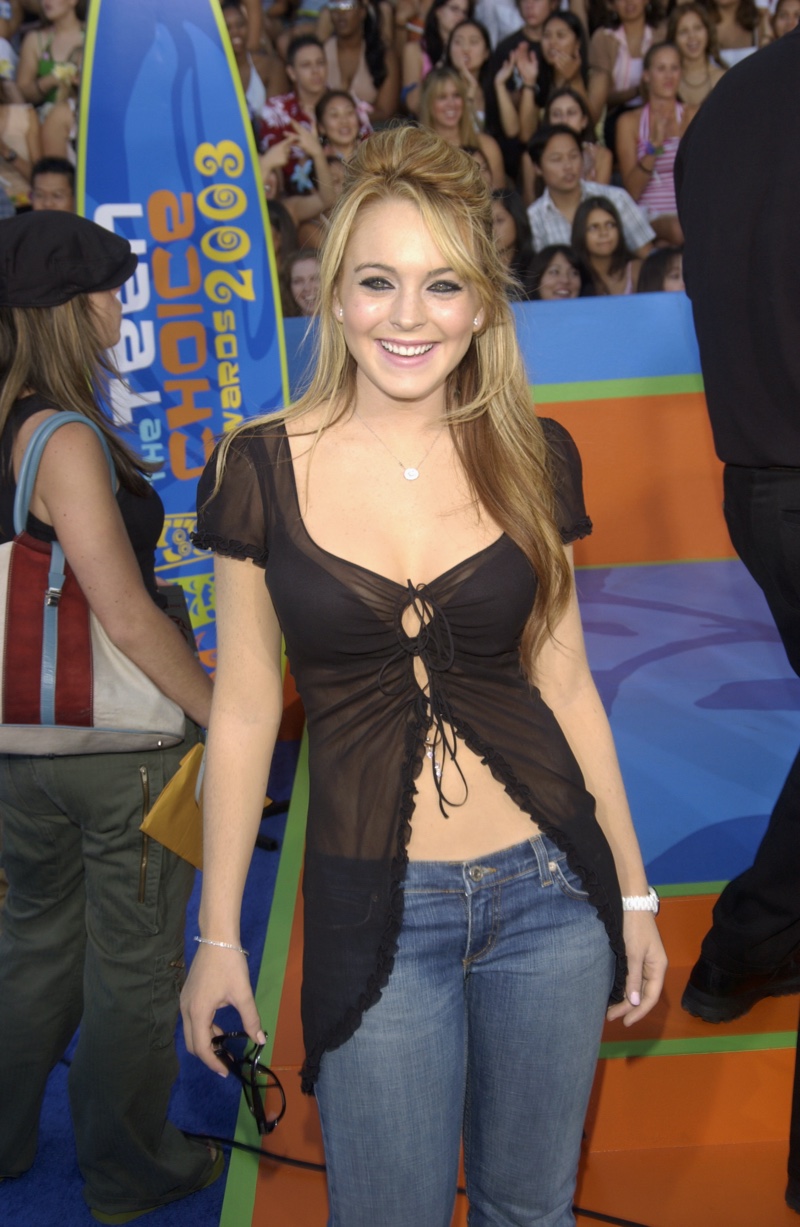 Featuring a knot or bow at the front, these tops emphasize the waist and add a playful element to any outfit, whether paired with jeans or a skirt.
Velour Tracksuits
Featuring a soft, luxurious material with a relaxed fit, these tracksuits create a comfortable and stylish look for running errands or lounging at home. Juicy Couture is synonymous with the velour tracksuit. Everyone wore the Juicy Couture tracksuit, from Paris Hilton to Jennifer Lopez.
Double Denim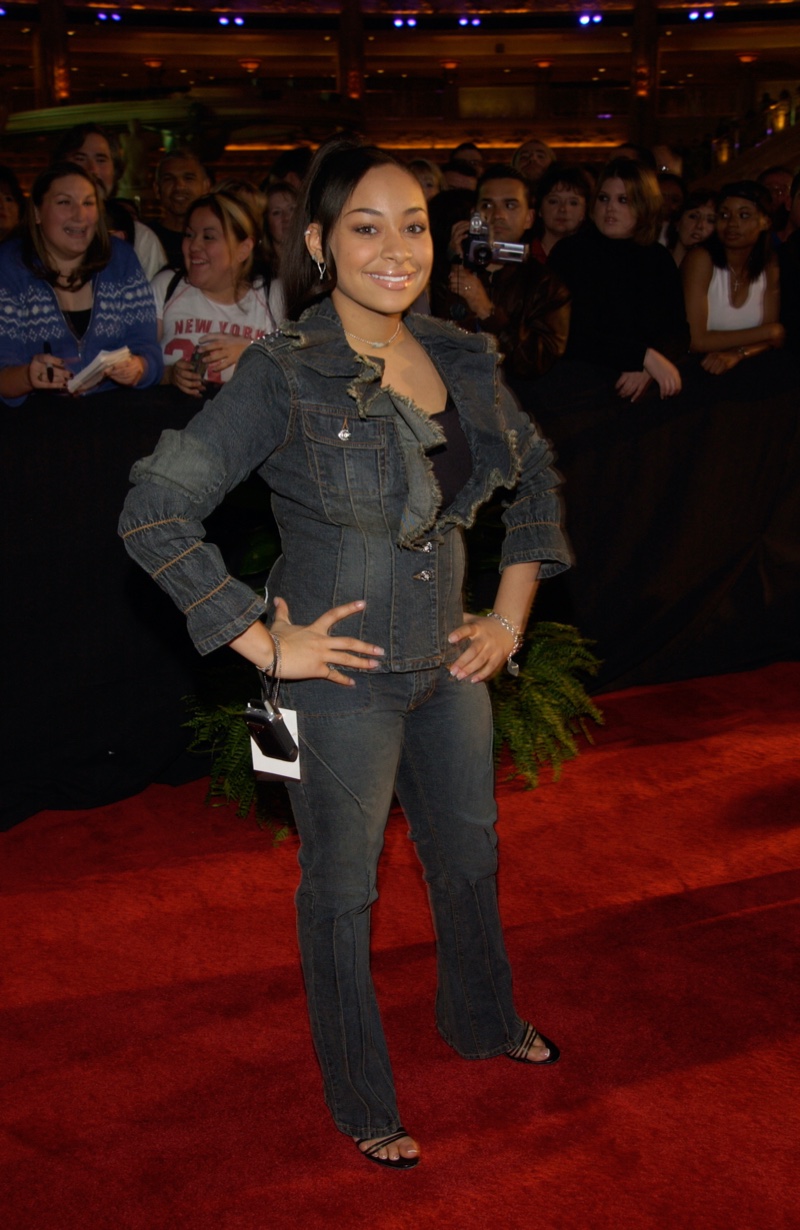 Also known as the Canadian tuxedo, this trend involves wearing denim on denim. Perfect for creating a casual and effortless look for any occasion. Britney Spears and then-boyfriend Justin Timberlake received notoriety for wearing coordinated denim outfits to the 2001 American Music Awards.
Spears wore a strapless denim dress adorned with a chain belt and accessorized with a clutch purse. Meanwhile, Justin took the Canadian tuxedo to the next level with a blazer, jeans, and fedora.
Bandanas
Versatile accessories are worn around the neck, as a headband, or tied onto a purse, adding a playful and retro element to any outfit.
Micro Minis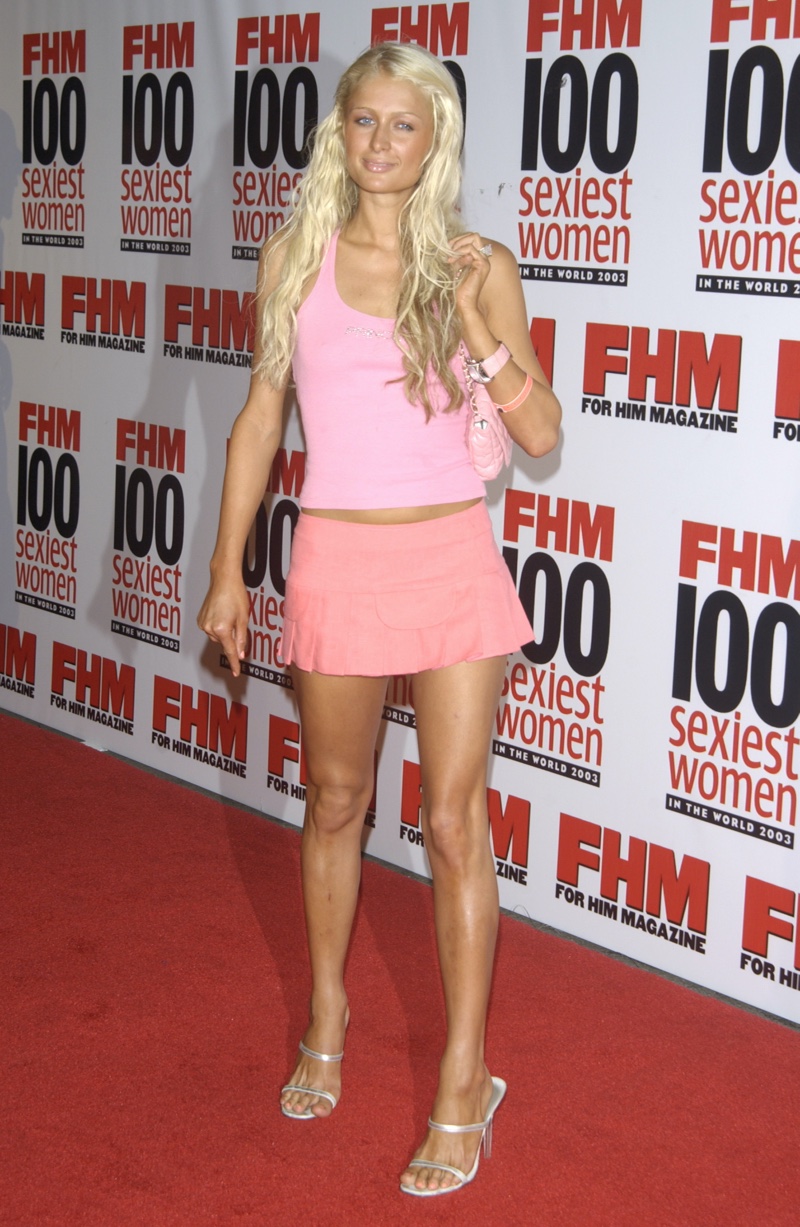 Ah, the micro mini. It's a fashion trend that embodies the Y2K fashion and provocative approach to style. The micro mini is a mini skirt with a hemline that barely covers the hips, creating a sexy and youthful silhouette.
It was popularized by celebrities like Britney Spears and Paris Hilton, who frequently paired them with crop tops and high heels. The micro mini represents a rebellious attitude toward fashion, rejecting the conservative hemlines of previous decades and embracing a more playful and provocative style.
Translucent Clothing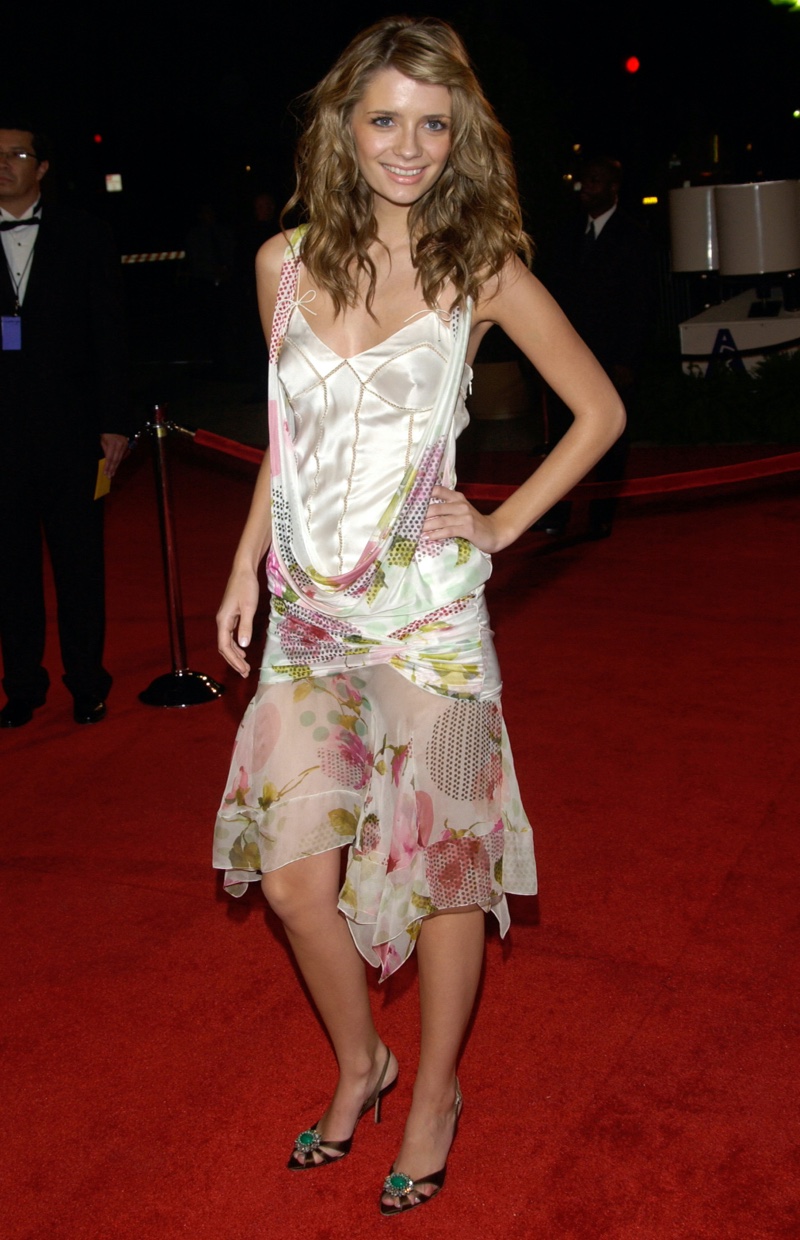 Sheer or see-through fabrics add a futuristic and playful element to any outfit, creating a statement look that's both bold and playful.
Butterfly Clips
Butterfly clips reign supreme when it comes to hair accessories of the early supreme. The clips feature playful and colorful designs; these clips add a retro and playful element to any hairstyle, perfect for adding a touch of nostalgia to any look while still being stylish.
These Y2K trends can be incorporated into your wardrobe to create a playful and retro look or a more sophisticated and updated Y2K aesthetic.
Sunglasses
In this fashion revival, sunglasses take center stage with shield styles featuring ear-to-ear lenses and dramatic gradients, while rimless varieties dazzle with rhinestone flourishes.
Rectangular frames make a bold statement in vivid colors, and butterfly shapes add a playful twist with curved lenses. Metallic frames in futuristic shapes round out the trend, offering a glimpse into the millennium's daring approach to eyewear design.
What is the Y2K Aesthetic?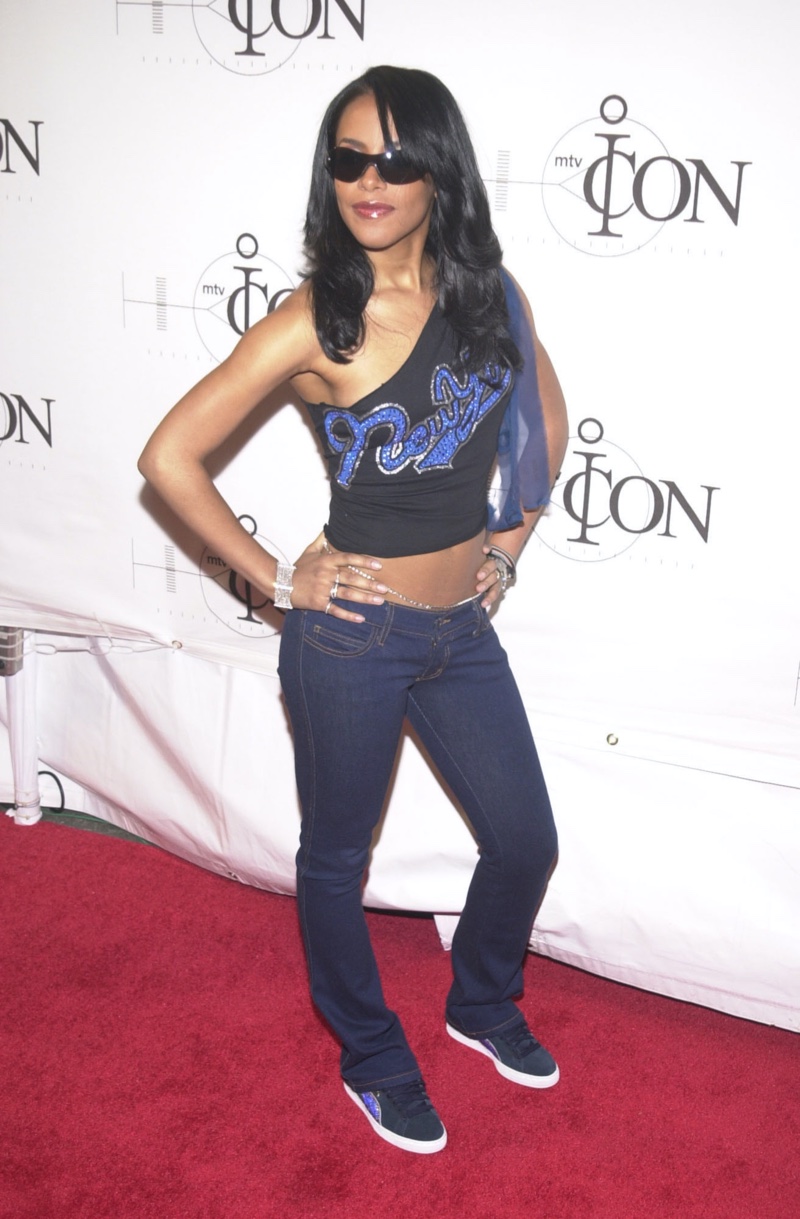 The Y2K aesthetic is a unique style that emerged in the late '90s and early 2000s, characterized by bold, playful, and futuristic fashion elements. It takes influence from the societal and digital advancements of the era, and its defining features are still popular today, especially in the past year.
The dot-com boom and technological progress significantly influenced the Y2K aesthetic. With technology and the internet becoming increasingly prevalent, the fashion world responded with futuristic and playful designs. The style reflected the optimism and excitement of the era, with a focus on bold and statement-making pieces.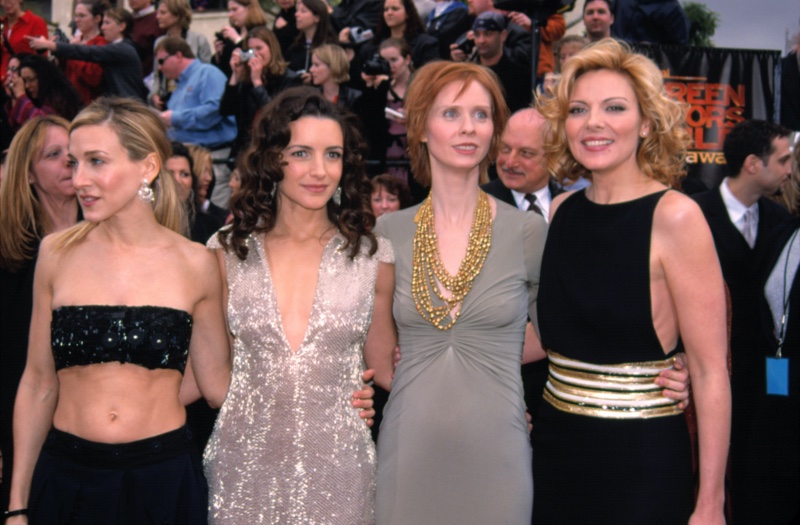 Cultural touchstones like Carrie Bradshaw, Bratz Dolls, and popular films like The Matrix and Mean Girls also shaped the Y2K aesthetic. Carrie Bradshaw's eclectic and bold style in Sex and the City was a significant influence, inspiring a generation of women to experiment with fashion. 
The O.C. was a cultural moment of the early 2000s, known for depicting wealthy teenagers living in Orange County, California. The show also served as a showcase for the Y2K style, with its characters sporting trendy and provocative outfits emblematic of the era.
Mischa Barton's character Marissa Cooper inspired with casual-chic ensembles, reflecting how the show's fashion was integral to its identity. 
The Bratz Dolls, with their bright colors and playful accessories, also left a lasting impact on the Y2K aesthetic. The Matrix and Mean Girls, two iconic films of the era, showcased futuristic and bold fashion choices that continue to inspire the aesthetic today.
The Modern Y2K Trend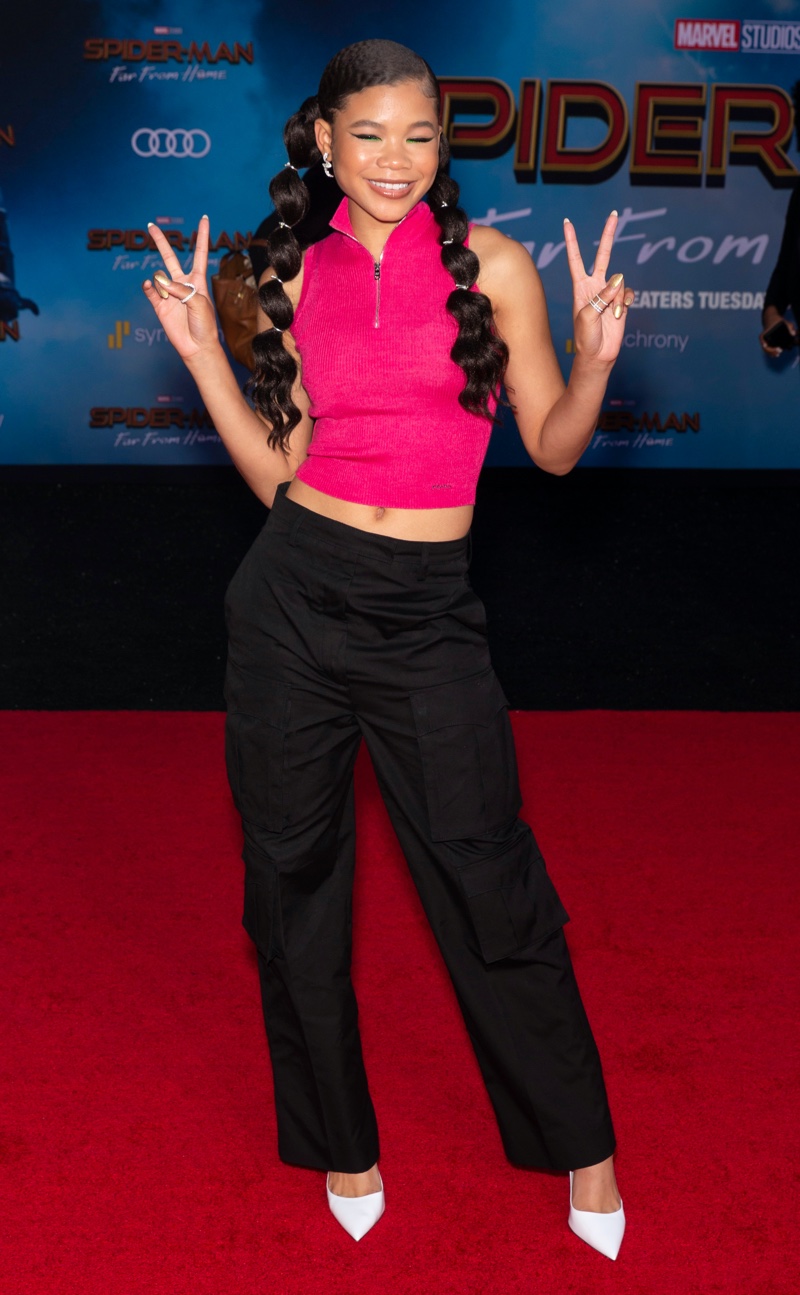 The Y2K trend has made a significant comeback in recent years, fueled by a surge of nostalgia for the early 2000s among Gen Z and younger Millennials. As these generations age, they reflect on their childhoods and embrace the playful and futuristic fashion that defined the era. This aesthetic is back in style and shows no signs of slowing down anytime soon.
And designers are responding with new collections and goods. Thanks to brands like Blumarine and HEAVEN by Marc Jacobs, this style has gone from high fashion to mainstream. Y2K clothing can be found online and in physical stores at retailers like Zara, H&M, and ASOS. These retailers are stocking up on Y2K-inspired clothing and accessories.
One reason for the resurgence of the Y2K trend is the experimentation and innovation of fashion of the era. Designers pushed boundaries and experimented with new materials and silhouettes, creating uniquely playful designs. The era's designers were unafraid to take risks and try new things.
In addition to the experimentation and innovation of the era, key Y2K pieces have also made a comeback, driving the resurgence of the Y2K aesthetic. Wide-leg jeans, shiny jackets, baby tees, and velour tracksuits are just a few of the iconic pieces that are back in style.
These pieces are often styled in new and fresh ways, incorporating modern elements and trends to create a unique and updated Y2K look.
Millennium Chic Reimagined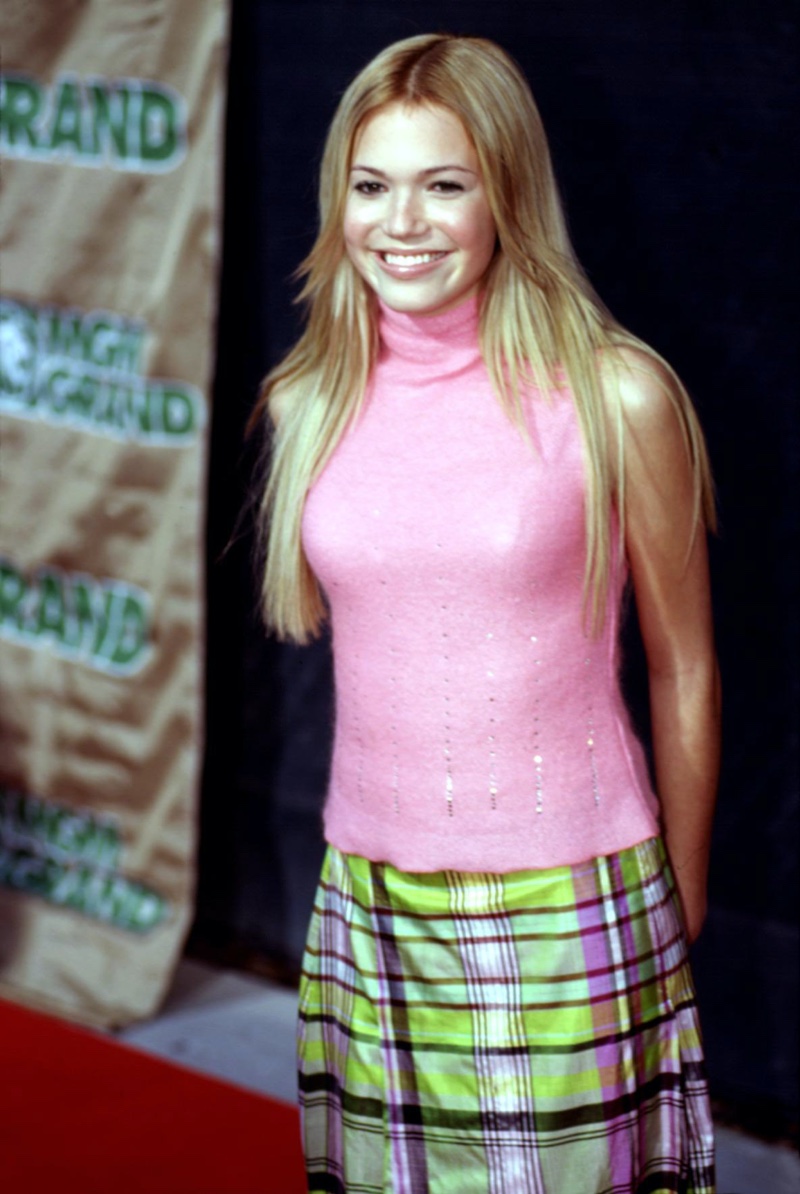 The Y2K fashion era was uniquely characterized by bold, playful, and futuristic fashion elements inspired by cultural and technological advancements. This aesthetic has experienced a resurgence in recent years, with Gen Z and Millennials embracing vintage clothing, edgy accessories, and daring statement pieces that defined the era.
Modern examples of how the Y2K trend resurfaces include Hailey Bieber and Kendall Jenner, who frequently showcase Y2K-inspired looks on social media. This era's trends, from low-rise jeans and knee-high boots to butterfly clips and shiny jackets, continue to inspire fashion today, bringing a playful and retro vibe to modern looks.
As designers and retailers respond to the resurgence of the trend, we can expect to see even more of these iconic fashion elements in the coming years.
Source link