How to look chic for less or how to look chic on a budget? Bookmark this post because every tip applies forever and I live by them.  Trends change but these guidelines do not! I will say this, it really isn't who you are wearing but HOW you are wearing it. Don't get me wrong, I love a good designer item but, after years of shooting street style (check out my series on Youtube!) the one philosophy of 'how' versus 'who' always wins. To help you, I want to share my tips for selecting inexpensive clothes that look chic. 
Pick the right cut and size up
Expensive clothes hang perfectly. When I shop at Zara (love them or not, Zara does a pretty good job at making affordable styles if high-end isn't your speed), I pick coats that fit shoulders well. In general, I will go up one size so it hangs correctly with no bunching. Clothes that skim off the body tend to flatter most so my biggest tip for you is to go up in sizing. I have many clothes that are US16. Size does not matter trust me, it's about how it hangs. Do the same with jeans: go up a size or two to get that perfect slouch while still keeping a semi-fitted look. You know what else does not matter? The section you're shopping in – men or women – is irrelevant. 
Pay attention to fabrics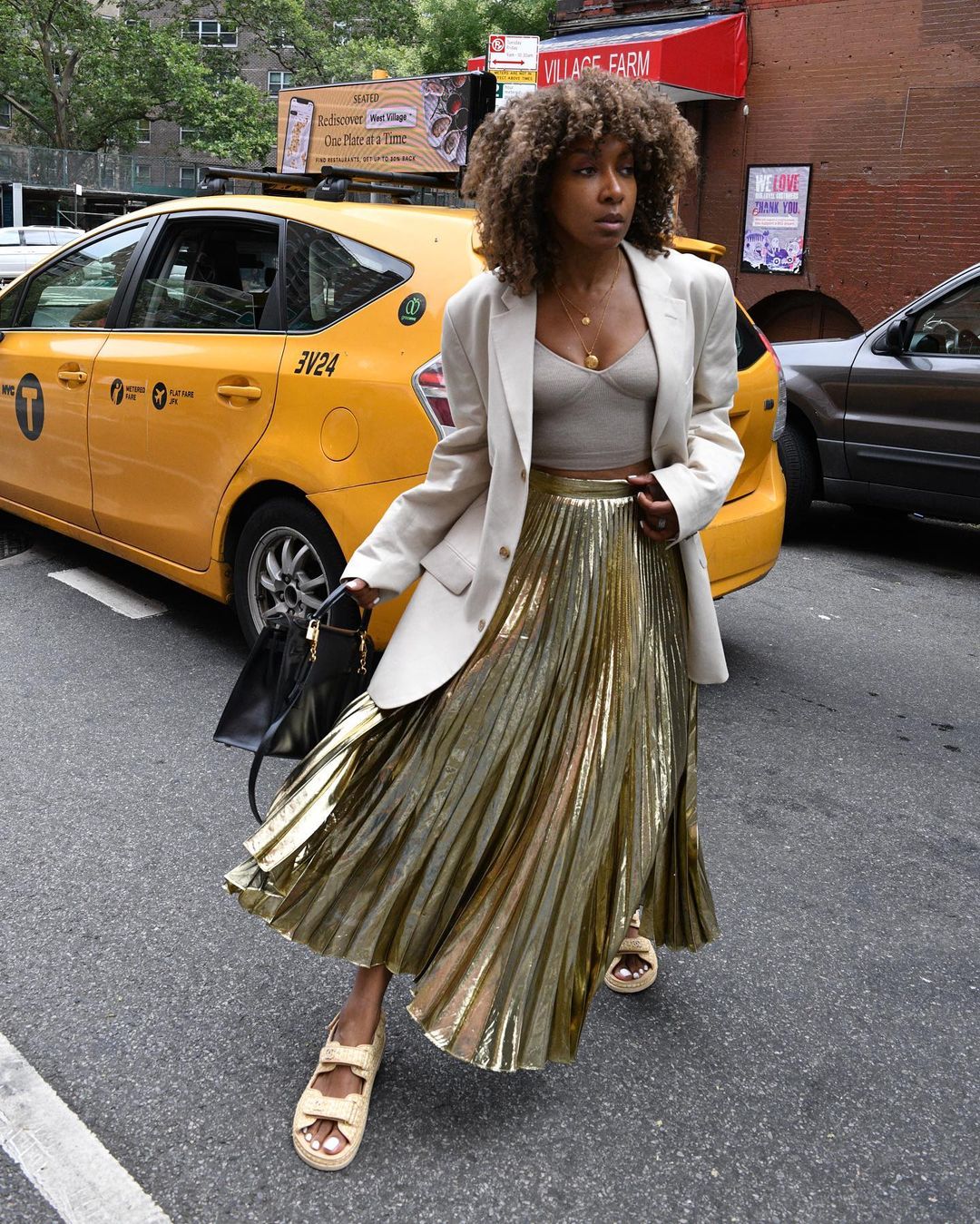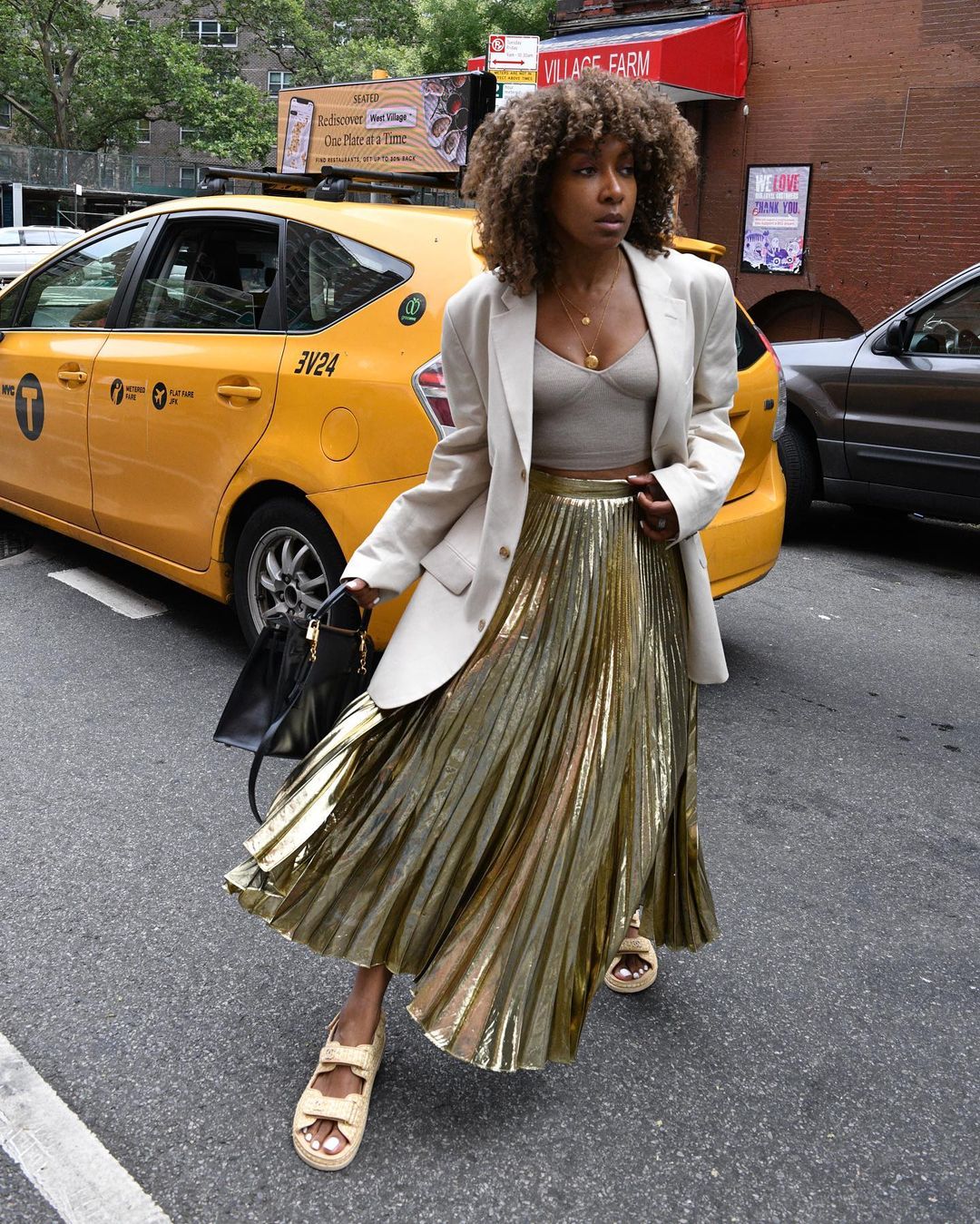 Avoid anything that feels rough or could bobble. Pick fabrics that are fluid (preferably natural like cotton or linen) and flow when walking. Look for skirts that have a good weight to them. I've noticed that with pleated skirts, the heavier the material and the more defined the pleats,  the better the skirt flows when walking. Chic usually (not always) entails being a little more covered without looking frumpy. Generally speaking, I prefer to wear skirts midi to maxi length. With the right material, the long length makes the skirt full and it flows better.  
If all else fails, wear black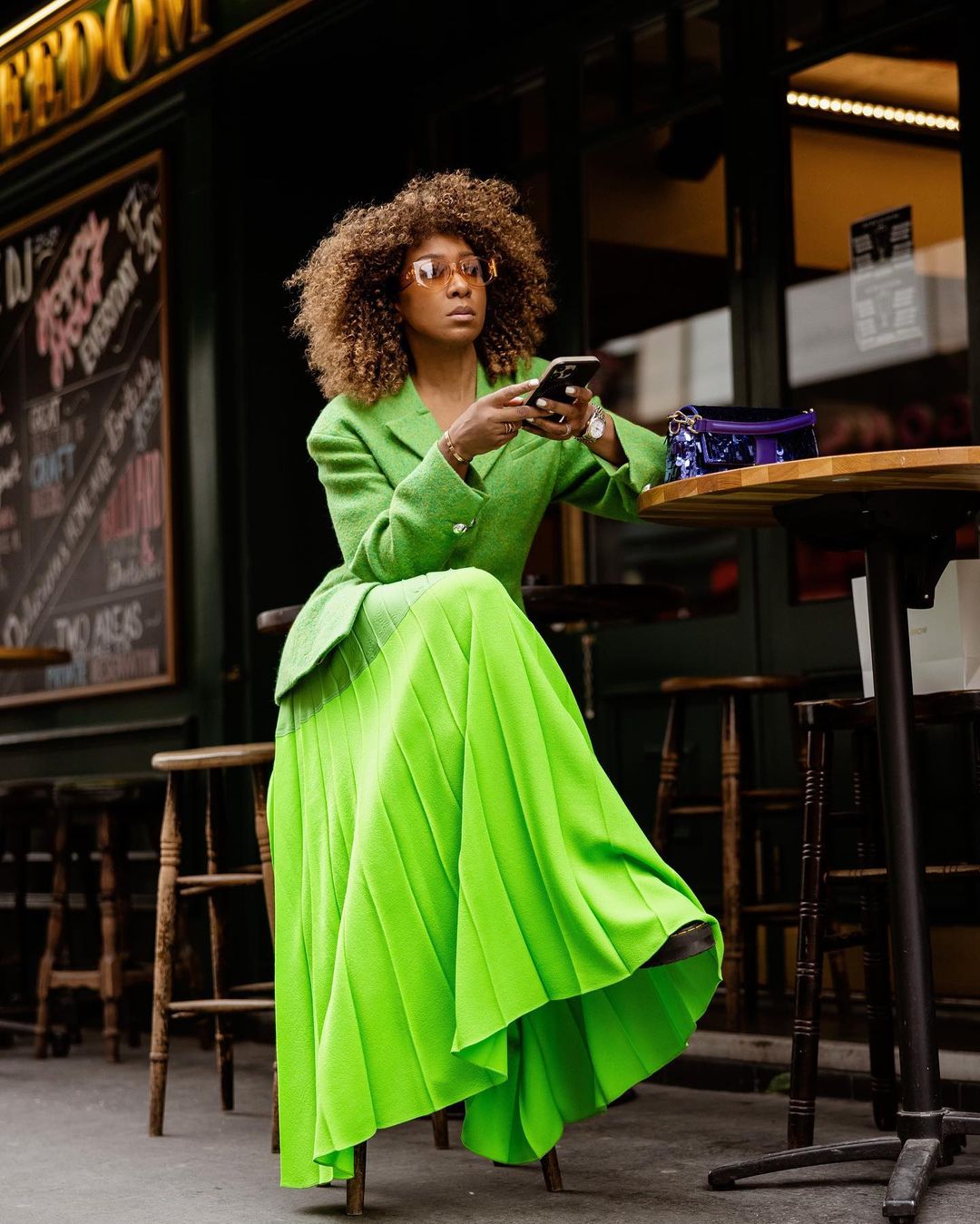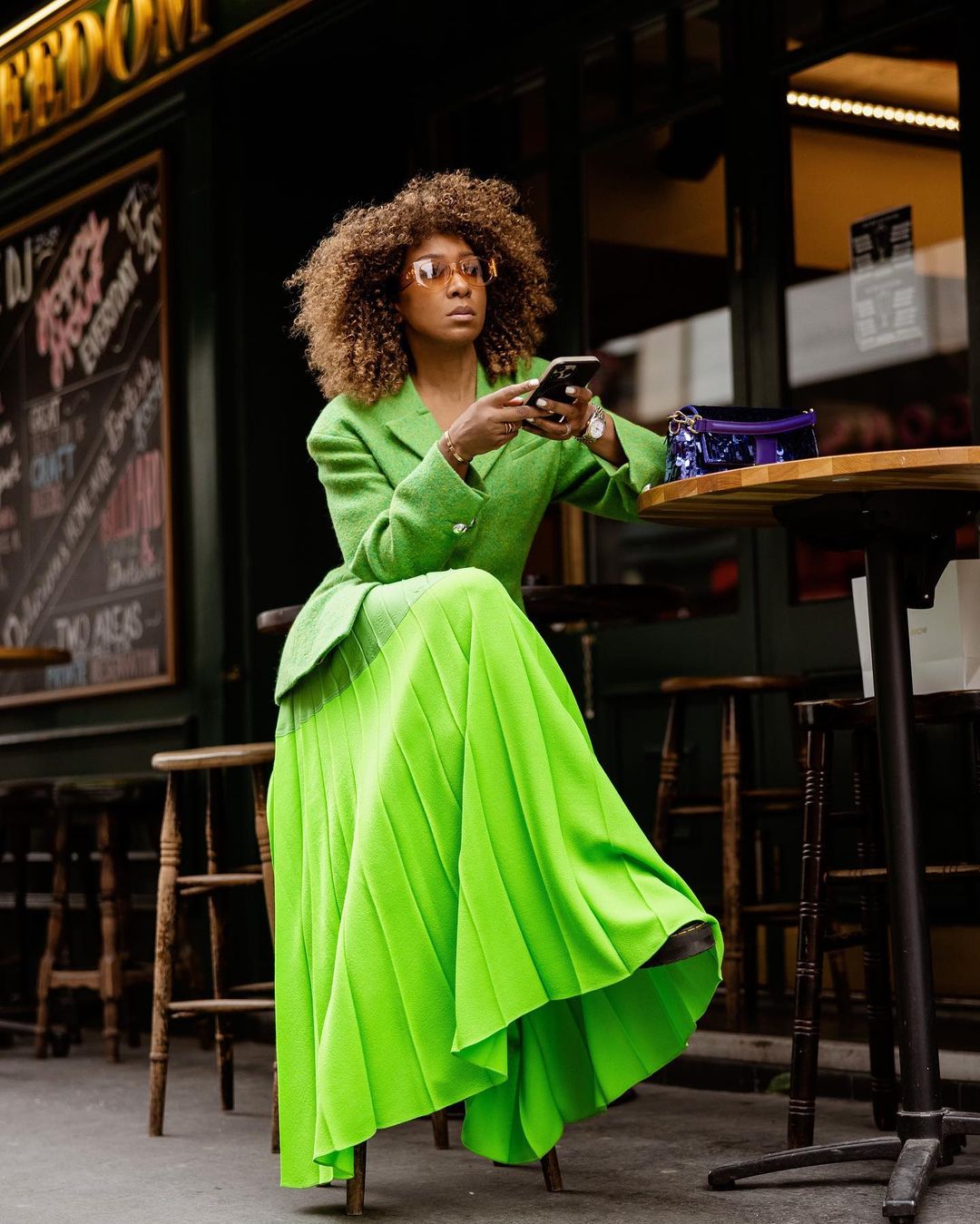 Do you know that saying if all else fails wear black? Use this philosophy and try one overall color family. The look above is about green, but it could have easily been any color that you like. Below are a few pieces that caught my eye at fair price points. 
More general tips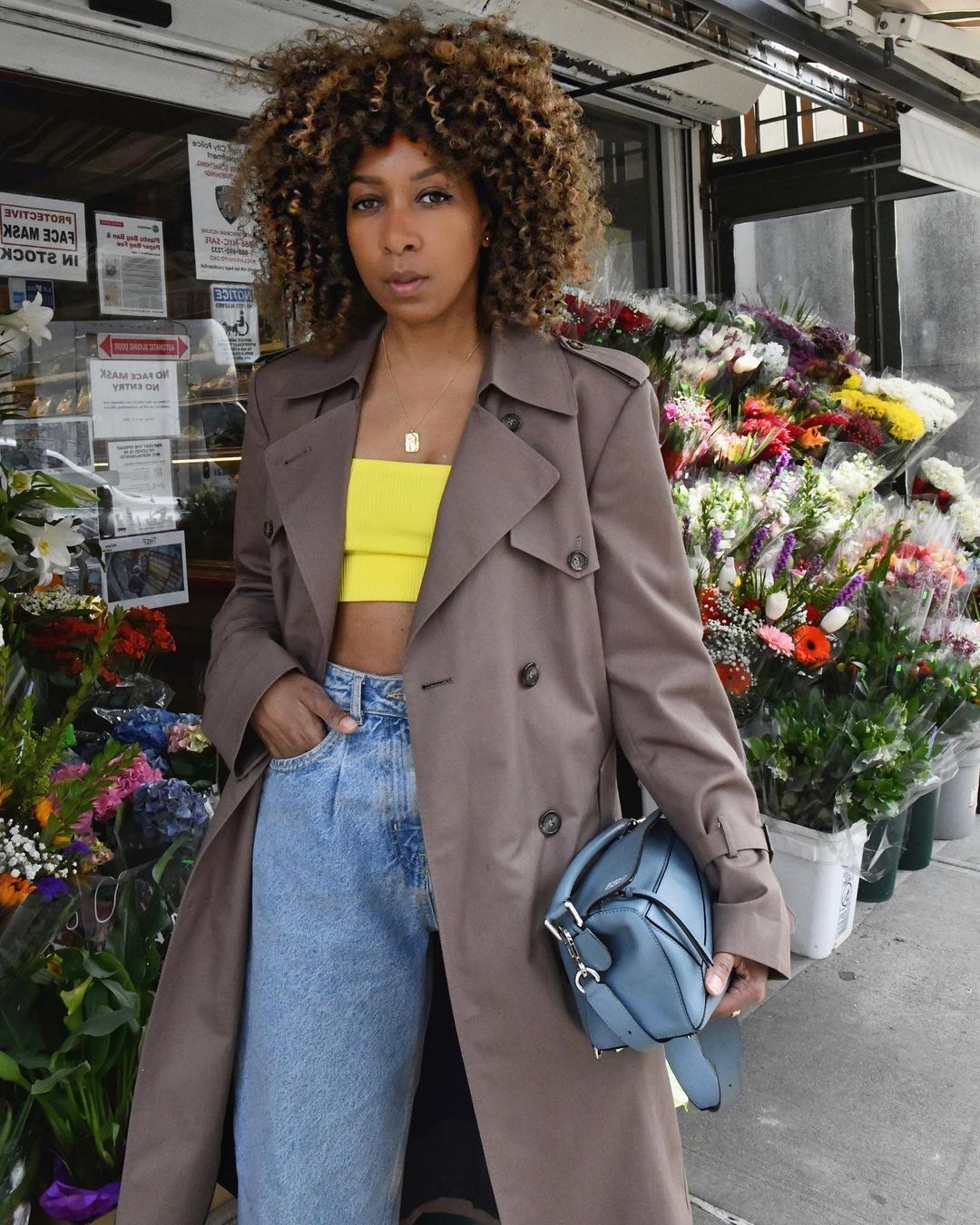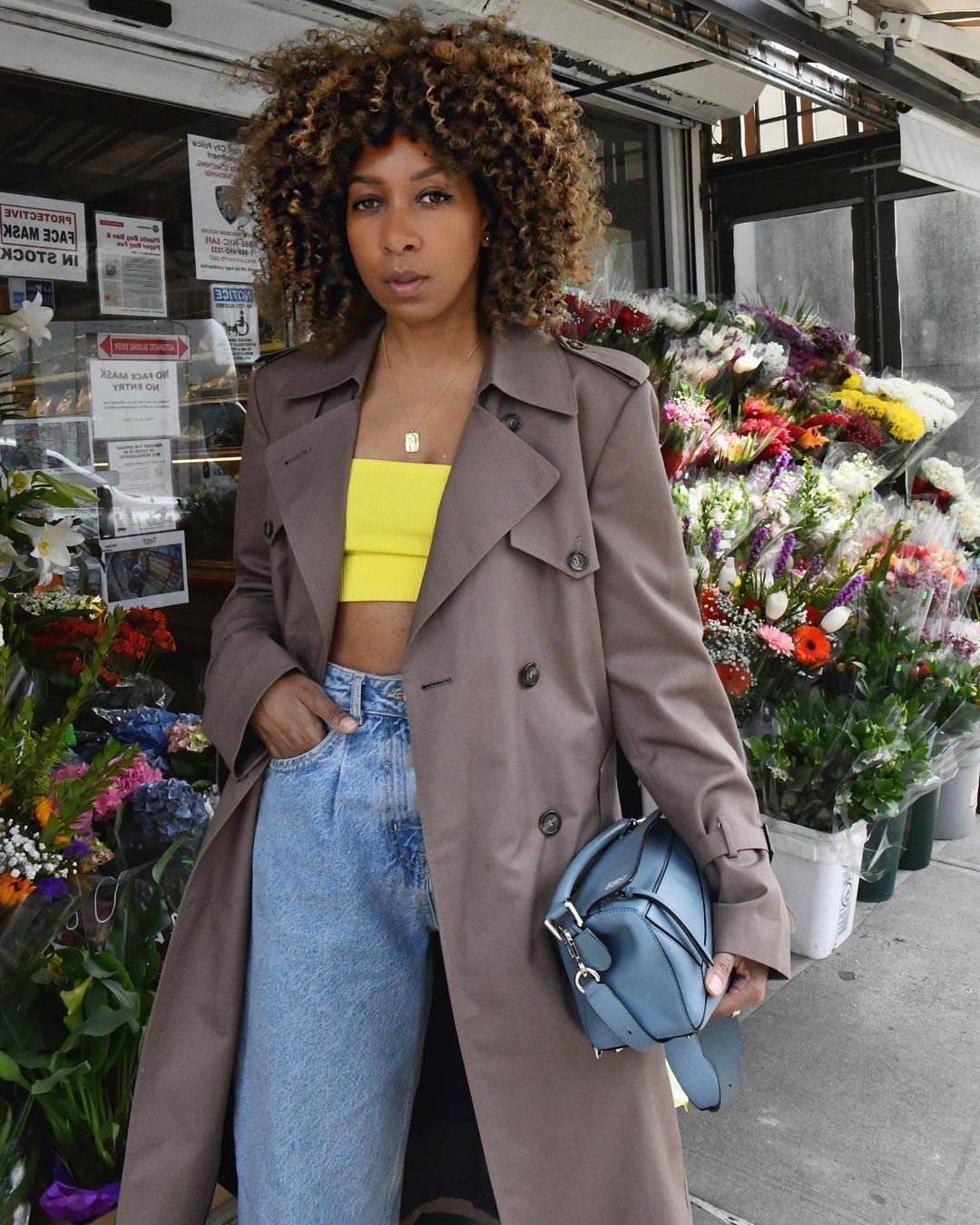 Pointed shoes and kitten heels, no matter the price point always look chicer. Dull hardware tends to feel more timeless than shiny, which can read trendy. Minimal reads expensive. Stick to staples in neutral colors: black, white, grey, navy, brown and camel. Smaller floral prints tend to look better and date slower than larger all-over prints (read big flowers). Slim on top means oversized bottoms and vice versa. Sunglasses are a great way to elevate a look. Shop the men's section for single/double-breasted coats and crew neck knits. The styles are classic, details are on point and the boxy cut gives a Celine-like slouch that would make Phoebe Philo proud. Lastly, remember to shop vintage/thrift. 
Do you have more tips on how to look chic on a budget? Drop them in the comments!

Source link