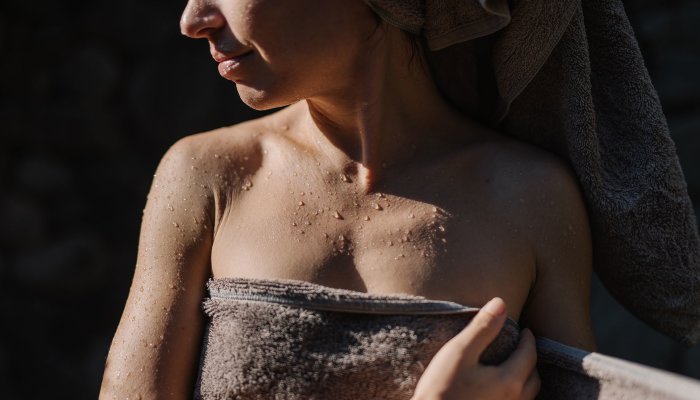 Applying topical oils can provide a thin, comforting layer of protection between your skin and the hot water. Oils have a larger molecular weight, and they sit on the skin, rather than being absorbed. This is a good thing, as their purpose is to act as that buffer. 
As celebrity esthetician and dermatological nurse Natalie Aguilar told us: "This oil barrier prevents excessive water loss and helps with any irritation," she notes. 
Personally, I love mindbodygreen's body oil because it has the perfect light texture. It's a dry oil, which simply means it has a light, not-greasy texture. While some people prefer a rich or thick oil, I want something that doesn't feel too goopy pre or post shower. 
It's made with enriching botanical oils, like safflower seed oil, squalane, and vitamin E, so it's ideal for keeping skin soft and firm. For example, safflower seed oil contains a flavonoid called acacetin, which can actually inhibit collagen breakdown1 (read: it helps protect your skin's collagen from losing collagen). It also contains prickly pear seed oil, which contains three different kinds of fatty acids2 and is high in the healing antioxidant vitamin K.