Through the years, actress Emma Stone's hair color and different styles have changed so much. From dark auburn to her signature red tresses to even platinum blonde, the Easy A and Cruella star shows she can pull off just about any look.
Known as one of the top redhead actresses, the fiery hue helped launch her onto the A-list. From starring in teen comedies to musicals and serious dramas, her hair is as versatile as her roles. See Emma's many hairstyles and color choices through the years below.
What is Emma Stone's Natural Hair Color?
You should know that Emma Stone is a natural blonde. Although she became famous for her roles as a redhead, she naturally has light-colored hair. But that hasn't stopped her from switching up her tresses through the years.
Emma Stone's Hair Color Timeline
Brown Hair with Bangs – 2006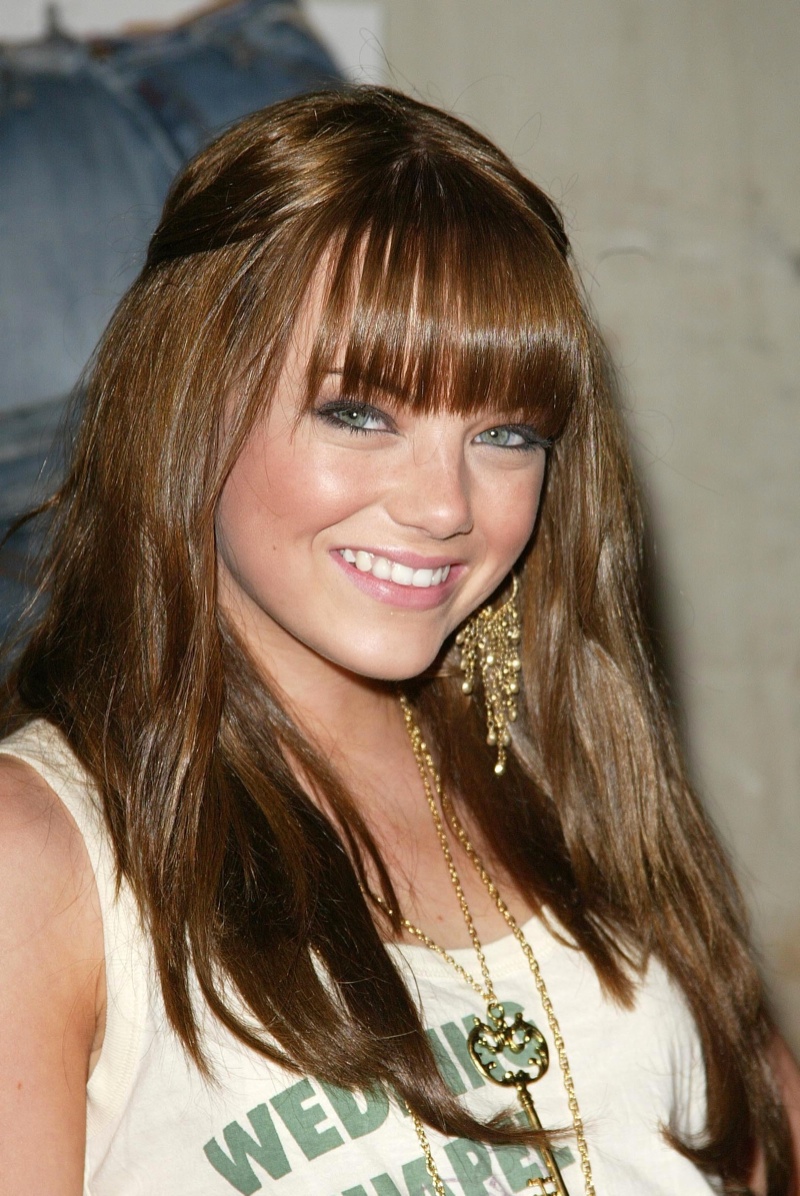 Back in 2006, a youthful Emma Stone debuted on the scene with striking auburn brown hair. Her locks were charmingly styled in a half-up, half-down arrangement, accented with a fringe of playful bangs.
This initial look didn't just capture attention; it also set the stage for Stone's ongoing journey as a versatile trendsetter in the world of beauty and style.
Vibrant Red with Highlights – 2007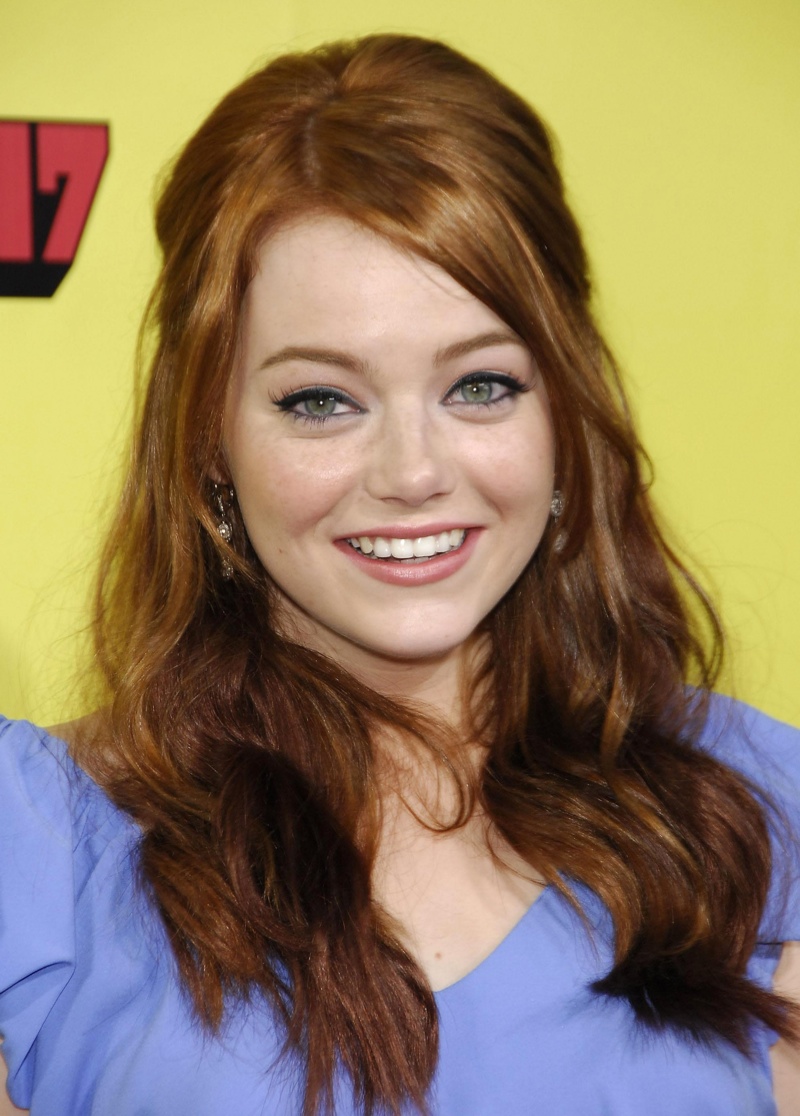 Emma Stone shifted her hair color, unveiling a lightened red hue enriched with blonde highlights in 2007 at the premiere of Super Bad.
This departure from her previous auburn signaled her willingness to experiment and underscored her ability to be a hair chameleon. The blonde accents added dimension and depth to her naturally vibrant red, showcasing a style that was both daring and effortlessly chic.
Deep Auburn – 2010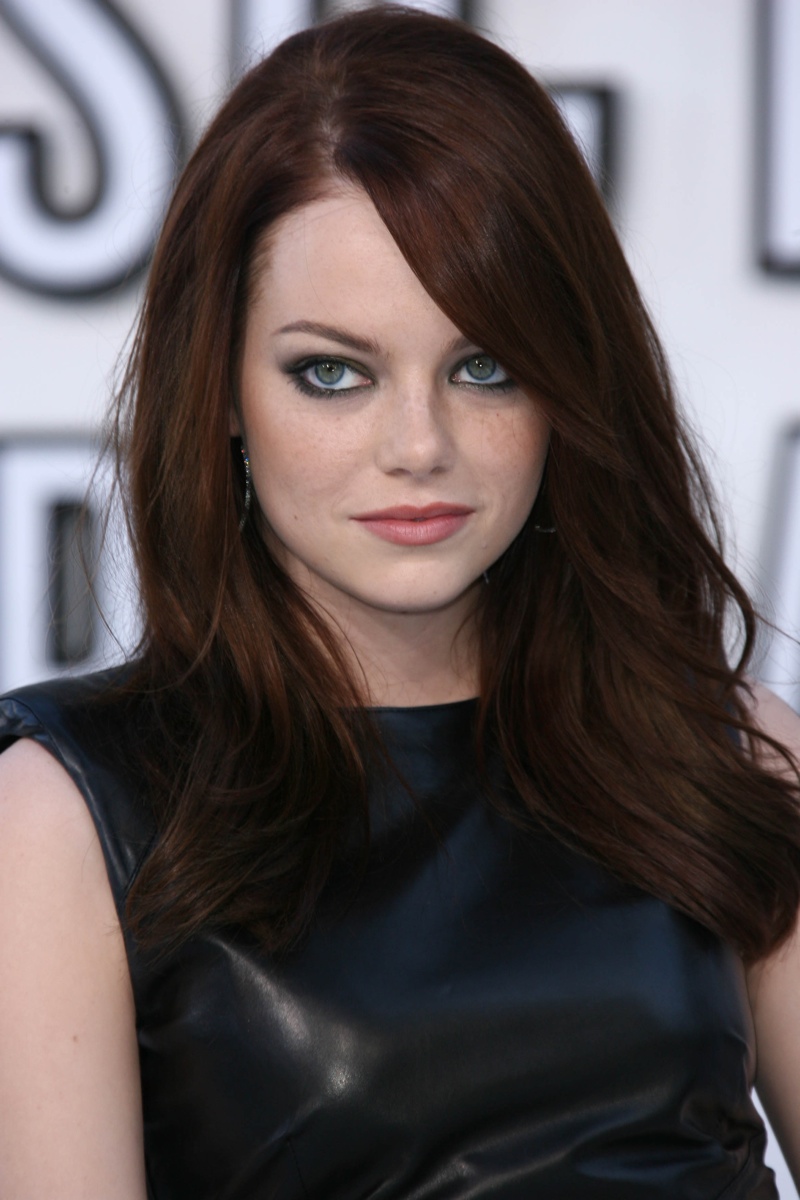 The A-list star made another bold hair move, opting for a deep auburn shade that stood out for its rich intensity. This look offered a dramatic contrast to her earlier, lighter hues, highlighting Stone's adventurous approach to beauty. The deeper color once again proved her knack for choosing hues that make a statement.
Get the Look: To achieve the actress's dark red hair color, start by consulting a professional hairstylist for the best shade to complement your skin tone. After the color treatment, maintain the richness and vibrancy of the hue by using color-safe shampoos and conditioners.
Strawberry Blonde Waves – 2011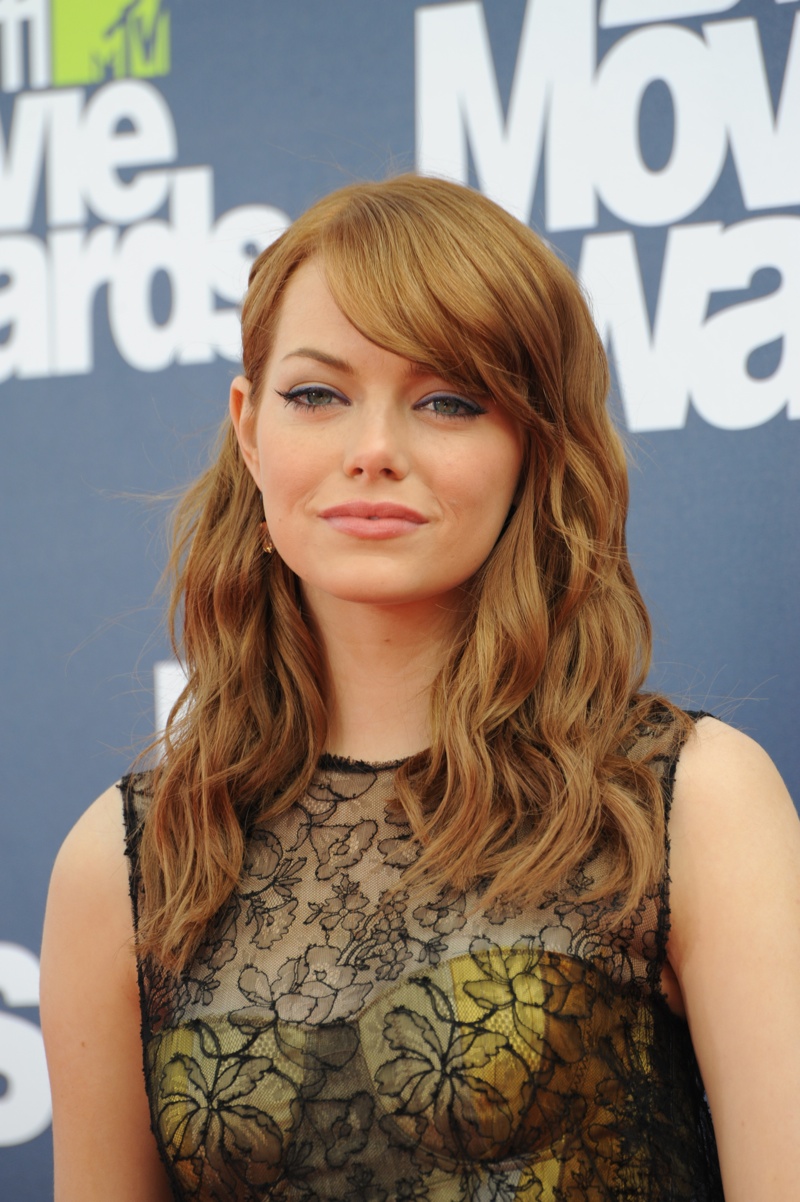 The American beauty took her hair color journey in a delightful new direction, adopting a strawberry red shade paired with a wavy and long hairstyle. The lighter, more playful hue of red added a whimsical touch, while the shiny waves gave her a relaxed summer vibe.
Get the Look: To get shiny waves like Emma Stone, start by applying a heat protectant spray to damp hair before using a curling iron to create loose waves.
Finish off the look by applying a lightweight hair serum or shine spray, focusing especially on the mid-lengths and ends, to give your waves a glossy, polished appearance like a celebrity.
Messy Red Updo – 2011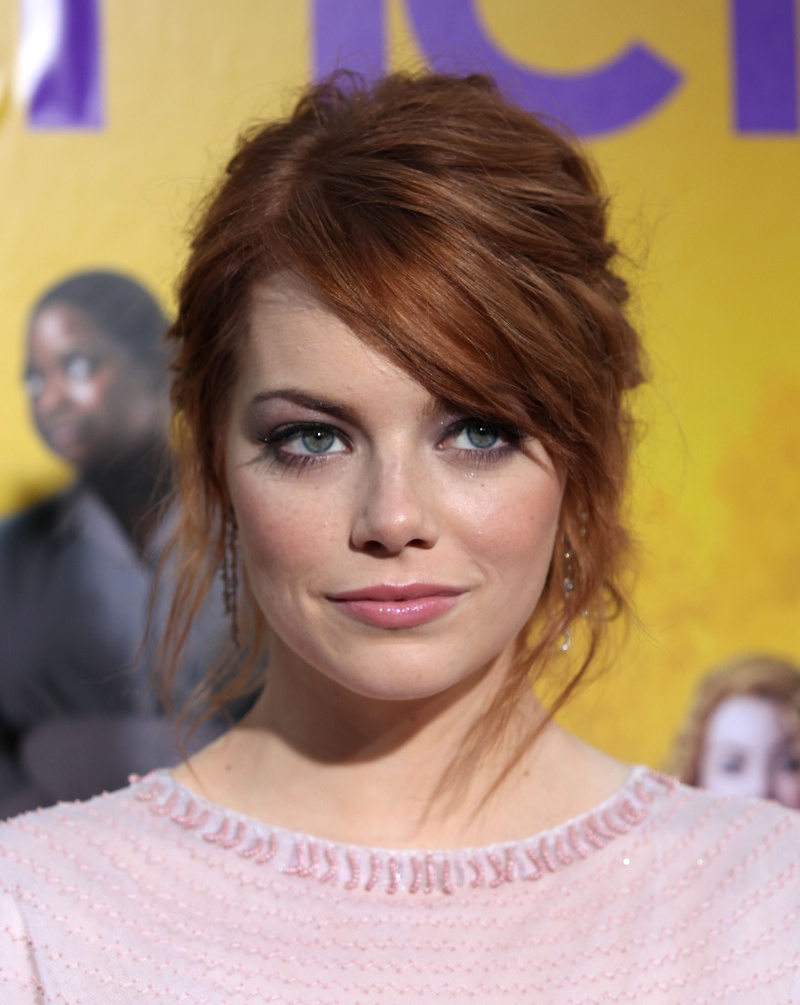 Emma was spotted sporting a messy updo while maintaining her signature red hair at the premiere of The Help in August 2011. This style delivers elegance yet a laid-back vibe, offering a chic way to put up her iconic locks.
Striking Blonde – 2011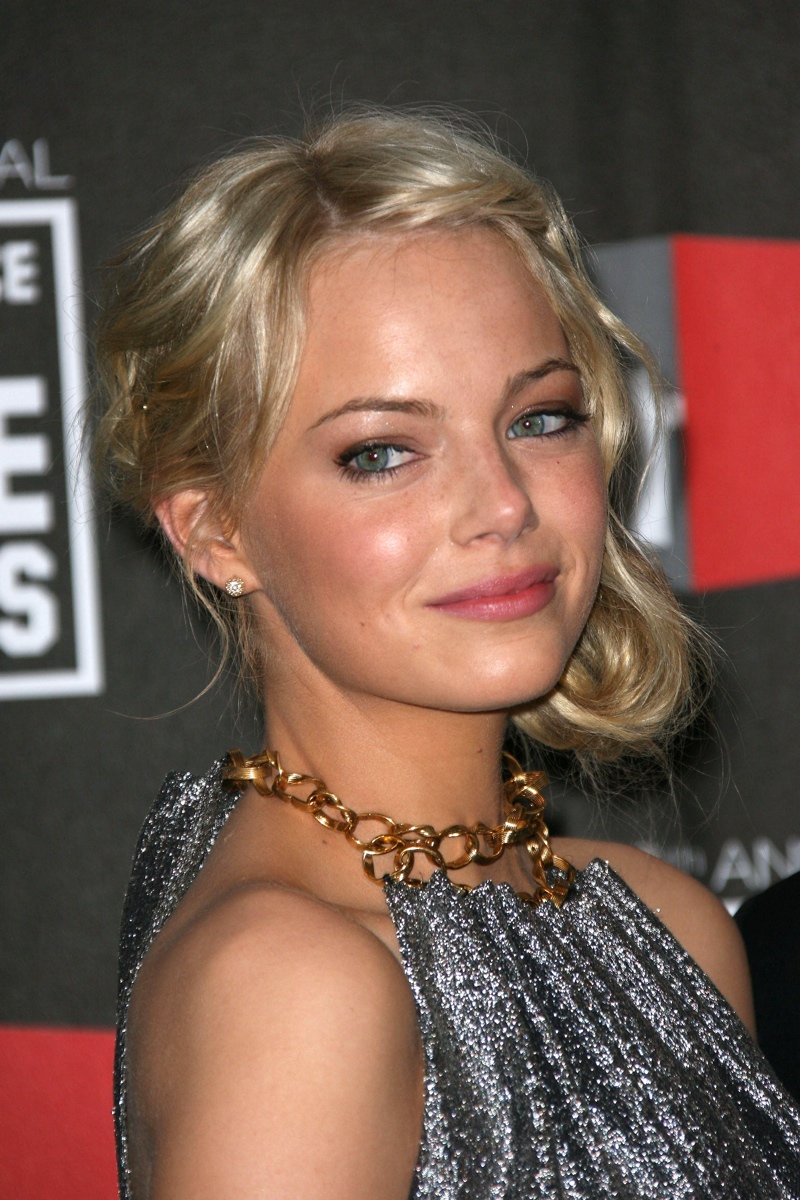 Later in 2011, she underwent a striking transformation in her role as Gwen Stacy in The Amazing Spider-Man. The actress opted for blonde locks instead of her signature red.
She showcased her new look with an elegant updo featuring a side part, seamlessly merging Hollywood glam with the freshness of her new color.
Straight with Side Swept Bangs – 2012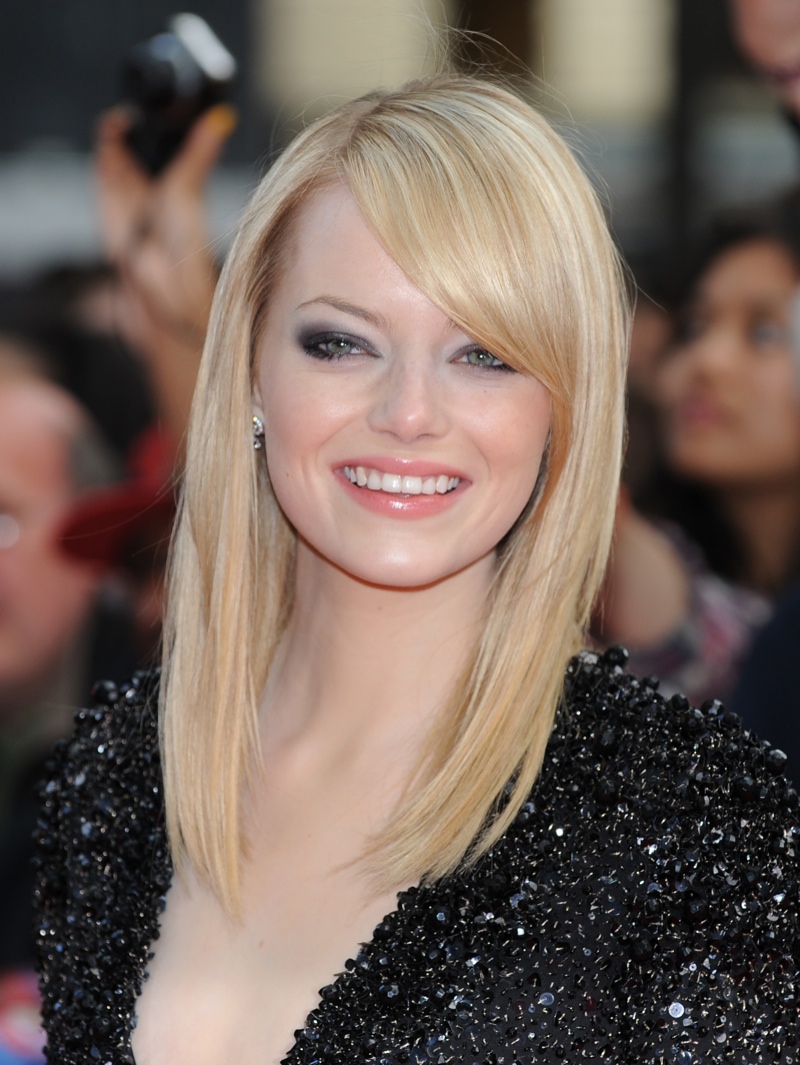 The actress stepped out with a new style; sporting side swept bangs along with a blonde and straight hairstyle. This look offered a contemporary edge, as the side bangs added a youthful dynamic to her already vibrant personality.
Chic Updo with Side Part – 2012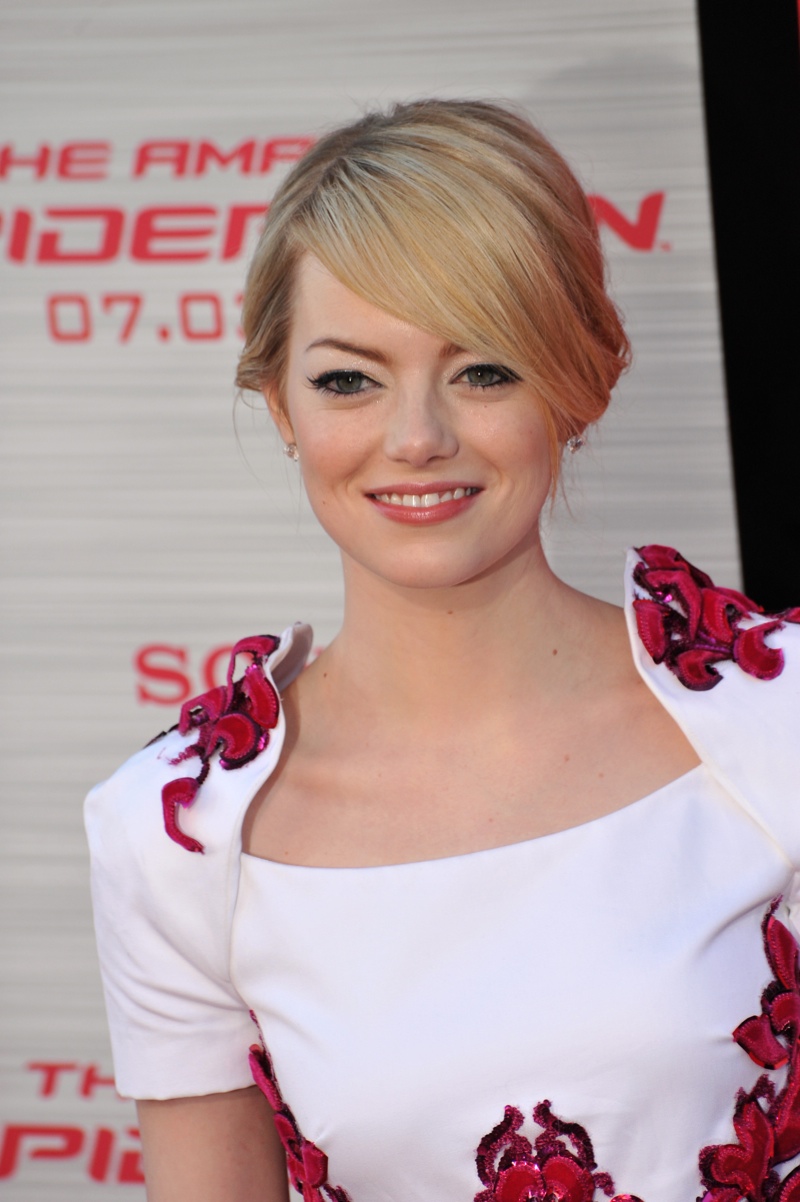 Emma turned heads with a sophisticated blonde updo accentuated by a chic side part. The elegant hairstyle gave her a polished, timeless look, perfectly aligning with the blonde shade that she had embraced.
Red & Wavy Bob – 2014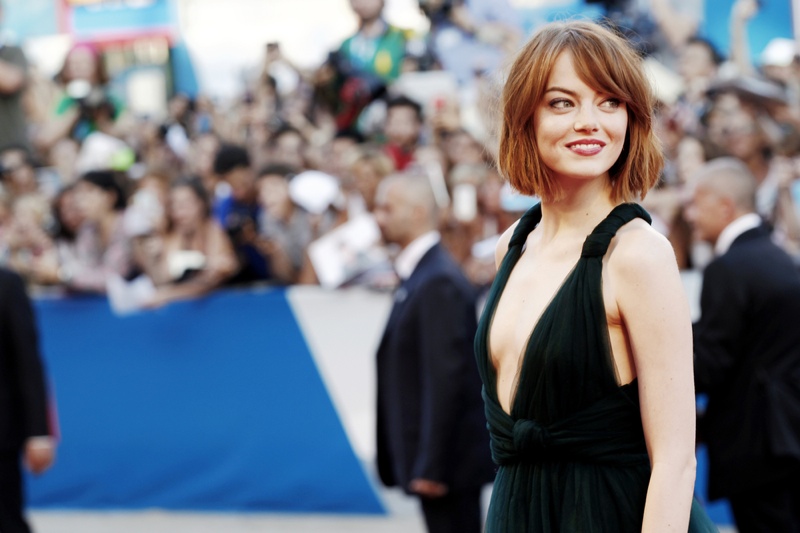 The Academy Award winner took on a daring new look for her role in the New York City Broadway production of Cabaret, debuting a bob haircut, cutting inches from her hair.
Staying true to her iconic red hair, the actress gave her tresses a shorter, more avant-garde shape that suited her stage character Sally Bowles. Set in the late 1920s, this transformation was a testament to her adaptability.
Sleek Ponytail – 2015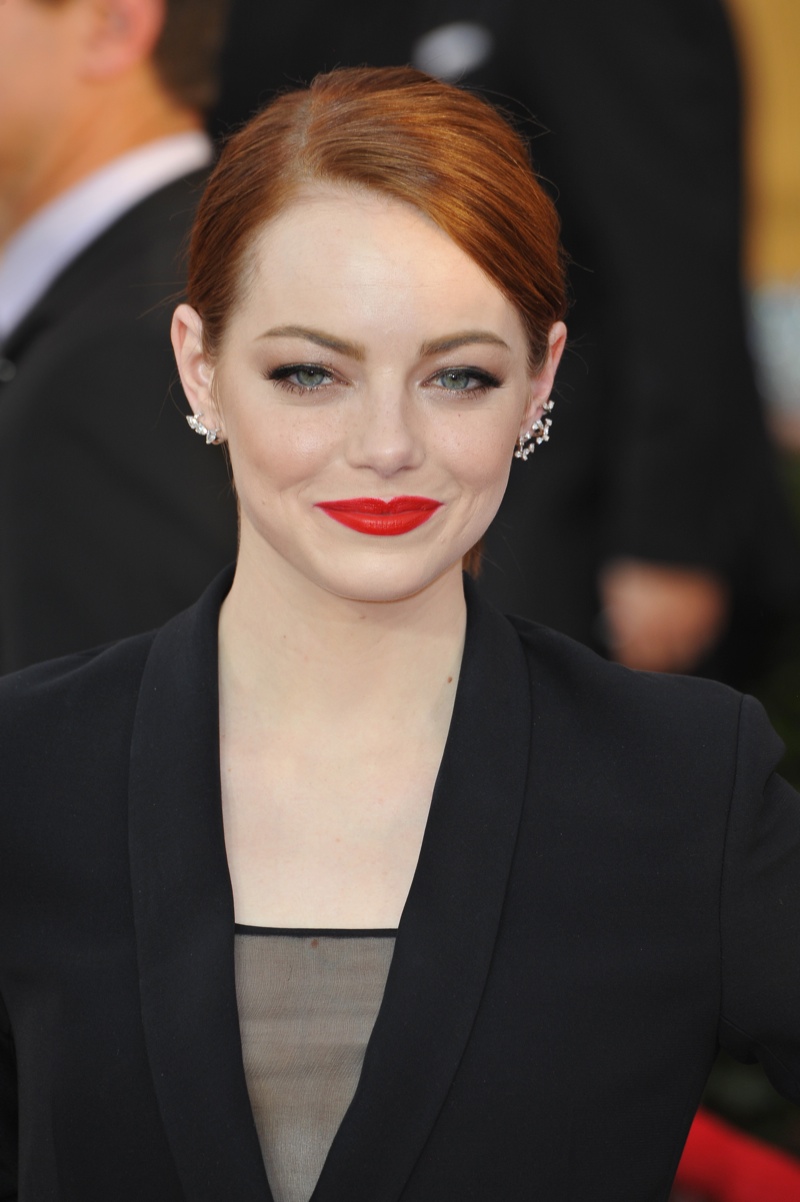 At the 2015 Screen Actors Guild Awards, Emma Stone captivated onlookers with a slicked-back ponytail hairstyle that exuded sophistication and modernity. This polished look marked a departure from her usually softer, more textured styles.
Get the Look: Do you want a sleek ponytail like Emma? Start by applying a smoothing serum to damp hair and blow-drying it straight, followed by flat-ironing for a polished finish. Secure your hair in a ponytail, wrap a small section around the base to conceal the hair tie, and set the look with high-hold hairspray.
Wavy Lob – 2015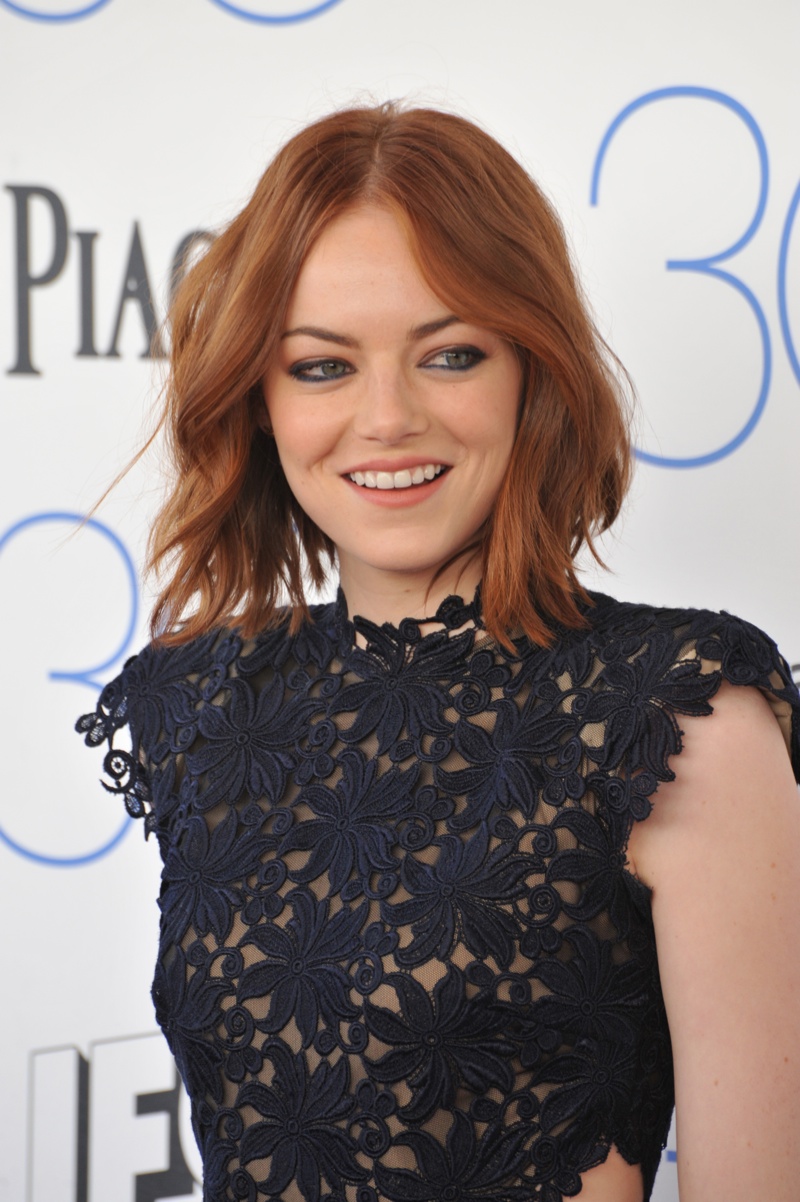 In February 2015, Emma Stone turned heads with a wavy, long bob in her signature red hue featuring chic layers. The look was a perfect blend of casual chic and Hollywood glamour, setting her apart on the red carpet.
The waves added a playful dimension to the sophisticated cut, while the vibrant red color framed her face, showcasing Emma's ability to pull off both classic and trendy styles flawlessly.
Rolled Updo – 2017
At the 2017 Golden Globes, the star paid homage to her role in "La La Land" with a loose, pinned-up updo featuring delicate tendrils framing her face. This romantic hairstyle effortlessly captured the essence of Old Hollywood glamour, making her a standout on the red carpet. The loose strands complemented her styling, which included a silver gown with a plunging neckline.
Platinum Blonde Waves – 2017
That same year, Emma took a bold step by transitioning to platinum blonde, presenting a striking contrast to her signature locks. The side-parted, loose waves were a contemporary nod to 1950s glamour, further accentuated by a smokey eye and vibrant orange lipstick in her makeup. The overall look was a stunning blend of past and present styles.
Get the Look: To obtain Emma Stone's '50s-inspired waves, start by applying a product like a heat protectant spray to damp hair before blow-drying. Then, use a medium-barrel curling iron to create loose waves, setting them with a flexible-hold hairspray to maintain the vintage-inspired volume and movement.
Polished Waves with Bling – 2018
At the premiere of "The Favourite," the actress returned to her iconic red hair, opting for medium-length tresses styled with subtle waves and a side part.
A decorative pin added some sparkle to her look. The understated hairstyle allowed her rich maroon lip color to take center stage, creating a striking contrast that made her ginger locks truly stand out.
Flipped Ends – 2019
At a 2019 event, Emma Stone changed her look with a retro-inspired hairstyle featuring chic flipped ends. This nostalgic look was further elevated by her choice of blue eyeshadow, which perfectly complemented her stylish Louis Vuitton ensemble.
Blonde Highlights – 2022
Emma Stone turned heads with a striking red hair color, artfully woven with blonde highlights, styled in a chic updo in 2022. The hairstyle worked in harmony with her embellished dress and was perfectly accented by sparkling diamond earrings.
Fresh Blonde Bob Cut – 2023
In August 2023, Emma Stone shocked fans when her hairstylist Mara Roszak revealed a dramatic transformation on Instagram: a platinum blonde bob. The photo was tagged as a "cool girlie summer bob chop chop," the hairstyle confirms yet again that the versatile actress is unafraid to switch up her look.
Emma's Hair Journey
Through a journey of endless transformations, Emma Stone's hair color changes prove she's the ultimate chameleon, taking on trends with ease. Her dynamic hair history showcases an adventurous spirit while also reflecting the depth of roles she takes on.
Each stylistic change; from dark auburn to platinum blonde or textured waves to sleek updos–does more than just turn heads; it captures our imaginations, providing ample hair inspiration.
Source link