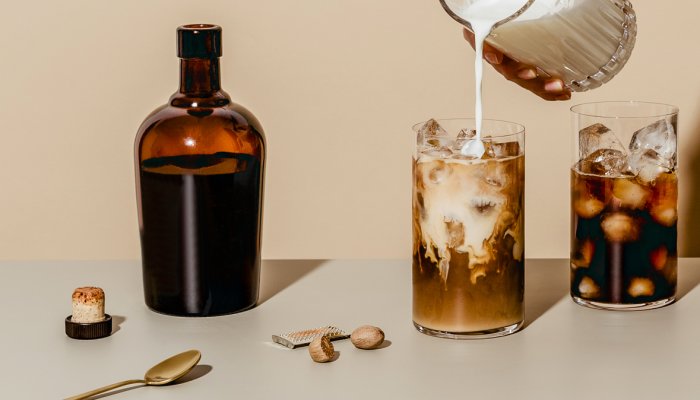 Feel jittery after drinking cold brew, or notice your anxiety spike? This could be a sign you're gulping down your brew too quickly or that you're sensitive to its caffeine content.
Cornelis has done some fascinating work on the genetics of coffee consumption, and it turns out that one gene (CYP1A2) is responsible for 95% of caffeine metabolism2. "Individuals with a particular variant of this gene consume more coffee while others who have the other variant consume less," she explains.
Interestingly enough, people with the gene variant that allows them to drink more caffeine also seem to have lower caffeine levels in their blood than those who don't have the variation. "This would suggest that these individuals, despite consuming a lot of caffeine, are metabolizing it very quickly. So they need to consume more," she says. "There seem to be some genetic underpinnings to the differences we see with caffeine consumption."
If you fall into the slower caffeine metabolizer camp, you can tone down the intensity of your cold brew by drinking coffee that has a shorter brew time or has been diluted with some water.
If you can drink cold brew all day without any side effects, you may be the lucky owner of a fast-metabolizing CYP1A2 gene. Go forth and sip on—there's overwhelming evidence to show that drinking coffee is a healthy habit.
In one cohort study on nearly 500,000 adults3 co-authored by Cornelis, drinking coffee (both decaf and caffeinated) was inversely associated with mortality. Participants who drank up to 8 cups a day still seemed to reap longevity perks—though the FDA recommends capping your caffeine intake at 400 milligrams4 a day, or about 4-5 cups of coffee.
We still have a lot to learn about the compounds in coffee that are responsible for its health benefits. Is it caffeine, antioxidants, polyphenols, or a mixture? More research is needed to know for sure, but for now, Cornelis says one thing is clear: "There is strong evidence supporting that [coffee] is beneficial—at least in moderation."
Source link