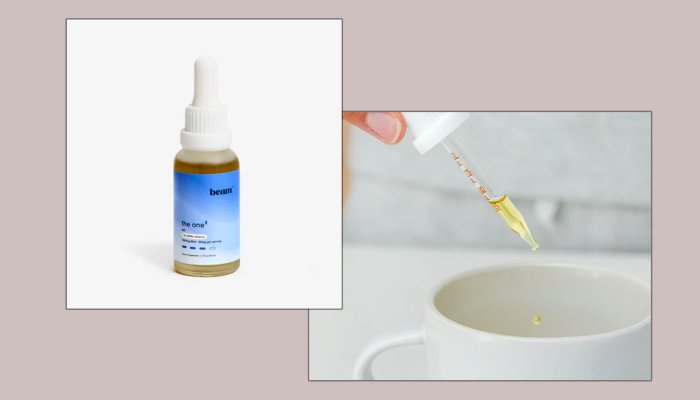 Personally, I prefer to consume CBD during the daytime for better focus and at night to help with sleep.*
Beam's CBD oil comes in four strengths (500mg, 1000mg, 1500mg, and 2000mg) and two flavors (natural and peppermint). I loved that the dropper has labeled measurements, making it incredibly easy to find the right dose.
Initially, I opted for the 500mg peppermint oil, using it the way most brands advise: taking a single serving under my tongue and holding it there for about 30 seconds before swallowing. As I grew more comfortable including CBD in my routine, I upped my strength to 1500mg.
Now, I'll often put the CBD oil directly in my morning coffee or matcha. I love the minty flavor it adds, turning my decaf lattes into a better-for-you seasonal beverage (which, by the way, Beam also offers).
The brand's best-selling dream powder is like a healthier hot chocolate with incredible sleep-supporting benefits.* The dream powder is also 50% off for Black Friday—and, since my boyfriend drinks it nightly, I'll absolutely be stocking up.
I also started applying Beam's CBD salve to achy muscles for an immediate soothing relief.* However, The One CBD oil continues to be my tried and true.
Source link